PREWORKOUTS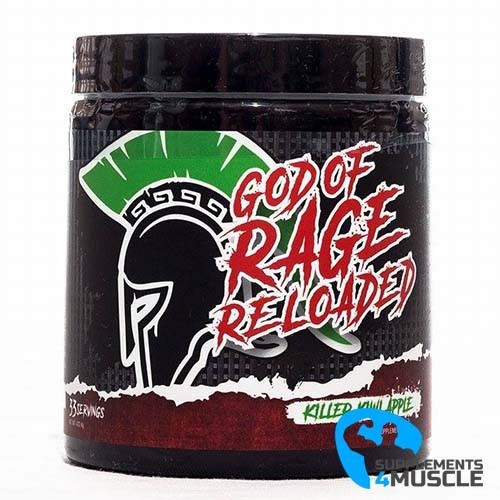 
DESCRIPTION
COMPOSITION
DIRECTIONS OF USE
REVIEWS
DESCRIPTION
Centurion Labz God Of Rage Reloaded
Centurion Labz God Of Rage Reloaded is the strongest and cleanest pre-workout supplement on the market. Centurion Labz was able to improve on the very popular, original God of Rage product. With key muscle-building ingredients, this high-potency dose will create the type of anabolic environment necessary to facilitate increased stamina, killer performance and maximum muscle gains! We took a look behind the science to find out just what makes God of Rage Reloaded work so well, and found that it's packed with a smorgasbord of anabolic activators.
L-Citrulline Malate
Citrulline is an amino acid that is converted to arginine, which increases levels of nitric oxide an important chemical that regulates blood flow throughout the body. Citrulline also increases brown fat activity, which increases caloric expenditure and promotes fat burning. It does this without stimulating the sympathetic nervous system, which avoids increases in heart rate, blood pressure and anxiety levels. Supplementing with citrulline malate increased strength endurance in chin-ups, reverse chin-ups and push-ups in college-aged men according to a study led by Benjamin Wax from Mississippi State University.
Beta-Alanine
Beta-alanine is an effective supplement to help you train more intensely and increase strength and exercise capacity. High-intensity exercise increases chemicals such as hydrogen ion, inorganic phosphate and adenosine diphosphate that slow biochemical reactions and promote fatigue. Buffers, such as bicarbonate and carnosine, can help neutralize these chemicals and promote performance. Carnosine, which is made from alanine, is an important antioxidant that protects cells from destruction and buffers acids that cause fatigue. Muscle carnosine levels are highly related to maximum exercise capacity. Supplementing carnosine or beta-alanine increases muscle carnosine levels, which enhances muscle-buffering capacity.
Creatine Monohydrate
Creatine monohydrate is an extremely popular sports supplement that increases strength and muscle mass, and improves sports performance. Creatine increases power output during high-intensity sprints and promotes endurance capacity by allowing athletes to exercise at a faster pace. Creatine also promotes muscle adaptations to training. Studies lasting up to several years haveshown that creatine is safe. 
Taurine
Taurine is an amino acid that helps regulate cell fluid balance, protects cells against reactive oxygen species, stabilizes cell membranes, decreases inflammation and helps regulate cell electrolytes (i.e., calcium ion). It is found in high concentrations in nerve and muscle cells. An Australian study using rats subjected to high-frequency electrical stimulation found that supplementing taurine increased muscle taurine levels by 40 percent and muscle strength by 4.2 percent. It also reduced F-isoprostane production— a sensitive measure of cell membrane breakdown by reactive oxygen species (highly-reactive chemicals produced naturally during metabolism). The study showed that taurine increased strength and protected muscle during intense stimulation.
Caffeine Anhydrous
Caffeine is widely consumed as an ergogenic aid to improve exercise performance. Several mechanisms have been proposed to explain caffeine's performance-enhancing influence, including enhanced muscular contraction force, increased cellular energy production within muscle and stimulation of the central nervous system (CNS). While increased contractile forces and energy production within muscle from caffeine consumption preferentially influence high-intensity weight training, caffeine's ability to stimulate the CNS has a greater impact on the mental aspect of training. The ability of caffeine to stimulate the CNS is due, in part, to its capacity to inhibit the adenosine receptor in the brain, which triggers the release of dopamine and adrenaline. The surge of dopamine and adrenaline from caffeine consumption will amp-up your neurochemistry for greater concentration and intensity while training in the gym.
Theobromine
Theobromine is a vasodilator and stimulant with effects similar to caffeine. While caffeine has an effect on the central nervous system, theobromine significantly affects smooth muscle and acts a relaxant. Theobromine also helps brain function and aids in removing toxins from your body.
The Ultimate Pre-workout
Centurion Labz has outdone themselves with their new and revolutionary version of God of Rage Reloaded. If you're on the lookout for the ultimate pre-workout, look no further than God of Rage Reloaded.
COMPOSITION
Serving Size: 1 Scoop (12.8)
Servings per Container: 33
Amount Per Serving

%DV

Vitamin D

2000IU

500%

Vitamin C

200mg

333%

Vitamin B12( as cyanocobalamin)

30mcg

125%

L-Citrulline Malate

4000mg

*

Beta Alanine

3200mg

*

Creatine Monohydrate

3000mg

*

Taurine

500mg

*

Caffeine Anhydrous

250mg

*

Theobromine

100mg

*

2-Amino (2-amino-5-methylheptane/2-amino-6-methylheptane)

200mg

*

Eria Jarensis Extract(N-Phenethyl Dimethylamine)

100mg

*

Mucuna Pruriens

100mg

*

Choline Bi-tartrate

100mg

*

Hordenine

25mg

*

Higenamine

20mg

*

Huperzine-A

100mcg

*
Other Ingredients: Citric Acid, Maltodextrin, Calcium Silicate, Natural and Artificial Flavors, Sucralose, Acesulfame-K
DIRECTIONS OF USE
DIRECTIONS: Mix 1 heaping scoop in 300ml of water. To assess tolerance, start with 1/2 to 3/4 scoop.
REVIEWS
There is no review
Atsiliepimas Atsiliepimas