PREWORKOUTS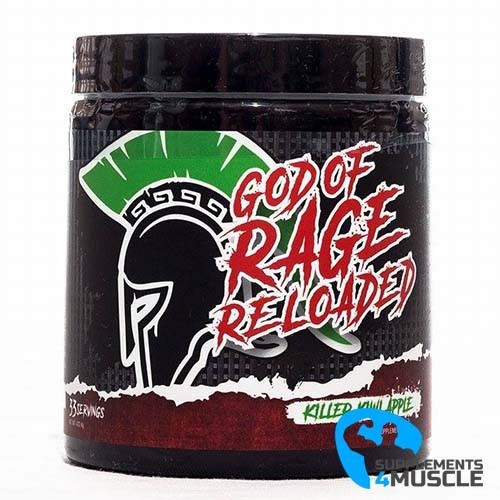 
DESCRIPTION
COMPOSITION
DIRECTIONS OF USE
REVIEWS
DESCRIPTION
Centurion Labz God Of Rage Reloaded
Centurion Labz presents God Of Rage Reloaded as the strongest, most effective, and healthiest pre-workout supplement available. This updated version of the popular original God of Rage boast key components to help with building muscle mass, giving users enhanced energy and endurance, and helping to refine and shape muscular growth while they train. After reviewing the scientific data that has been gathered, it is evident that God of Rage Reloaded is jam packed with anabolic activators that fuel optimal performance.
L-Citrulline Malate
Citrulline, an amino acid, is converted to arginine which raises nitric oxide levels in the blood, responsible for controlling circulation. Citrulline furthermore increases the activity of brown fat which increases energy expenditure to promote fat burning, but without rousing over the sympathetic nervous system, circumventing the increase in heart rate, blood pressure, and anxiety. A study headed by Benjamin Wax from Mississippi State University observed increases in strength and endurance in college-aged men when they supplemented with citrulline malate.
Beta-Alanine
Using a supplement of beta-alanine can enable one to train more intensely, build more strength and extend the time of their exercise. Prolonged and high-intensity exercise leads to chemicals such as hydrogen ion, inorganic phosphate, and adenosine diphosphate. These molecules slow down biochemical operations and induce fatigue. Buffers, like bicarbonate and carnosine, help offset them and improve performance. Carnosine is a precious antioxidant that defends the cells from destruction and balances out the pH with the acids causing exhaustion. The level of carnosine that can be constructed in the muscles has a direct impact on how long and hard somebody can work out. Taking carnosine or beta-alanine supplements will increase how much carnosine is built in the muscles, boosting their buffering capacity.
Creatine Monohydrate
Creatine monohydrate is an extensively used athletic supplement that boosts strength, builds muscles, and enhances athletic performance. It amplifies strength during strenuous sprints and prolongs stamina by empowering athletes to practice at a higher rate. Creatine even modifies a person's muscle in order to fit the given workout. Different tests that were monitored for long periods have confirmed that the use of creatine is secure.
Taurine
A study conducted in Australia on rats exposed to strong electrical stimulation found that taking taurine supplements raised muscle taurine amounts by 40% and muscle force by 4.2%. It also lowered the quantity of F-isoprostane produced, which reflects the destruction of cells by reactive oxygen species created naturally during metabolism. The evidence indicated that taurine not only improved strength but also guarded muscles during strenuous stimulation. Taurine is an amino acid that helps to regulate cell electrolytes, stabilize cells membranes, protect cells from reactive oxygen species, and decrease inflammation. It is found in high concentrations in muscle and nerve cells.
Caffeine Anhydrous
Ingesting caffeine is often used as an aid to better performance in sports. A few theories are available as to why this is so, including greater strength from muscle contraction and higher cellular energy production within the muscle, in addition to stimulation of the central nervous system (CNS). Such production of strength and energy intake greatly help when doing high-intensity weight lifting, while caffeine's impact on the CNS has more sway when it comes to mental exercises during a workout. This effect is due to caffeine's ability to block adenosine receptors in the brain, which activates the secretion of adrenaline and dopamine. The rush of these two hormones amplifies a person's neurochemistry, allowing for better focus and energy while they are lifting in the gym.
Theobromine
Theobromine has effects similar to caffeine; however, it affects the smooth muscles instead of the central nervous system. Additionally, it is a vasodilator and stimulant. Theobromine works to improve brain functioning and eliminates toxins from the body. It has a relaxing effect on the muscles.
The Ultimate Pre-workout
Centurion Labz has come up with an amazing new and improved God of Rage Reloaded pre-workout! If you're in the market for the best pre-workout around, God of Rage Reloaded is your answer.
COMPOSITION
Serving Size: 1 Scoop (12.8)
Servings per Container: 33
Amount Per Serving

%DV

Vitamin D

2000IU

500%

Vitamin C

200mg

333%

Vitamin B12( as cyanocobalamin)

30mcg

125%

L-Citrulline Malate

4000mg

*

Beta Alanine

3200mg

*

Creatine Monohydrate

3000mg

*

Taurine

500mg

*

Caffeine Anhydrous

250mg

*

Theobromine

100mg

*

2-Amino (2-amino-5-methylheptane/2-amino-6-methylheptane)

200mg

*

Eria Jarensis Extract(N-Phenethyl Dimethylamine)

100mg

*

Mucuna Pruriens

100mg

*

Choline Bi-tartrate

100mg

*

Hordenine

25mg

*

Higenamine

20mg

*

Huperzine-A

100mcg

*
Other Ingredients: Citric Acid, Maltodextrin, Calcium Silicate, Natural and Artificial Flavors, Sucralose, Acesulfame-K
DIRECTIONS OF USE
DIRECTIONS: Mix 1 heaping scoop in 300ml of water. To assess tolerance, start with 1/2 to 3/4 scoop.
REVIEWS
There is no review
Atsiliepimas Atsiliepimas