All products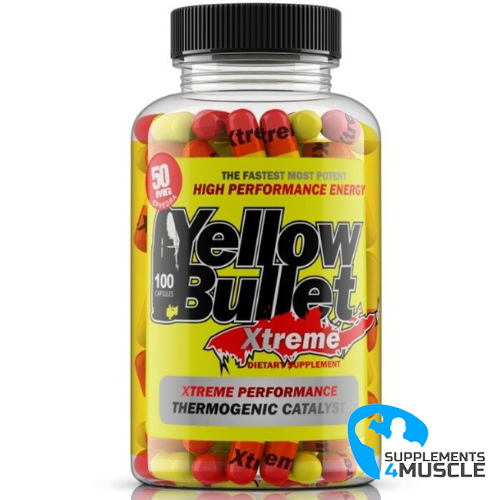 
HardRock Yellow Bullet Xtreme 50 mg 100 caps
HardRock Yellow Bullet Xtreme Benefits:
Strong weight loss support
Powerful thermogenic effects
50 mg of Ephedra in the blend
Intense stimulation
Increased workout intensity
Energy endurance throughout the day
Appetite control
DESCRIPTION
COMPOSITION
REVIEWS
DESCRIPTION
HardRock Yellow Bullet Xtreme 50 mg
HardRock Yellow Bullet Xtreme 50 mg is a potent weight loss supplement featuring a robust blend of active ingredients designed to provide a dynamic fat-burning experience. Among these ingredients is a substantial amount of Ephedra extract, known for its stimulating effects, which aids thermogenesis and supports intense workouts. Another component, theophylline, mirrors the effects of substances like ephedrine or clenbuterol. The effectiveness of this supplement is backed by a myriad of user testimonials.
Ingredients:
Take one serving (one capsule) at a time.
Niacin (Vitamin B3) is essential for metabolism and helps maintain healthy cholesterol levels while reducing LDL lipoprotein. This vitamin often features in fat-burning supplements due to its role in deriving energy from fatty acids, making it beneficial for weight loss efforts.
Vitamin B5 (Pantothenic Acid) at a 15mg dose supports optimal regeneration levels and assists in the metabolism of proteins, fats, and cholesterol.
Vitamin B6 (Pyridoxine) maintains proper nervous system function. It ensures accurate transmission of nerve impulses, facilitating correct muscle contraction, and balances hormones such as prolactin. The recommended daily intake is 12 mg.
Folic Acid (Vitamin B9) at 90 micrograms is converted in the body to 5-methyltetrahydrofolate, enhancing its absorption and passage through the blood-brain barrier. Folic acid supports several physiological systems, assists in proper DNA production, and reduces homocysteine activity.
Chromium at 9 mcg is crucial for regulating insulin production and maintaining glucose balance. Chromium deficiency can trigger sugar cravings, hence it can be beneficial for dietary control. Additionally, it enhances metabolism by promoting energy metabolism.
The Zyplex Blend contains 739 mg of a mix of ingredients. Ephedra boosts the nervous system activity, targeting neurotransmitter production for enhanced energy and performance. The oxidation of fatty acids it triggers further fuels the body during strenuous exercise.
Always consult a healthcare provider before starting any new supplement, particularly for individuals with existing medical conditions or who are taking other medications.
Yellow Bullet Xtreme 50 mg, with its potent blend of ingredients, offers a multifaceted approach to weight loss and performance enhancement. Here is a closer look at some key ingredients in the formula:
1,3,7-Trimethylpurine-2,6-dione, more commonly known as caffeine, is a widely-used stimulant found in many energy drinks. Caffeine boosts thermogenesis, which allows the body to tap into fat stores for energy. It also reduces carbohydrate cravings and improves endurance. It helps the body to break down complex carbohydrates like starches slowly, providing energy over an extended period. That's why it's commonly used in pre-workout and energy drinks.
Phenylethylamine (PEA) is a type of amino acid that functions as a neuromodulator in the body by altering neurotransmitter levels. It minimizes the reuptake of dopamine, leading to improved mood. PEA has also been associated with appetite control, helping individuals maintain a balanced diet.
Synephrine, isolated from various plants like Citrus aurantium (Bitter Orange), is sometimes referred to as "Nature's Ephedrine". It's often used as a stimulant, appetite suppressant, and thermogenic in dietary supplements aimed at weight loss, energy, and performance enhancement. It also boosts endurance during exercise, enabling optimal performance.
Yohimbine is a potent alkaloid compound, chemically known as 17a-hydroxy-yohimban-16a-carboxylic acid methyl ester. It functions to reduce even the most stubborn fat tissues by blocking alpha2-adrenergic receptors, allowing for higher levels of catecholamines in the body. This activity uplifts the central nervous system, increasing energy, enthusiasm, and a willingness to train.
7-[2-hydroxy-3-(2-hydroxyethyl-methylamino) propyl]-1,3-dimethylpurine-2,6-dione, or theophylline, is an active element part of the purine group. It increases the level of cAMP at the cellular level when consumed, leading to a variety of effects, including bronchial dilation. This action is similar to the drug Clenbuterol. Theophylline also enhances cardiovascular function and supports weight loss by increasing endurance.
Recommended Dosage:
Take one capsule twice a day.
Remember, before starting any new supplement regime, it's always wise to consult with a healthcare provider, particularly for individuals with existing medical conditions or who are taking other medications.
COMPOSITION
Serving size:  1 capsule
Servings per container: 100
Amount per serving
% Daily Value
Vitamin B3 Niacin
30 mg
188%
Vitamin B5 (Panthonthenic Acid)
15 mg
300%
Vitamin B6 (Pyridoxine HCL)
12 mg
706%
Vitamin B9 (Folic Acid)
90 mcg
38%
Chromium
9 mcg
26%
ZYPLEX BLEND

Ephedra 50mg (Ephedra viridis) 1,3,7-Trimethylpurine-2,6-di-one, (350mg caffeine) 3,4-Dihydroxy-5-oxo-tetrahydrofuran-2-yl]-2-hydroxy-acetaldehyde, 2-phenylethan-1-amine, 4-[1-hydroxy-2-(methylamino) ethyl]phenol octanoic acid, 17a-hydroxy-yohimban-16 a-carboxylic acid methyl ester, 7-[2-hydroxy-3-(2-hydroxyethyl-methyl-amino)propyl]-1,3-dimethylpurine-2,6-dione
739 mg
*
Other ingredients: Magnesium Stearate, Silicon dioxide.
**Not established Daily Value
REVIEWS
There is no review
Atsiliepimas Atsiliepimas