All products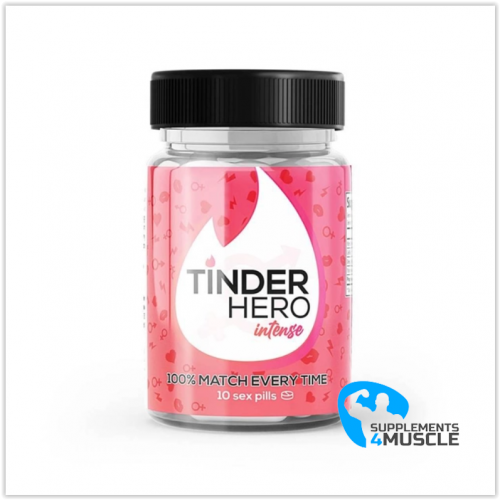 
DESCRIPTION
Tinder Hero Intense: Power in a Pill
Discover the lasting delight! This male enhancement supplement ensures superior command, paving the way for unprecedented levels of satisfaction for you and your partner! Just one tablet puts you in the driver's seat, primed and ready for action!
Tinder Hero Intense: A formula designed for power.It promises:
Rapid readiness,
Potent performance,
Enhanced vitality,
Delightful intimacy,
Extended pleasure,
Amplified desire,
Absolute control.
With Tinder Hero Intense, we have combined top-notch ingredients to provide a comprehensive support system, promising total contentment in your romantic escapades.
The beauty of Tinder Hero Intense is in its anytime usage and swift action – it takes just an hour to kick in and lasts up to five hours.
Let's delve into the composition of this supplement:
NitroRocket™ - Incorporating 200mg of arugula-derived natural nitrogenous compounds, it boosts blood flow to your intimate areas. This could culminate in a formidable, long-lasting performance. Nitric oxide is vital for a generous performance and should foster an amplified romantic experience. NitroRocket™ thus aids in achieving a more enduring and noticeable performance.
CellFlo6™ - 150mg of this unique blend of polyphenols, commonly found in sources such as green tea, helps expand blood vessels, thereby improving circulation and oxygen levels in the body. The potent catechin – galloylated procyanidin – functions without the need for a stimulant. This exclusive compound accelerates the onset of a strong performance, ensuring gratifying intimacy.
Deng Sen Extract - A Chinese plant extract with potent libido-enhancing properties, this ingredient is a staple in many dietary supplements. Its benefits include extending the duration of intimacy and reducing the chances of premature conclusion, providing users with better control over their pleasure.
Yohimbine Hydrochloride - At a 3mg concentration, this well-known desire booster packs a punch, potentially amplifying libido. It can instill a feeling of confidence, especially when meeting new partners, thereby easing any anxious moments. Further, Yohimbine enhances performance strength, facilitating prolonged intimacy, while also elevating pleasure, intensifying the experience.
Tinder Hero's Proprietary Intense Formula – A specially-curated 90mg blend of ingredients aimed at boosting and enhancing performance. This unique formulation is tailored to fulfill your intimate needs, ensuring a potent performance that will be hard to forget. These meticulously selected elements match the impact of Viagra, without the dependency.
Simply take one pill 1-2 hours prior to getting intimate.
REVIEWS
There is no review
Atsiliepimas Atsiliepimas