HEALTH AND VITALITY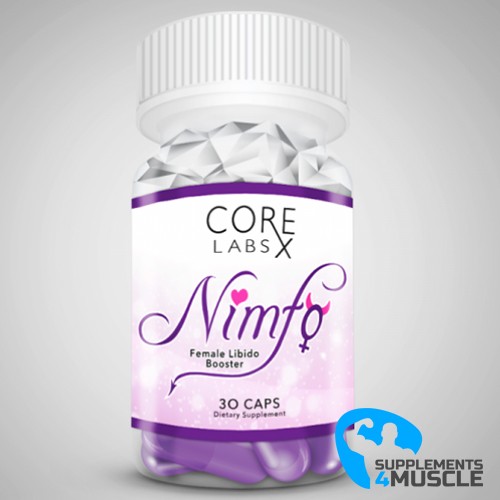 
Core Labs X Nimfo 30 caps
Supports Overall Sexual Health
Promotes Sex Drive & Libido
Intensifies Sexual Sensation
Arouses Sexual Desire
Improves Mood & Energy
DESCRIPTION
COMPOSITION
DIRECTIONS OF USE
REVIEWS
DESCRIPTION
Core Labs X Nimfo 30 caps
Core Labs X Nimfo 30 caps is a revolutionary new supplement specifically designed for women that guarantees satisfaction in the bedroom. This product contains only tried and true ingredients to ensure maximum enjoyment during intimate moments.
This supplement uses an NIMFO system which is backed by research, composed of effective aphrodisiacs taken at the correct doses that work together and are safe to use.
This product is packed with plant-based components like L-DOPA which can boost your drive and libido, theobromine which gives energy and mood-enhancement, plus added vitamins B3, B6, B12, and zinc to up your hormone production and sexual capability.
If you desire an unforgettable and enthralling experience and want to transform into an ideal lover, try the fresh Nimfo item nowadays and savor long, unforgettable instants with your mate.
Nimfo stimulates one's senses to the maximum!
BENEFITS OF NIMFO APPLICATION:
Boosting libido and desire to engage in sexual activity can amplify one's sexual encounters, leading to extended sexual activities with heightened and more often occurring orgasms. Following intercourse, Flibanserin - a key compound - can assuage feelings of deficiency in terms of sexual desire (HSDD) and stifled sexual desire (ISD). As a cure-all for the most common sexual issues related to a lack of enthusiasm, this ingredient inspires more frequent sexual fantasies and elevates the capability to achieve orgasm in women of all ages.
Maca, an herb from Peru, provides an exhaustive source of vital nutrients like amino acids, essential fatty acids, vitamins B1, B2, B3, and C, as well as minerals such as copper, zinc, manganese, iron, selenium, and boron. This combination can help to lower cholesterol levels and for postmenopausal women has properties that appear to boost estrogen production, restrain follicle stimulating hormones, and provide relief from hot flushes and night sweats associated with the menopause.
A study which was conducted with two groups, one of which received a placebo, demonstrated that maca was able to develop positive psychological symptoms such as lowering depression and anxiety, as well as improving sexual function in women who were postmenopausal. This ended with scientists believing that maca should be incorporated either alone or as an accompaniment to hormone replacement therapy (HRT).
Theobromine, found in yerba mate, has diuretic effects and can purge extra fluid from the body, hiding the loss of fat. Furthermore, it provides extra energy, elevates motivation, causes increased blood circulation and even enhances pleasure during sexual activity.
The Damiana Leaf extract is highly sought after for its ability to increase libido and positively affect one's mood in addition to balancing hormones. This specific bush is found in warm climates in the Americas, and has been used by various societies such as the Aztecks and Mayans to increase sexual appetite and pleasure, lift their moods and create an internal balance. This herb is also known to be incredibly calming, relaxing and soothing; an important quality to have for individuals who battle stress on a frequent basis. One can furthermore anticipate the extract to possibly act as a relief for nervousness, fight against insomnia and help ease the symptoms of menopause and dysmenorrhea for women.
The amino acid L-Dopa, created via tyrosine hydroxylase, is the essential precursor for the foremost neurotransmitter needed for the proper functioning of our mental processes. Studies have illustrated transparent evidence for the wide-reaching impact the substance has. Apart from the noteworthy surge in dopamine, it is also applied in medicinal contexts for its attributes that boost reminiscence and awareness, and raise libido, thereby intensifying sexual activities.
Panax Ginseng is composed of two parts: a glicone (a saccharide or sugar) and an aglikon (a structure resembling hormones). These ginsenosides are classified as steroid saponins, meaning they are involved in the production of steroid hormones. As such, they are thought to be the cause of increased libido in both women and men.
Passiflora has been proven to have an effective sedative and calming influence, due to its active compounds. Research indicates it may aid in sleep, decrease anxiety, and attenuate intense emotional reactions. Benzoflavone, found in Passiflora, is used in treatment of addictions to alcohol, nicotine and THC. Ongoing studies present the possibility that Passiflora may increase libido and enhance sexual performance, in addition to its ability to tranquilize.
Rhodiola Rosea extract is categorized as one of the strongest adaptogenic herbs out there. Adaptogens are known to add resistance to low oxygen levels, support the cardiovascular system, reduce fatigue, regenerate the body, detoxify, and raise the metabolic rate. On top of that, the plant can significantly ramp up libido and even improve sexual activity and potency.
Vitamin E works to stop the oxidation of bad cholesterol, which otherwise would create build up in the arteries. Additionally, it assists with the creation of anticoagulants, helps maintain cell membrane permeability and reduces the formation of blood clots. People with high cholesterol levels should especially take this vitamin as part of their health regimen.
Vitamin E can serve as a preventative measure for myocardial infarctions. Studies and research have also demonstrated its capacity to reduce cancer risks. Moreover, it can assist in regulating insulin levels and controlling glucose in the bloodstream. Not only that, but vitamin E plays a key role in sending out nerve impulses throughout the body. Pregnant women should add vitamin E to their diets in order to ensure a healthy pregnancy and in order to avoid the birth of babies with any sort of issues. Additionally, it has been found to be essential for male fertility since a deficiency of this particular vitamin can affect sperm production.
Studies have demonstrated that taking niacin supplements can be beneficial for the immune system, as it causes an increase in the amount of neutrophils, which are white blood cells eliminating harmful bacteria. Additionally, Vitamin B3 supports a greater functionality of the nervous system since the activation of mitochondrial nuclei in the nucleus accumbens leads to an improved psychological state, such as higher self-belief, reduced effects of stress, and reduced anxiety.
Zinc provides a plethora of positive benefits to the body, such as helping to regulate acid-base balance and support the proper functioning of the prostate and reproductive organs, hormones, and vitamin A. It is also known to aid wound healing, improve mental acuity, protect the macula of the eye, and can get rid of white spots on the nails. Additionally, it may enhance skin health and its ability to ward off infections, participate in the breaking down of alcohol in the liver, and boost growth. Studies have also demonstrated its positive effects on brain function and intellectual performance.
COMPOSITION
Serving Size: 1 Capsule
Servings Per Container: 30
| | |
| --- | --- |
| | Amount Per Serving |
| Vitamin E (as D-Alpha Tocopheryl) | 30 IU 100% |
| Vitamin B3 (as Niacin) | 4 mg 20% |
| Vitamin B6 (as Pyridoxine HCL) | 8 mg 400% |
| Vitamin B12 (as Cyanocabalamin) | 48 mcg 8% |
| Zinc (as Zinc Amino Acid Chelate) | 1.5 mg 10% |
| Flibanserin | 100 mg |
| NIMFO System: | 500 mg |
| Cocoa Extract (6-8% Theobromine), Maca Root Extract (0.6% Macamides), Arginine-Alphaketoglutarate 2:1 (A-AKG), Damiana Leaf Extract 5:1 (Turnera Diffusa), Mucuna Pruriens Extract (99% L-Dopa), Panax Ginseng Root Extract (4% Ginsenosides), Passion Flower (Passifiora), Rhodiola Rosea Extract (3% Salidrosides). | |
DIRECTIONS OF USE
As a dietary supplement, take 1 capsule daily with water.
REVIEWS
There is no review
Atsiliepimas Atsiliepimas