All products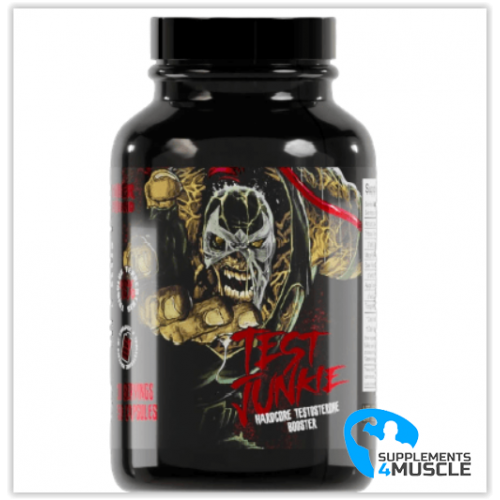 
Test Junkie 150 caps
Test Junkie 150 capsules contain:
High sex drive,
Increased vitality,
Enhanced sexual performance,
Gained muscle mass,
Improved physical appearance.
DESCRIPTION
COMPOSITION
DIRECTIONS OF USE
REVIEWS
DESCRIPTION
This is a dietary supplement containing 150 capsules of a natural testosterone enhancer.
Test Junkie 150 capsules is an effective testosterone enhancer composed of all-natural, verified active ingredients. It produces a potent impact on libido and sexual performance. The mix of maca and tongkat ali, in particular, effectively intesifies prospects in the bedroom. Additionally, the supplement contains turkesterone, perfect for aiding muscle growth.
What is the mechanism of action for Test Junkie's testosterone enhancement product?
Test Junkie is a dietary supplement designed to help men naturally boost their testosterone. It can help one to gain muscle mass and improve their sexual performance. All of its strength, endurance and conditioning benefits come from a variety of natural herbal extracts, like Maca, Tribulus, Saw Palmetto, and Turkesterone. These ingredients can also enhance workouts and positively impact one's mood and overall well-being.
As you get older, your natural production of testosterone begins to decrease as early as age 30. This can lead to feelings of fatigue, a lack of motivation, and longer recovery times for workouts. Testosterone can also play a role in your mood, libido, and muscle development. To maintain productive levels of the hormone, it is important to proactively engage in natural supplementation at the proper age. Doing this may help you enjoy increased testosterone levels for a more extended period.
That's precisely how Test Junky operates!
This testosterone booster consists of natural substances, which can enhance recovery levels, mood, and sex drive. Additionally, there is Ajuga Turkestanica extract included, which can raise insulin sensitivity and promote better metabolism. The extract is composed of Turkesterone, which has the capability to increase the rate of muscle protein synthesis and muscle size.
The ingredients that go into Test Junkie 150 capsules are as follows:
One portion, comprising of three pills:
Tribulus Terrestris extract, with an amount of 470 mg containing 98% saponins, is the same thing as mace. It has the ability to elevate testosterone levels; it drives the production of the hormone that encourages the testicles to work. Additionally, it is an outstanding dietary supplement for stimulating libido and improving overall health.
Maca root extract (20:1) - 300 mg - is used in sports supplementation often as part of testosterone boosters. It affects the body positively by producing hormones linked with greater health and muscle development. Moreover, it can improve energy, libido and sexual performance.
Saw Palmetto, also referred to as sabal palm, is a dietary supplement that works to decrease DHT levels in the body. It does this by blocking the conversion of testosterone into DHT, resulting in higher amounts of free testosterone available. In addition to decreasing DHT levels, Saw Palmetto Extract (at 300mg including 75mg of fatty acids at 25%) helps maintain healthy prostate function and shields your hair from the ill effects of DHT, thus reducing hair loss.
An extract from Ajuga Turkestanica (150 mg) - containing 10% Turkesterone (15 mg) - has recently been popularly incorporated into numerous testosterone boosters. Turkesterone is believed to produce anabolic effects due to its categorization as a natural growth factor. As such, it may help one to gain more muscle mass while simultaneously reducing fat accumulation.
Tongkat Ali Extract (200:1) - 60 mg - is an extract from a plant that augments testosterone levels. It impedes the alteration of testosterone into estradiol. In addition, Tongkat Ali has confirmed results on cortisol levels. By diminishing the bad influence cortisol has on muscles, it advances the look of the body frame and helps with superior muscle function.
COMPOSITION
Serving size: 5 capsules (or 3 capsules)
Servings per container: 30 (or 50 for 3 capsules)
| | | |
| --- | --- | --- |
| Amount per: | 3 caps* | 5 caps* |
| Tribulus Terrestris Extract  | 480 mg | 800 mg |
|      of which Saponins 98% | 470 mg | 784 mg  |
| Maca Root Extract (20:1) | 300 mg | 500 mg |
| Saw Palmetto Extract | 300 mg | 500 mg |
|      of which Fatty Acids 25% | 75 mg | 125 mg |
| Ajuga Turkestanica Extract  | 150 mg | 250 mg |
|      of which Turkesterone 10% | 15 mg | 25 mg |
| Tongat Ali Extract (200:1) | 60 mg | 100 mg |
Other ingredients: Capsule shell, Gelatine, Natural & Artificial Dyes*, Bulking agent, Microcrystalline cellulose, Made in GMP facility that processos milk, soy, egg, peanuts, tree nuts, fish, shelfish and wheat.
*Capsule color may vary due to factory availability. 
DIRECTIONS OF USE
Dosage: Take three capsules of Test Junkie right before going to bed.
REVIEWS
There is no review
Atsiliepimas Atsiliepimas