All products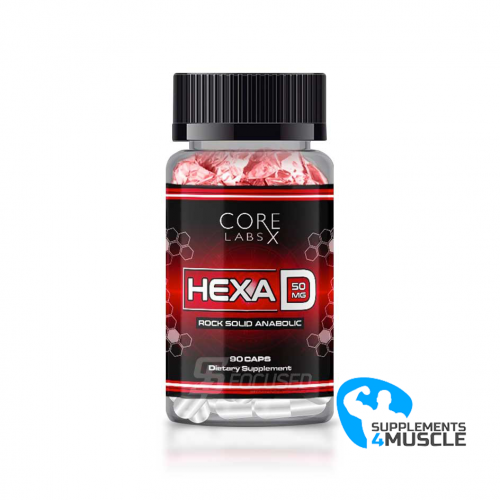 
Core Labs Hexa-D 90 caps
Core Labs Hexa-D is:
Increase protein synthesis,
Effectively support the building of muscle mass,
Significantly improves appearance,
Will not burden the liver,
Works similarly to epistane.
DESCRIPTION
COMPOSITION
DIRECTIONS OF USE
REVIEWS
DESCRIPTION
Core Labs Hexa-D 90 caps
Core Labs Hexa-D 90 supplement helps to increase muscle mass.
Core Labs Hexa-D is an advanced supplement that helps to support muscle mass gains. It is known to cause notable increases in muscle mass while remaining gentle on the body. Additionally, taking Hexa-D is a great way to achieve a firmer and more sculpted physique, and there are no risks of water retention or swelling, as it is a non-methylated substance that won't harm the liver.
Hexa-D from Core Labs is a:
It helps to create more protein.
It aids in building musculature.
It improves one's figure.
It doesn't put undue strain on the liver.
It operates in the same way as epistane.
Which other elements should be combined with Hexadrone?
Hexa is an ideal pick to stack with other strong supplements such as m-drol or epistane because it is an unmethylated agent and therefore considered risk-free for the liver. Taking hexandrone can lead to substantial muscle growth and increased strength, allowing for more intense exercising. Hexa does not cause fluid build-up inside the body but helps to accumulate lean muscle tissue. Additionally, it increases glycogen storage, offers immense muscle pump, and gives the perceptible feeling of fuller, puffed-up muscles.
Haxadrone would be a great starting point if you are looking to get into mass production.
The makeup of Core Labs Hexa-D is as follows:
1 serving, 1 capsule:
Hexadrone is a type of muscle-building aid made up of 50 mg of 6-chloro-androst-4-ene-3-one-17b-ol. It promotes anabolism, which triggers an increase in protein synthesis and results in superior gains. Additionally, Hexadrone has no negative effects on the liver and provides lean muscle mass. This makes it a great choice for bodybuilders looking for quality results.
Grape Seed Extract 95% - 10 mg offers protection to liver enzymes, these enzymes enable the change of active compounds. As Hexa-D has been enriched with Grape Seed Extract, our body has a better ability to utilize the active ingredient which increases muscle mass.
Vitamin E in the form of TPGS has a dosage of 10 mg and is an altered variant of the vitamin that is water-soluble. The modification offers it attributes that are not found in vitamin E alone, and when integrated with additional food, the results are more effective absorption into the body.
The active ingredient in black pepper, Piperine 95% - 10 mg, boosts your body's power to take in the active substances from Hexa-D. Including this in your supplementation will greatly enhance the effectiveness, leading to more successful outcomes.
Naringin, when taken in a dose of 10 mg, is changed into naringenin and slows down the functioning of the liver's enzymes. This can be advantageous in that it helps utilize supplement ingredients more successfully. Choosing the right substances to raise metabolic strength enables a small amount of Hexadrone to be more effective.
Core Labs Hexa-D dosage:
One to three capsules should be taken each day. It is suggested that around six to eight weeks be dedicated, based on the development of the situation.
COMPOSITION
AMOUNT PER SERVING

%DV

Hexadrone (6-Chloro-antrost-4- en-17b-ol-3-one) 

50mg

*

Grape Seed Extract  

20mg

*

Vitamin E TPGS

10MG

*

Piperine 95%

5mg

*

Naringenin

5mg

*
Other ingredients: Magnesium Stearate, Silicon Dioxide
DIRECTIONS OF USE
Dosage:
1-3 capsules daily. Depending on progression, 6-8 weeks are recommended.
REVIEWS
There is no review
Atsiliepimas Atsiliepimas