All products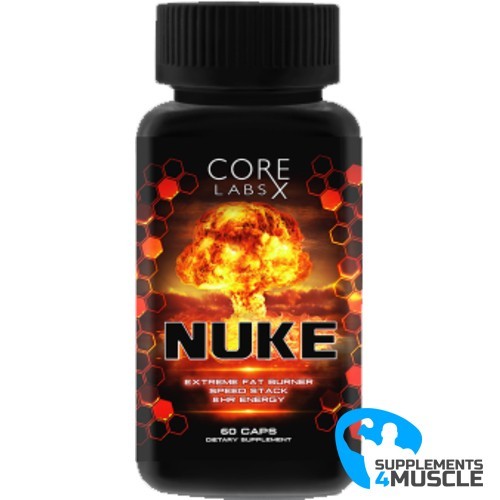 
DESCRIPTION
COMPOSITION
DIRECTIONS OF USE
REVIEWS
DESCRIPTION
Core Labs X NUKE
Core Labs presents an incredibly powerful Nuke fat burner. Its advanced formula only consists of influential stimulants, natural fat burners, and adaptogens. A composition like this one can't be found in mediocre fat burning products that just help to rid the body of excess water. By combining these unique ingredients, Nuke stands out among similar American products. The most impressive feature is that it helps to shed fat while concurrently supporting muscle gain. With Nuke, consumers can expect to lose up to 12 kilos per package and skillfully shape their body without sacrificing energy or feeling unwell.
This supplement quickly and greatly reduces the hunger for sweet snacks. It is an incredibly successful product for anyone who wants specific outcomes. The thermogenic success leads to a hotter body temperature that helps to burn hard-to-lose fat from the midsection or hips. Adaptagons found in the preparation grant energy, elevate your mood and make you motivated, even when you're doing the toughest of exercises.
This product is very specialized and since it is powerful, it is only suitable for experienced users who have tried more than one burner.
DMHA, also known as 2-aminoisoheptane or octodrine, is a stimulant agent that has a relaxing impact on the bronchi leading to improved aerobic capacity. This compound also acts as a decongestant, which leads to a narrowing of the blood vessels, elevating the rate of oxygen flow. Unlike its relative, DMAA, DMHA does not cause drowsiness and can sharpen the senses.
Yohimbine Extract prevents α2 receptors from hindering fat burning, aiding the process of weight loss and helping the body to take on the shape you desire. It is important to note that yohimbine reduces the effectiveness of insulin; therefore, taking it close to eating meals including carbohydrates won't be useful. Yohimbine is most successful when taken while fasting or before doing exercise.
Yohimbine HCL that was chemically synthesized and is used in the Nuke incinerator has been free from other alkaloids contained in the plant, granting us more assurance in the attainment and function of the particular compound.
Hordenine is an organic chemical derived from various plants which contains phenylethylamine. Intake of this supplement prompts the discharge and upkeep of norepinephrine, increasing metabolic weight, energy level, and relief of appetite. Individuals take Hordenine for three objectives: fat burning, appetite restraint, and energy enhancement.
A new phenylpropenoic acid derivative found in Theobroma cocoa called N-coumarolydopamine has recently proven to be effective in targeting the beta-2 receptor. This receptor is the primary driving force behind fat loss. N-coumaronidopamine steps in by blocking cAMP trampling down phosphodiesterase, allowing it to increase. This results in improved cognitive functioning and promotes lipolysis, which increases the accessible energy resources in the body.
Higenamine is a stimulant that is typically derived from the seeds of Nelumbo Nucfera and in small amounts can be obtained from coffee. It works in combination with NMT to release noradrenaline and adrenaline, thus leading to an increased airway diameter allowing for an enhanced performance. Additionally, this substance serves to minimize oxidative damage through its shielding of the body from harmful free radicals.
Halostachine, an alkaloid hydrochloride derived from Halostachys caspica, can increase metabolic activity in a much safer manner than ephedra. After ingestion, it prompts the secretion of adrenaline and noradrenaline, and has stimulatory effects on thought processes, enhancing the individual's motivation, endurance, and strength.
This plant species, Dendrobium Nobile, hails from the Orchidaceae family and is naturally found in the mountainous regions of India and China. It is known for its long history of being utilized as shihu in traditional Chinese medicine. This is due to its energizing properties, capability to reduce exhaustion, as well as its ability to help with diabetes. As a bonus, it also increases productivity, brings about more strength and energy, and increases one's metabolism.
Octopamine is derived from the bitter orange fruit, and it impacts the body's adrenergic system by having a stimulating effect on beta-3 adrenergic receptors. This prompts the breakdown of fat cells in the body. Consequently, it is included in fat burners and pre-workout supplements in sports supplementation due to its thermogenic and fat-burning properties. It can also curb the appetite.
Studies have determined that 3,5-diiodothyronine has the capability to accelerate fatty acid oxidation, which can lead to fat loss. This is due to it inducing the body to make use of more oxygen than usual. The good news is that there are no risks of side effects associated with the consumption of this substance like there are with taking thyroid hormones.
Alpha GPC, or choline alfoscerate, is a natural source of acetylcholine. It helps to enhance cognitive performance and sharpen memory. Being highly bioavailable, it is used for building brain and nerve tissue. Consumption of this choline form sparks the parasympathetic nervous system that increases calmness, lessens stress and restores nervous tissues. It also augments levels of GABA and growth hormone, while simultaneously reducing activity of sympathetics. As a result, it relaxes and minimizes tension and irritability, aiding in overall well-being.
Hoodia Gordoni is a cactus located in southern Africa that has the ability to decrease hunger, an issue many people contend with during a diet. The primary component is a substance known as P57.
The regular intake of cayenne pepper, which contains capsaicin, impacts the inactivation of the TRPV1 receptor, thus raising body temperature. It has been found that the action of capsaicin impacts the activity of calcium transporters in muscle tissue, resulting in increased thermogenesis. This is due to the ATP-dependent calcium transporter protein in the muscle cells, which shifts calcium ions from the cytoplasm to the endoplasmic reticulum. This activity requires energy from ATP, but with the presence of capsaicin, the transporter stops transferring the ions, however the ATP is still used causing the released energy to be dispersed as heat.
Bitter oranges are not a fruit you'd eat, though they are an fantastic source of Vitamin C, in some cases providing as much as 42%. In addition to Vitamin C, bitter oranges also contain antioxidants like bioflavonoids and hesperidin. The bitter orange is particularly well-known for the presence of synephrine, a plant compound that is a natural alternative to ephedrine. Synephrine is structurally similar to ephedrine. This substance is derived from unripe citrus fruits such as Citrus uranium L. and Citrus aurantium L., making it a natural replacement for ephedra. More and more, it is added to performance drugs and dietary supplements aimed at athletes as well as obese individuals. This component helps to enhance metabolism, cut down on food cravings and concurrently increase both mental and physical activity. Synephrine has the power to rise blood pressure and regulate the pumping activity of the heart. Moreover, it also makes it simpler to breathe by enlarging the bronchi, clears out the nose and makes one feel better.
L-dopa contains a key ingredient that is essential for the correct functioning of our mind. This natural amino acid has been proven through scientific research to have a broad range of effects. It is produced by the action of tyrosine hydroxylase, and is known to significantly increase dopamine levels in the body. In the medical field, the properties of L-dopa to boost memory and concentration, as well as improve sexual performance, are highly prized. It also aids in the optimal release of testosterone and growth hormone, which are very important for people who participate in physical activities.
COMPOSITION
Serving Size: 1 Capsule
Servings per Container: 60
| | |
| --- | --- |
| Amount Per Serving | |
| 2-Aminoisoheptane (DMHA) | 150 mg |
| Caffeine Anhydrous | 100 mg |
| Green Tea 98% | 80 mg |
| Mucuna Pruriens (99.6% L-Dopa) | 50 mg |
| B-Phenylehtylamine | 50 mg |
| Alpha GPC | 50 mg |
| Cayenne Pepper 40.000 SCU | 40 mg |
| Yohimbine Extract 8% | 25 mg |
| Citrus Aurantium Extract | 20 mg |
| Sulbutiamine | 20 mg |
| Vitamin B6 | 10 mg |
| N-isopropylnorsynephrine HCL | 10 mg |
| Hordenine HCl | 10 mg |
| N-Caffeoyldopamine | 10 mg |
| N-Coumaroyldopamine | 10 mg |
| Higenamine HCL | 5 mg |
| Halostachine HCL | 5 mg |
| Dendrobium Nobile (1% alkaloids) | 5 mg |
| Octapamine HCL | 5 mg |
| Tyramine HCL | 5 mg |
| Piperine 95% | 5 mg |
| Capsicum Annuum (Capsaicin) | 5 mg |
| Grape Seed Extract 95% | 5 mg |
| Hoodia Gordoni | 5 mg |
| Niacin | 5 mg |
| Vitamin E TPGS Powder 10% | 5 mg |
| Yohimbine HCL | 2 mg |
| 3,5''diiodo L-thyronine | 200 mcg |
Other Ingredients: Magnesium Stearate, Silicon dioxide.
DIRECTIONS OF USE
Take one capsule 10 min before breakfast or 30 min before workout. Do not exceed 2 capsules during 24 hour period. Improper use of this product will not improve results and is not advised. 
REVIEWS
There is no review
Atsiliepimas Atsiliepimas