FAT BURNERS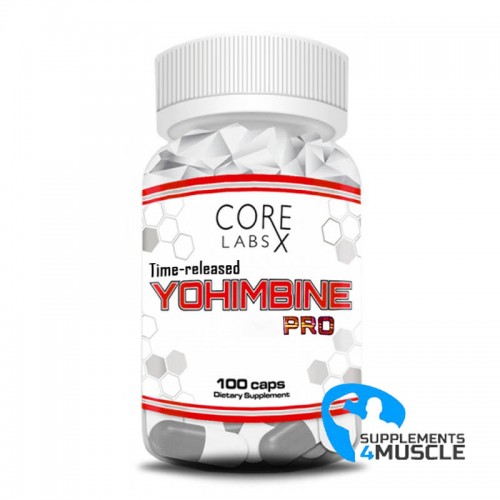 
DESCRIPTION
COMPOSITION
DIRECTIONS OF USE
REVIEWS
DESCRIPTION
Core Labs X Time-Released Yohimbine Pro 100caps
Are you searching for a potent supplement to boost your physique and love life? Core Labs Yohimbine PRO is the ideal choice. It offers the most effective form of Yohimbine HCL Core Labs to reverse unwanted sexual side effects caused by some medicines. It increases nerve impulses and circulation to your genitals. Additionally, Core Labs Yohimbine PRO can enhance your performance, alertness, focus, and energy. Pick Core Labs Yohimbine PRO to refine your muscle size, definition, and strength. With this supplement, you can enter the gym like an unstoppable force and make your mark.
Core Labs Yohimbine PRO is another remarkable exclusive item from this incredible company. The blend of the four distinct forms of Yohimbine is meant to ensure the most effective absorption potential and coverage possible. The "Time-Release" system that it utilizes allows its effects to stay in the body for longer, reducing the need to take multiple doses in a day. These various forms, such as Yohimbe Bark that is of 3.2 mg alkaloids, Rauwolscine (90% Alpha Yohimbine), Yohimbine HCL, and 11-Hydroxy Yohimbine make Core Labs Yohimbine PRO the preeminent Yohimbine-based product available in the market today.
Yohimbine is highly valued by athletes for its ability to increase muscle strength, get rid of fat and act as an extended thermogenic. Additionally, it may aid in reversing impotence issues by increasing blood flow to the genital areas. Moreover, it is specially effective in unpleasant fat loss in both genders, with the lower body of women holding a greater quantity of alpha-2 receptors.
Core Labs X Yohimbine Pro is a pharmaceutical form of the alkaloid of yohimbine, which is originally derived from the Johimba lekarska (Pausinystalia yohimbe) tree that grows in Africa. Uniquely, it contains Yohimbine HCL, which is the strongest, purest, and longest-lasting type of yohimbine available on the globe, with all other unnecessary alkaloids filtered out.
Yohimbe Bark, standardized with 3.2 Yohimbine Alkaloids, has been found to be a beneficial component in working against stubborn body fat, particularly around the abdominal area for men and hips, buttocks, and thighs in women. It works by helping to reduce weight in areas of the body that are challenging to tone.
Yohimbine Pro increases the quantity of norepinephrine. This important neurotransmitter triggers several functions within the body. Noradrenaline heightens physical and mental energy, prompts activity, and improves the clarity and sharpness of the mind.
Yohimbine Pro has been scientifically proven to enhance thermogenesis and stimulate the breakdown of lipids stored in adipose tissue. This leads to quickened fat loss, particularly in stubborn areas such as the butt, thighs, and stomach. Additionally, it will raise testosterone levels, resulting in an increase in lean muscle mass and enhanced strength.
Rauwolscine (90% Alpha Yohimbine) has the ability to block the α2-adrenergic receptors, thus improving the transmission of various neurotransmitters. It increases neuron activity, leading to improved physical performance and also enhances energy use during a period of stringent dieting. Additionally, it boosts cAMP activity, helping to promote growth and enhance the breakdown of stored fat as well as the rate at which fat is burned off in the mitochondria. Alpha-Yohimbine is one of the few compounds designed to target α2 adrenergic receptors, thereby prompting stored fat in the belly and hips to be burned off. By controlling the release of Norepinephrine in the brain, this compound suppresses one's hunger, particularly in obese people. Alpha-Yohimbine can regulate neurotransmitters and cAMP levels, and in doing so, enhance the body's capacity to break down and utilise the fat reserves that have built up in the body's energy stores. The deactivation of the high concentrations of a2-adrenergic receptors found in the abdominal and hip regions can speed up the process of burning off excess fat, which is commonly referred to as 'resistant fat'.
It has been scientifically proven that 11-hydroxy Yohimbine is up to 56% more powerful than the commonly used Yohimbine HCL. In terms of its capacity to bind to alpha-2 adrenergic receptors, 11-hydroxy-yohimbine has a potency which is 10 times more. Also, it has a much more prolonged half-life, with an approximate time period of 8-11 hours as compared to the two-hour span of yohimbine hcl. Overall, 11-hydroxy-yohimbine can be seen to have a greater advantage over its counterpart in terms of both its affinity and half-life.
Yohimbine Pro has been found to be an effective treatment for those suffering from rheumatoid arthritis, decreasing inflammation and pain. This then leads to an increase in comfort and physical fitness in one's life.
Feel the boost of strength, endurance, energy, and force. Heighten your capacity and repetitions with sets. Get Core Labs Yohimbine PRO right away, the epitome of Yohimbine HCL Core Labs. Get it now!
COMPOSITION
Serving Size: 1 Capsule
Servings per Container: 100
| | |
| --- | --- |
| Amount Per Serving | |
| Yohimbine Bark Extract | 40mg |
| Rauwolscine (90% Alpha Yohimbine) | 3mg |
| Yohimbine HCL | 3mg |
| 11-Hydroxy Yohimbine | 3mg |
Other Ingredients: Magnesium Stearate, Silicon Dioxide, Magnesium Carbonate, Calcium Gluconate.
DIRECTIONS OF USE
As a dietary supplement, take 1 capsule per day. Depending on your body composition and weight you may increase serving size to 2 capsules. DO NOT EXCEED 2 capsules in a 24 hour period.
REVIEWS
There is no review
Atsiliepimas Atsiliepimas