FAT BURNERS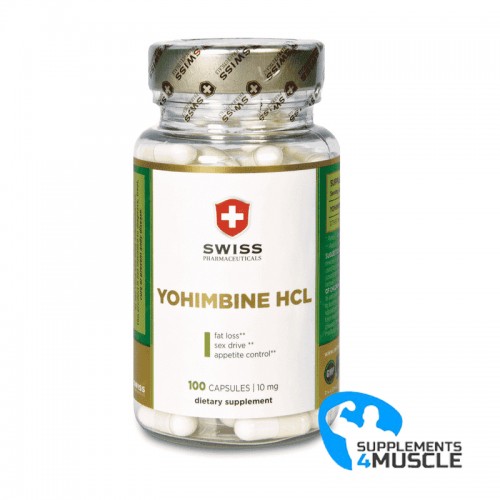 
Swiss Pharmaceuticals Yohimbine HCL 100 caps
Strong fat burner that massively boosts fat burning, suppresses appetite and promotes blood circulation.
DESCRIPTION
COMPOSITION
DIRECTIONS OF USE
REVIEWS
DESCRIPTION
Swiss Pharmaceuticals Yohimbine HCL 100caps
Swiss Pharmaceuticals' Yohimbine HCL provides you with 10mg of the ultimate fat-burning agent per capsule. Not only that, this fat-shredding supplement quells cravings, increasing its effectiveness as an appetite suppressant. Furthermore, Yohimbine also increases blood circulation and metabolism, providing benefits to men who struggle with erectile dysfunction, as well as heightened sexual activity for both men and women.
Yohimbine Hydrochloride (Yohimbine HCL), taken from the African yohimbe tree, is particularly useful in burning fat; this is especially true for areas like the stomach, rear, legs or hips. Supplementing Yohimbine HCL with hydrochloride further increases its efficiency and adds to its long-term benefits, giving you the body and confidence you've always wanted.
Now in our online store, you can purchase Swiss Pharmaceuticals Yohimbine HCL and witness just how efficient it is for burning fat.
Benefits of using Swiss Pharmaceuticals' YOHIMBINE HCL 10mg:
This program is suitable for both men and women and helps to reduce body fat, especially in difficult areas such as the abdomen, hips, legs and buttocks. It is also an appetite suppressant, helping to reduce hunger and cravings. In addition, libido increases, resulting in a stronger desire for sex, and improved blood circulation helps increase stability. Last but not least, metabolism is raised to the highest level.
COMPOSITION
Serving Size: 1 Capsule
Servings Per Container: 100
| | |
| --- | --- |
| Amount Per Serving | |
| Yohimbine HCL: | 10mg |
Other ingredients: gelatine, magnesium stereate
DIRECTIONS OF USE
Dosage: 1 to 3 capsules daily best between meals
Supplements are no substitute for a healthy diet. Consumption and use is at your own risk. Take this product only if you are healthy and over 18 years old. Consult a doctor before use and do not exceed the recommended daily intake. Please do not combine this product with alcohol, drugs or medicines. This product must not be allowed to get into the hands of children. Store in a cool and dry place after opening.
REVIEWS
There is no review
Atsiliepimas Atsiliepimas