PREWORKOUTS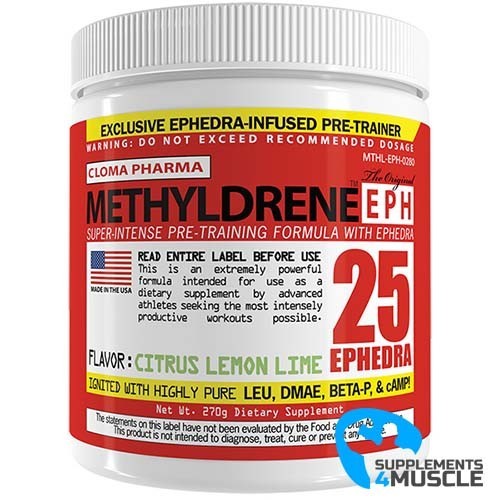 
Cloma Pharma Methyldrene EPH
Contains 25mg of Ephedra
Supports head-turning, mind-altering pumps!
Go for record-breaking lifts with the world`s purest, most studied form of creatine!
Mixes as rapidly as it works. Just the right amount of flavor with little or no after-taste!
Carefully calibrated to support maximum calorie-burning and performance
DESCRIPTION
COMPOSITION
DIRECTIONS OF USE
REVIEWS
DESCRIPTION
Cloma Pharma Methyldrene EPH
Cloma Pharma Methyldrene EPH. If you're looking for the boost you been missing in your workouts, then Methyldrene EPH 25 Pre-Workout Powder by Cloma is the right supplement for your needs.  This health supplement is designed to support those who have troubles focusing on their workouts or who just want an added edge when they're heading into the gym.
Benefits of Methyldrene EPH 
These Methyldrene EPH 25 Pre-Workout Powder by Cloma ingredients are designed to help boost your energy, as well as your fat loss in the gym.  When you add a few scoops of the Methyldrene EPH 25 Pre-Workout Powder by Cloma to a pre-workout drink, you may be able to power on through all of the sets of your workout, and even push out a few more.
You can also use Methyldrene EPH 25 Pre-Workout Powder by Cloma to increase your focus during your off days from the gym, helping you sustain your body and your health.  Without any taste, you may find that Methyldrene EPH 25 Pre-Workout Powder by Cloma can help make your pre-workout routine just as important as what you pound out in the gym.
COMPOSITION
Serving Size: 1 Scoop (6 grams)
Servings Per Container: 45
| | | |
| --- | --- | --- |
| | Amount Per Serving | %DV |
| Methyldrene EPH Muscular Energy Building Matrix | 3675mg | ** |
| L-Arginine Alpha-Ketoglutarate (AKG) | | |
| Creatine Monohydrate | | |
| Citrulline Malate | | |
| Dimethylaminoethanol (DMAE) Bitartrate | | |
| Caffeine Anhydrous | | |
| Ephedra Viridis Powder | | |
| L-Leucine (LEU) | | |
| Yohimbe Bark Extract 8% | | |
| L-Alpha-Glycerylphosphorylcholine | | |
| Cyclic Adenosine Monophosphate | | |
| Fructus Schisandrea Chinises (Schisandra Berry) Powder | | |
**Daily Value (DV) not established
Serving contains ~ Approx 160mg caffeine
Other Ingredients: All Natural Citrus Flavors, Citric Acid, Sucralose, Sodium Citrate, Acesulfame Potassium, Silica, Alum Lake Yellow 5, Alum Lake Red 40.
DIRECTIONS OF USE
FOR INSANE WORKOUTS: Mix 1-2 scoops of METHYLDRENE EPH in water and consume 30 minutes pre-training on an empty stomach. Persons with a sensitive stomach may wish to consume a small amount of food first. Start with 1 scoop and assess your tolerance before increasing the dose.
OPTIONAL: on non-training (rest) days, use METHYLDRENE EPH to support energy and focus. For maximum impact, stop using this product for 1 week every 8 weeks. Never consume more than 3 scoops in a single setting or in a single 24 hour period. Do not consume within 6 hours of bedtime.
REVIEWS
There is no review
Atsiliepimas Atsiliepimas