Xtreme fat burners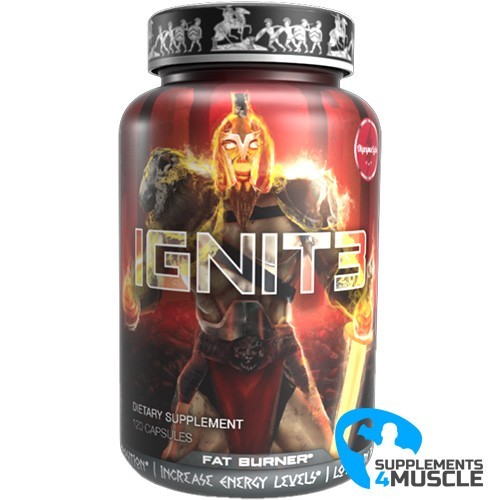 
Olympus Labs IGNIT3
Improve Body Composition
Increase Energy Levels
Lose Body Fat Percentage
Appetite Suppression
DESCRIPTION
COMPOSITION
DIRECTIONS OF USE
REVIEWS
DESCRIPTION
Olympus Labs IGNIT3
Olympus Labs' IGNIT3 is a revolutionary weight loss aid made up of the safest and most effective ingredients. It helps boost energy levels, curb hunger cravings, and sharpen focus, as well as improve mental fitness. IGNIT3 features some unique and proprietary active ingredients, including stimulants, adaptogens, and flavonoids, making it possibly the most efficient fat burner available.
Ignit 3 is an ideal product for those looking for a powerful and effective fat burner that also helps to improve mental and sexual operations. It takes just a few minutes to work, and the effects keep going for a long time. Additionally, Aframomum melegueta is included, which functions as a libido booster. Therefore, Ignit 3 covers many needs, achieving a desired slim figure while caring for brain and sexual functions.
Ignit 3 is an impressive, all-encompassing supplement that will definitely satisfy your needs!
Gynostemma Pentaphyllum - dubbed the "Herb of Longevity" - has been proven to be helpful in reducing cholesterol and triglycerides. This botanical has saponins that are similar to the components of ginseng, and surprisingly, it has even more active compounds - 82 in total - than ginseng, with 28 of them. The various ingredients in this herb are effective on individual body systems and on a cellular level, providing amino acids, vitamins, and minerals such as selenium, magnesium, zinc, calcium, iron, potassium, manganese, and phosphorus. Gynostemma has a restorative and reinforcing effect on the body. It can normalize blood pressure, lower cholesterol levels and enhance your immunity. In addition, this effective adaptogen can mitigate the alarming results of stress, alleviate sleeping issues, clam feelings of agitation, and slow down the aging process. Furthermore, with its highly potent antioxidant properties, it has the potential to lessen the prospects of cancer and impede any potential progression.
Olive Leaf extract can be a beneficial supplement for individuals who are frequently ill and weakened. It promotes the strengthening of the immune system, while also helping to prevent metabolic problems like hypertension, atherosclerosis, diabetes, and obesity. Additionally, it is useful in treating recurrent bacterial, viral, and parasitic infections. Being rich in "olive" phenols, Olive Leaf extract can also assist with lipid oxidation, thyroid hormone levels, weight loss, and skin health.
Caffeine Anhydrous has been shown to influence thermogenesis, reducing appetite all due to the increased manufacture of adrenaline and noradrenaline. Also, it was discovered that dopamine, acetylcholine and serotonin are created within the central nervous system from caffeine, which energizes and improves cognition. The whole effect of caffeine on the body keeps workouts effective and enables an upbeat attitude despite a caloric deficit.
Aframomum melegueta- Madagascar franken is a stimulant and aphrodisiac which assists with temperature regulation, aids digestion and aids in weight loss. Additionally, it has been known to provide strength to the body.
Sesamol is an organic compound found in sesame seeds as well as in sesame oil. It presents itself as a white crystal which is derived from phenol and has a limited solubility in water, yet is easily miscible with most oils. In addition to being an antioxidant, it protects the body against free radicals and has antibacterial and antifungal effects.
Tangerine seed extract incorporates nobletin - a form of flavonoid that stops actions which lead to fat build-up. Through encouraging genes that are responsible for burning away fat and blocking genes that are behind the amassing of fat, it helps to oppose overweight and avert cardiac illness.
Theacrine is an alkaloid similar in structure to caffeine which also activates similar mental alertness pathways. It is thought that theacrine is created from caffeine and stored in higher concentrations in Chinese tea Camellia sinensis alongside caffeine and theobromine. This compound successfully boosts energy levels with similar effects to caffeine; however its effects last longer, its tolerance is slower to increase, and it does not produce any adverse effects. Moreover, the drug has no effect on a person's blood pressure.
Introducing Ginger Root Extract - Ginseng Extract into regular supplementation can have a positive influence on the body as a whole, reducing the amount of lactic acid in muscles which can cause pain and decrease performance. Additionally, it is also known to have a beneficial effect on mental alertness, making it very beneficial for those preparing for tests or exams. It is rich in ginsenosides and can be beneficial for those on diets as the energy is redirected to burn fat.
Dynamine is thought to act in a comparable yet more potent manner once inside the body. It is akin to Axon (better known as TeaCrine®) in molecular composition. This highly active substance improves one's concentration, energy, and energy levels by stimulating dopamine receptors, and obstructing adenosine receptors, but does not lead to a rise in blood pressure.
COMPOSITION
Serving Size: 2 Capsules
Servings Per Container: 60
| | |
| --- | --- |
| | Amount Per Serving |
| Gynostemma Pentaphyllum Extract (Standardized to Min. 2% Damulin A & B) | 225 mg |
| Olive Leaf Extract (Std. 40% Oleuropein) | 200 mg |
| Caffeine Anhydrous | 150 mg |
| Aframomum Melegueta (Std. 12.5% 6-Paradol) | 120 mg |
| Sesamol | 100 mg |
| Tangerine [seed] Extract (Std. to Nomilin 0.2%) | 75 mg |
| Theacrine (as TeaCrine®) | 62.5 mg |
| Ginger Root Extract (Zingber Officinale)(Std. to 25% Gingerols) | 40 mg |
| N-Methylliberine (as Dynamine™) | 25 mg |
DIRECTIONS OF USE
Take 2 capsules (one serving) on an empty stomach up to two times per day. Do not exceed 4 capsules in a 24 hour period of time.
REVIEWS
There is no review
Atsiliepimas Atsiliepimas