FAT BURNERS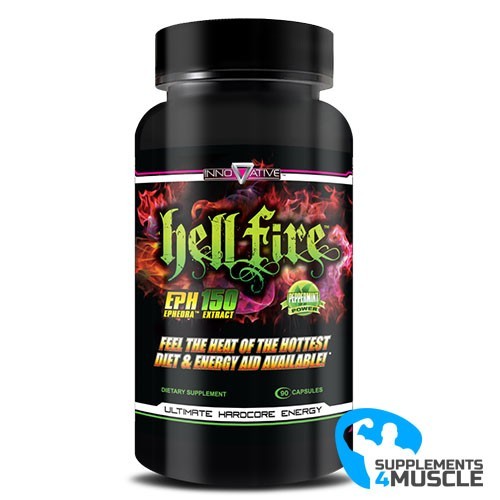 
DESCRIPTION
COMPOSITION
DIRECTIONS OF USE
REVIEWS
DESCRIPTION
Innovative Labs Hellfire
Experience the power of Hell Fire® as it makes its re-emergence as the monarch of weight loss! Developed by Innovative Labs, this improved formula of Hell Fire® is hastily ready and powerfully equipped. Maximize your energy output and ceremoniously become a weight loss professional with the extraordinary impact of the original Hell Fire® on your side!
Hell Fire® is a powerful energizer and weight loss supplement like no other. Unlike other energizers and diet pills that may require several tablets to take effect, merely one dose of Hell Fire® will get you feeling "on fire" and ready to crash through any fat burning challenge! It contains a specially formulated combination of Thermo-Rx® phenylethylamine alkaloids and Thermo-Z® brand Ephedra extract that even former hardcore ephedrine users rate as insanely powerful!
COMPOSITION
Serving Size: 1 Capsule
Serving per Container: 90
Total Blend: 535mg
Amount Per Serving
%DV
Caffeine Anhydrous
150mg
**
Ephedra Extract (leaves)(as Thermo Z® Brand)
150mg
**
Proprietary Blend With Thermo-Rx And Extend-Rx Technology
Senegalia berlandieri Extract (Leaves)[Yealding Phenylethylamine Alkaloids Including: Methylsynephrine, B-Phenylethylamine, N-Methyl-B-Phenylethylamine, & N-Phenethyldimethylamine], Methylhexanamine HCL, Black Tea Extract (leaves), Higenamine Hcl, Rauwolfia Serpentine Extract (Bark), Evodiamine, Rutacarpine, Peppermint Extract (leaves), Black Pepper extract (98% Piperine)
235mg
**
**Daily Value not established
Other Ingredients: Gelatin (capsule), Magnesium stearate, FD &C Red#40, Red, #3, Blue #1.
DIRECTIONS OF USE
SUGGESTED USE: As a dietary supplement, take one capsule after breakfast.  Do not take more than 3 capsules per day.  Do not take for more than 8 weeks without taking 2 weeks off for maximum results.
REVIEWS
There is no review
Atsiliepimas Atsiliepimas