Xtreme fat burners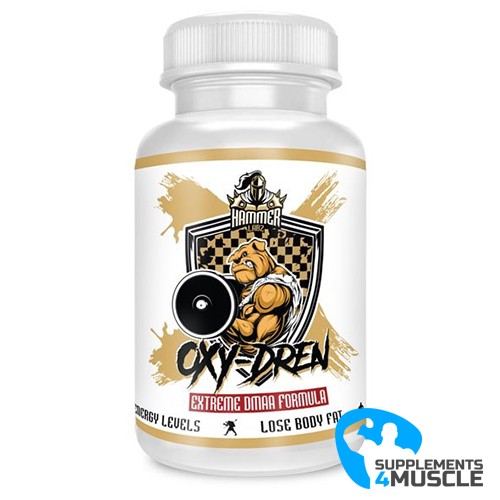 
Hammer Labz Oxy-Dren DMAA 90 caps
Rapid Weight Loss
Increased Energy For The Whole Day
Reduction Of Subcutaneous Water
Improvement Of Well-Being
DESCRIPTION
COMPOSITION
DIRECTIONS OF USE
REVIEWS
DESCRIPTION
Hammer Labz Oxy-Dren 90 caps
Hammer Labz Oxy-Dren 90 caps is a highly effective fat-burning formula ideal for experienced athletes. This sophisticated fat-burning supplement directly activates the adrenergic receptors and contains stimulating agents such as DMAA, synephrine, two types of yohimbine, and caffeine to help reach maximum fat loss, particularly in the abdomen, thighs, buttocks, and lower back. The thyroid hormone metabolite also helps in fat oxidation, assisting with weight loss. Haemmer Labz Oxy-Dren can also help to increase focus and alertness while speeding up your metabolism and suppressing appetite. This easy to dose supplement is great for those looking to shed pounds and to help reach their physique goals.
Taking this supplement has the effect of activating the central nervous system, increasing focus and awareness, and increasing vitality. It additionally helps slimming, raises the capacity of exercise and hastens the metabolism. Its mix of stimulant and diuretic ingredients has especially great power during the last phase of slimming when trying to reach the lowest level of body fat. Alternately, this strong fat burner along with caffeine and other stimulating ingredients heightens thermogenesis.
Caffeine has been proven to result in a thermogenic effect and curb hunger pangs as it heightens the manufacture of adrenaline and noradrenaline. Also, its influence on the central nervous system activates the production of dopamine, acetylcholine, and serotonin, which can lead to improved cognitive function and heightened energy. Consequently, this overall effect caused by caffeine aids in supporting one's training and maintaining a cheerful attitude during a calorie shortfall.
Dandelion Extract has impressive dehydrating capabilities. It is regarded as the most potent herbal supplement to reduce water retention under the skin. Furthermore, it generates a detoxifying and purifying effect, augmenting the metabolism rate. Its roots hold a multitude of mineral salts, organic acids, sterols, inulin, and choline.
DMAA is very beneficial as it not only works as an invigorating stimulant, but also as a fat burner. It increases adrenaline levels, activating adrenergic receptors. Caffeine amplifies its effects and Geranium produces dopamine so that users remain focused and in good spirits when exercising. This combination is conducive to energy, concentration and stimulation enhancement.
Ephedra Vulgaris is known to increase basic energy expenditure, resulting in a caloric deficit and therefore, faster metabolism and fat burning. Not only that, but taking green spring extract is shown to reduce one's cravings, allowing them to maintain a healthier diet, especially when going through times of low-calorie intake. Additionally, the plant has been found to provide flavonoids, which are able to get rid of free radicals within the body.
Synephrine HCL, which is structurally similar to ephedrine, is obtained from unripened citrus fruit such as Citrus uranium L. and Citrus aurantium L. As an alternative to ephedrine, it is increasingly being incorporated into medications and dietary supplements devoted to sports people and those wishing to lose weight. This compound enhances metabolism, satisfies hunger and simultaneously heightens both cerebral and physical energy. Synephrine heightens blood pressure and influences cardiac activity. It also dilates the bronchi, facilitating breathing, successfully relieves nasal blockage and enhances mental states.
Halostachine HCL is composed of a hydrochloride of a natural alkaloid sourced from Halostachys caspica. This compound has the capacity to accelerate metabolism, mimicking the action of ephedrine but with enhanced safety. It triggers the secretion of adrenaline and noradrenaline. It can augment cognitive processes, strengthens motivation, and improves the stamina and strength of an individual.
The active molecule in black pepper, piperine, has a thermogenic influence. This leads to increased blood flow to the gastrointestinal tissue, allowing for more efficient assimilation of nutrients consumed. Piperine also substantially increases the biovailability of many enhancements and intensifies their effects.
Yohimbine hydrochloride has been proven to be a great aid for athlete's performance. Studies have discovered that it is capable of increasing energy expenditure to better support the body's energy supply during exercise. Furthermore, yohimbine intake before physical activity or on an empty stomach can help target fat deposits in the body, particularly in areas that are normally more resistant to fat burning like the abdomen and lower back in men and the thighs and buttocks in women. Regular use of yohimbine has also been shown to increase lipolysis and promote effective fat burning.
The extract of Alpha Yohimbine, standardized to include rauwolscine, isojohimbine, and alpha yohimbine, has multiple actions beneficial to the body. It is an antioxidant and anti-inflammatory, providing relief from pain. It also assists with the metabolism of carbohydrates and insulin, hinders cancer processes and improves mental well-being. By activating the cholinergic system and increasing adrenaline concentration, the body is stimulated to act and causes fat to be burned off more quickly and efficiently, particularly from the hips and lower abdomen. Fat oxidation in the mitochondria is also accelerated.
Hupercin A is an impressive alkaloid utilized to expand memory ability. It is one of the most attractive materials from the classification of agents that offer what is known as mental enhancers. It promotes the highest level of concentration, focus and mental clarity in practically any condition. It is highly advantageous for those who need to complete difficult intellectual work, as well as students or individuals in the process of graduating from high school. Compared to many other stimulants that act on the brain, its effects do not reduce over time, making it possible to take advantage of regular hupercin supplements for extended periods.
3,5-Diiodo-L-Thyronine which has the capacity to quicken the oxidation of fatty acids, which can be beneficial for weight reduction. This is likely because the compound increases the amount of oxygen employed in the body. Thus far, there appears to be no evidence of side effects linked to 3,5-Diiodo-L-Thyronine like those usually seen in users of thyroid hormones.
COMPOSITION
Serving Size: 1 Capsule
Serving Per Container: 90 capsules
| | |
| --- | --- |
| | Amount Per Serving |
| Caffeine | 200 mg |
| Dandelion Extract | 100 mg |
| DMAA | 70 mg |
| Ephedra Vulgaris | 50 mg |
| Synephrine HCL | 30 mg |
| Halostachine HCL | 10 mg |
| Piperine | 5 mg |
| Yohimbine HCL | 2 mg |
| Alpha Yohimbine | 2 mg |
| Huperzine A | 250 mcg |
| 3,5-Diiodo-L-Thyronine (T2) | 200 mcg |
DIRECTIONS OF USE
As an adult dietary supplement take 1 capsule before breakfast and 1 capsule 6 hours later before meal. Do not exceed more than 2 capsules in 24 hour period of time.
REVIEWS
There is no review
Atsiliepimas Atsiliepimas