SARMS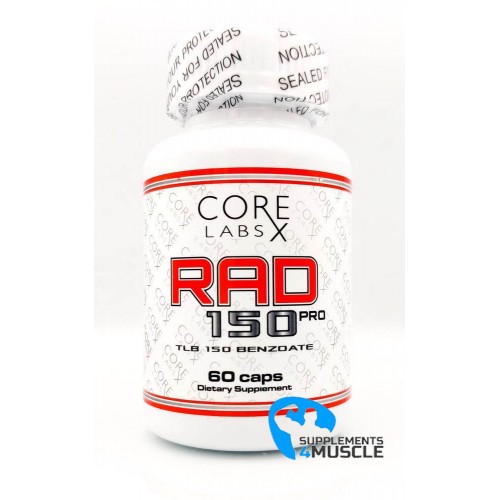 
DESCRIPTION
COMPOSITION
DIRECTIONS OF USE
REVIEWS
DESCRIPTION
Core Labs X RAD 150 Pro 60caps
Ever wondered about the secret of amateur and professional bodybuilders who hit the gym for hours and still don't show any signs of muscle breakdown or fatigue? The answer is Core Labs X RAD 150 Pro 60 caps.
Considered to be one of the most potent Selective Androgen Receptor Modulators (SARMs), RAD-150 (TLB-150) is what makes every other workout supplement envious. Known to stimulate massive muscle mass and body strength gains, Core Labs X RAD 150 Pro 60 caps have similar effects to Testosterone and don't negatively impact the body like anabolic androgenic steroids and other compounds. Safe to use, Core Labs X RAD 150 Pro 60 caps are best used in cycles of 12-18 weeks.
Why Buy Core Labs X RAD 150 Pro 60 caps?
A powerful muscle-building product
Doesn't negatively affect the lipid profile
Promotes lean muscle growth
Ideal for cutting and bulking cycles
Promotes muscle growth and recovery
Doesn't lead to baldness, gynecomastia, and water retention
Improves libido and the quality and duration of intimate cycles
Promotes rapid muscle regeneration
What is the difference between RAD-150 and RAD-140?
RAD-140 first appeared as a safer alternative to testosterone replacement therapy. Both blends are similar in structure and action, however RAD-150 is an anabolic ester. The structure of RAD-150 contains an additional group of benzoate esters. In RAD-150, the increased alkalinity makes the compound more stable. The compound is more like natural testosterone, so it binds more easily to androgen receptors.
RAD-150 is an anabolic ester that works faster and lasts longer in the body than other SARM.
Buy Core Labs X RAD 150 Pro 60 caps now and let the hidden beast in you come out to stun everyone at the gym!
COMPOSITION
Serving Size: 1 Capsule
Servings per Container: 60
| | |
| --- | --- |
| Amount Per Serving | |
| NAC (N-Acetyl L-Cysteine) | 350mg |
| Vitamin E (TPGS) | 10mg |
| TLB 150 Benzoate (RAD-150) | 10mg |
Other Ingredients: Ascorbic Acid, Magnesium Carbonate, Calcium Gluconate, Potassium Gluconate, Zinc Gluconate, Magnesium Stearate, Silicon Dioxide.
DIRECTIONS OF USE
Recommended dose: 1-2 capsules a day . The course is 6-8 weeks. Do not exceed 6 capsules in a 24 hour period and do not take for more than 8 weeks continuous use without a 4 week break between cycles.
WARNING: Not recommended for persons under 18 years of age. Consult your physician before using this product. Do not use if you have any medical condition, including but not limited to, prostate hypertrophy, cancer, heart, liver, cardiovascular, kidney, thyroid disease, high blood pressure, low HDL, or are taking any other prescription drugs. Do not use if you are pregnant or nursing. Discontinue use if you experience any adverse reaction to this product. Store in a cool, dry place, tightly closed.