FAT BURNERS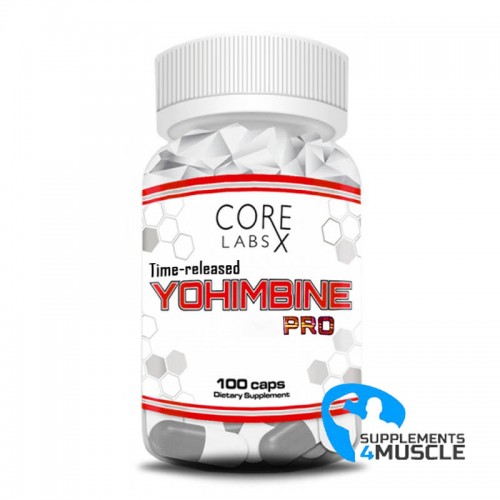 
Core Labs X Time-Released Yohimbine Pro 100caps
Nowadays, everyone strives to be the best in every field of functioning. If you feel you need to up your libido, your figure is not perfectly slim and you are distracted at work or while studying, then know that there is a measure that solves all these problems!
DESCRIPTION
COMPOSITION
DIRECTIONS OF USE
REVIEWS
DESCRIPTION
Core Labs Yohimbine PRO is yet another uncompromising formulation from this incredible company. The synergistic blend of all 4 forms known and proven for their effectiveness of Yohimbine. Combined in a single product for maximum effective absorption and coverage thanks to its "Time-Release", ensuring a longer lasting effect during the day thanks to the longer half-life. Its forms such as Yohimbe Bark standardized to 3.2mg alkaloids, Rauwolscine (90% Alpha Yohimbine), Yohimbine HCL, and 11-Hydroxy Yohimbine make it the Yohimbine-based product of the current market.
Yohimbine is a highly regarded ingredient among athletes as it helps in three key areas. It is useful for pumping and muscle strengthening at the same time, helps get rid of body fat and acts as a thermogenic extender. Yohimbe is also used to improve blood flow to the genital areas and treat impotence. However, this supplement is also particularly effective in reducing body fat and limiting its accumulation, in both men and women. The lower body has a higher number of alpha-2 receptors, especially in women.
Core Labs X Yohimbine Pro is a pharmaceutical form of the alkaloid of yohimbine. In nature, yohimbine is a compound of plant origin obtained from a tree that grows in Africa called Johimba lekarska (Pausinystalia yohimbe). It has Yohimbine HCL which is the cleanest, the most powerful and the longest-acting form of yohimbine available in the world, cleared of unwanted alkaloids.
Yohimbe Bark (Std for 3,2 Yohimbine Alkaloids) - basic substance with high titration, useful in the fight against the so-called resistant adipose tissue, mainly located in the chest and lower waist area in men and in the hips, buttocks and thighs in women. It works by facilitating weight loss in resistant parts of the body.
Yohimbine Pro raises the level of norepinephrine - a key neurotransmitter activating many processes in the body - it mobilizes the body and mind. Higher levels of noradrenaline increase physical and mental energy, stimulate action, improve the crispness and clarity of the mind.
Yohimbine Pro intensifies thermogenesis and activates the lipolysis process - it accelerates the release and burning of fat from fat tissue and releases glucose from the muscles - thus faster than before you reduce your body fat, even from the most resistant places such as buttocks, thighs and stomach. What's more, yohimbine HCL raises testosterone levels, which will increase your pure muscle mass and strength.
Rauwolscine (90% Alpha Yohimbine) - compound which, acting antagonistically to the α2-adrenergic receptors, improves the release of numerous neurotransmitters. It increases neuronal excitability by stimulating the body, improves the aptitude for physical activity and supports energy metabolism in a period of very restrictive diet. Increasing cAMP activity promotes growth, enhances the cyclical breakdown of fat deposits and the burning rate of fatty acids released in the mitochondria. It is one of the few compounds that focus on α2 adrenergic receptors, effectively initiating the loss of stored fat in the abdomen and hips. By modulating the release of Norepinephrine in the brain, it reduces appetite, especially in obese people. By preventing the activation of a2 adrenergic receptors, the Alpha-Yohimbine modulates the levels of neurotransmitters, and the size of the cAMP, by means of which it increases the system's ability to release and subsequently burn the reserves accumulated in the form of fat in the substrates energetic. The inactivation of the a2-adrenergic receptors, in high concentration in the areas of the abdomen and hips, accelerates the loss of fat accumulated in access, also known as "resistant".
11-Hydroxy Yohimbine - Numerous scientific studies confirm that 11-hydroxy Yohimbine is up to 56% more effective than the more popular Yohimbine HCL. 11-hydroxy-yohimbine exhibits an increased ability to bind alpha-2 adrenergic receptors up to 10 times. The half-life of 11-hydroxy-yohimbine is approximately 8-11 hours, compared to the two-hour half-life of yohimbine hcl. 11-hydroxy-yohimbine provides a distinct advantage over yohimbine in affinity for alpha-2 adrenergic receptors and a longer half-life.
Yohimbine Pro also works well in people with rheumatoid arthritis - reduces inflammation and pain, which improves the overall comfort of life and physical fitness.
COMPOSITION
Serving Size: 1 Capsule
Servings per Container: 100
| | |
| --- | --- |
| Amount Per Serving | |
| Yohimbine Bark Extract | 40mg |
| Rauwolscine (90% Alpha Yohimbine) | 3mg |
| Yohimbine HCL | 3mg |
| 11-Hydroxy Yohimbine | 3mg |
Other Ingredients: Magnesium Stearate, Silicon Dioxide, Magnesium Carbonate, Calcium Gluconate.
DIRECTIONS OF USE
As a dietary supplement, take 1 capsule per day. Depending on your body composition and weight you may increase serving size to 2 capsules. DO NOT EXCEED 2 capsules in a 24 hour period.