Xtreme PWO formulas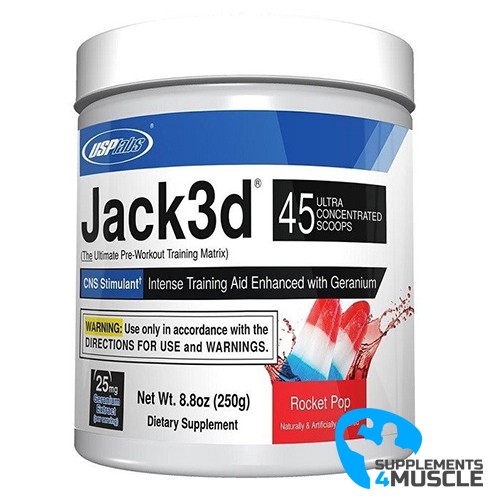 
DESCRIPTION
COMPOSITION
DIRECTIONS OF USE
REVIEWS
DESCRIPTION
USP LABS Jack3d 250g DMAA+DMHA
Developed by USP Labs, the latest version of Jack3d is a legendary pre-workout supplement that was the first of its kind to use geranium for potent effectiveness. Regarded as one of the most popular products, it is composed of the most efficient components enabling maximum benefit during workouts. Jack3d is a multi-faceted substance and one of the best pre-workout supplements available.
This formula is extraordinary and makes it highly potent, thus providing tangible backing for everyday workouts for the optimal sportspeople. The supplement acts extremely quickly, and within a few minutes its influences can be sensed. Factors with an energizing and pumping effect are competent in increasing inspiration and exercise verve. The integration of yohimbine on top of this will even reduce fat from hard-to-lose zones like the belly, lower back, legs, and rear.
COMPOSITION
Serving Size: 1-3 Scoops (5.55-16.65g)
Servings Per Container: 15-45
| | |
| --- | --- |
| | 1 Scoop |
| Proprietary Blend: | 4,145 mg |
| (Arginine Alpha-Ketoglutarate, Creatine Monohydrate, Beta Alanine, Caffeine, 2-Aminoisoheptane HCl, Geranium Extract (stem & leaves), Yohimbine Extract (bark)(Standardized for Yohimbine Alkaloids)), Schisandra Chinensis (berry) Extract (Standardized for Schizandrol A) | |
| Caffeine | 135 mg |
DIRECTIONS OF USE
Beginners should mix 1 scoop with cold water and take 30 minutes before training. After the compatibility has been tested, the portion size can be increased to 2 measuring spoons. Do not exceed the recommended dosage.
Advanced athletes should take two full scoops with cold water 30 minutes before training. Do not take after 5 p.m.