VITAMINS AND MINERALS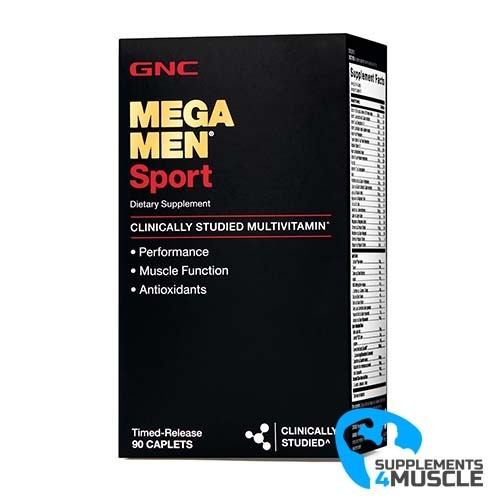 
DESCRIPTION
COMPOSITION
DIRECTIONS OF USE
REVIEWS
DESCRIPTION
GNC Mega Men Sport
Clinically-tested GNC Mega Men Sport Multivitamin.
The formulations now feature greater levels of antioxidants and more than 30 scientifically backed components, all in little pills that are simpler to ingest.
Men's Health
This product includes a scientifically researched multivitamin specifically designed for men that is more effective than just an ordinary multivitamin. It also helps promote colon and prostate wellbeing.
Performance
This supplement contains beta-alanine, a very effective way to buffer muscle pH, and carnitine, which helps the body use fatty acids for energy.*
Muscle Function
This product contains branched chain amino acids to feed muscles and also helps to replenish the essential electrolytes that can be depleted during strenuous exercise, such as calcium, which is necessary for muscle contraction.*
Antioxidants
Containing plenty of antioxidants to battle free radicals created during exercise.*
When it comes to good health, GNC Mega Men® and Women's Ultra Mega® multivitamins stand out. Not only do they contain the essential vitamins and minerals necessary for wellness, but they are backed by clinical evidence that they actually contribute to improved well-being.† In addition, there are four more reasons to opt for these multivitamins.
COMPOSITION
Serving Size  2 Caplet(s)
Servings Per Container  45

---

Amount Per Serving
 
 
% DV

---

Vitamin A (50% as beta-Carotene & 50% Retinyl Acetate)
5000 IU
 
556%
Vitamin C (as Ascorbic Acid & Calcium Ascorbate)
300 mg
 
500%
Vitamin D (as Cholecalciferol D-3)
1600 IU
 
400%
Vitamin E (as Natural d-alpha Tocopheryl Acetate)
30 IU
 
100%
Vitamin K (as phytonadione)
80 mcg
 
100%
Thiamin (Vitamin B-1)(as Thiamin Mononitrate)
50 mg
 
3333%
Riboflavin (Vitamin B-2)
50 mg
 
2941%
Vitamin B-6 (as Pyridoxine Hydrochloride)
50 mg
 
2500%
Folic Acid
400 mcg
 
100%
Vitamin B-12 (as Cyanocobalamin)
50 mcg
 
833%
Biotin
300 mcg
 
100%
Pantothenic Acid (as Calcium d-Pantothenate)
50 mg
 
500%
Iodine (as Potassium Iodide)
150 mcg
 
100%
Magnesium (as Magnesium Oxide)
100 mg
 
25%
Zinc (as Zinc Oxide)
25 mg
 
167%
Selenium (as L-Selenomethionine)
200 mcg
 
286%
Copper (as Copper Sulfate)
2 mg
 
100%
Manganese (as Manganese Sulfate)
2 mg
 
100%
Chromium (as Chromium Chloride)
120 mcg
 
100%
Molybdenum (as Sodium Molybdate)
75 mcg
 
100%
Chloride (as Potassium Chloride)
72 mg
 
2%
Potassium (as Potassium Chloride)
80 mg
 
2%

---

Niacin (as Niacinamide & Niacin) 
50 mg
 
**
Calcium (as Calcium Carbonate & Calcium Ascorbate) 
200 mg
 
**
Sports Blend  
0
 
**
Beta-Alanine (as CarnoSyn®) 
10 mg
 
**
Taurine 
10 mg
 
**
Choline (as choline bitartrate) 
10 mg
 
**
Inositol 
10 mg
 
**
MSM (MethylSulfonyl Methane) 
10 mg
 
**
L-Carnitine (as L-Carnitine L-Tartrate) 
6 mg
 
**
Silica (as Silicon Dioxide) 
4 mg
 
**
Boron (as Sodium Borate) 
2 mg
 
**
Celery Juice Concentrate (Apium graveolens) 
1.9 mg
 
**
Hyaluronic Acid (as Sodium Hyaluronate) 
1 mg
 
**
Vanadium (as Sodium Metavanadate) 
10 mcg
 
**
Super Antioxidant Blend  
0
 
**
alpha-Lipoic Acid 
25 mg
 
**
Lutemax® 2020 Lutein 
2 mg
 
**
Lycopene 
1 mg
 
**
Turmeric Root Extract (CurcuWIN™)(Curcuma longa)(Standardized to Curcuminoids) 
500 mcg
 
**
Zeaxanthin (as Zeaxanthin Isomers) 
400 mcg
 
**
Astaxanthin (from Haematococcus pluvialis) 
50 mcg
 
**
beta-Cryptoxanthin 
10 mcg
 
**
Branched Chain Amino Acid Blend (L-Leucine, L-Isoleucine, L-Valine)  
150 mg
 
**

---

** Daily Value (DV) not established.
DIRECTIONS OF USE
Directions: As a dietary supplement, take two caplets daily food.
REVIEWS
There is no review
Atsiliepimas Atsiliepimas