VITAMINS AND MINERALS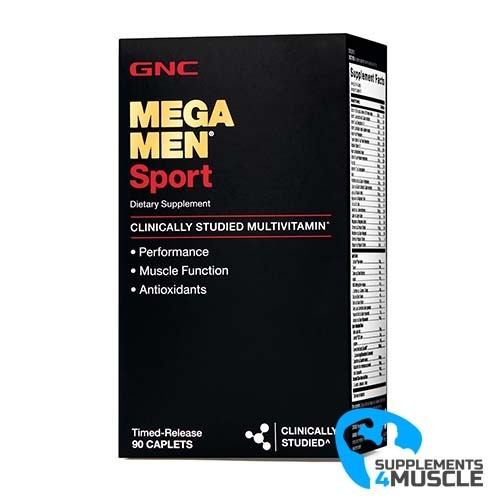 
DESCRIPTION
COMPOSITION
DIRECTIONS OF USE
REVIEWS
DESCRIPTION
GNC Mega Men Sport
GNC Mega Men Sport Clinically Studied Multivitamin.
More antioxidant power than ever and over 30 clinically studied ingredients in every formula - all in smaller, easier-to-swallow pills.
Men's Health
Contains a clinically studied men's multivitamin shown to work better than a basic multivitamin. Helps support colon and prostate health.*
Performance
Features beta-alanine, a high-efficiency muscle pH buffer, and carnitine, which helps use fatty acids as energy.*
Muscle Function
Features branched chain amino acids to fuel muscles. Also supports muscles by providing essential electrolytes that may be lost during intense exercise, including calcium, which plays a role in mediating muscle contraction.*
Antioxidants
Packed with antioxidants to help fight free radicals that can be produced during your workout.*

Not all multivitamins are created equal. When it comes to something as important as your health, you want a high quality multivitamin. Not only is every GNC Mega Men® and Women's Ultra Mega® multivitamin complex created with the vitamins and minerals you need to live well, they're also clinically proven to make you feel better.†
Here's four more reasons to choose GNC Mega Men® and Women's Ultra Mega® multivitamins.
COMPOSITION
Serving Size  2 Caplet(s)
Servings Per Container  45

---

Amount Per Serving
 
 
% DV

---

Vitamin A (50% as beta-Carotene & 50% Retinyl Acetate)
5000 IU
 
556%
Vitamin C (as Ascorbic Acid & Calcium Ascorbate)
300 mg
 
500%
Vitamin D (as Cholecalciferol D-3)
1600 IU
 
400%
Vitamin E (as Natural d-alpha Tocopheryl Acetate)
30 IU
 
100%
Vitamin K (as phytonadione)
80 mcg
 
100%
Thiamin (Vitamin B-1)(as Thiamin Mononitrate)
50 mg
 
3333%
Riboflavin (Vitamin B-2)
50 mg
 
2941%
Vitamin B-6 (as Pyridoxine Hydrochloride)
50 mg
 
2500%
Folic Acid
400 mcg
 
100%
Vitamin B-12 (as Cyanocobalamin)
50 mcg
 
833%
Biotin
300 mcg
 
100%
Pantothenic Acid (as Calcium d-Pantothenate)
50 mg
 
500%
Iodine (as Potassium Iodide)
150 mcg
 
100%
Magnesium (as Magnesium Oxide)
100 mg
 
25%
Zinc (as Zinc Oxide)
25 mg
 
167%
Selenium (as L-Selenomethionine)
200 mcg
 
286%
Copper (as Copper Sulfate)
2 mg
 
100%
Manganese (as Manganese Sulfate)
2 mg
 
100%
Chromium (as Chromium Chloride)
120 mcg
 
100%
Molybdenum (as Sodium Molybdate)
75 mcg
 
100%
Chloride (as Potassium Chloride)
72 mg
 
2%
Potassium (as Potassium Chloride)
80 mg
 
2%

---

Niacin (as Niacinamide & Niacin) 
50 mg
 
**
Calcium (as Calcium Carbonate & Calcium Ascorbate) 
200 mg
 
**
Sports Blend  
0
 
**
Beta-Alanine (as CarnoSyn®) 
10 mg
 
**
Taurine 
10 mg
 
**
Choline (as choline bitartrate) 
10 mg
 
**
Inositol 
10 mg
 
**
MSM (MethylSulfonyl Methane) 
10 mg
 
**
L-Carnitine (as L-Carnitine L-Tartrate) 
6 mg
 
**
Silica (as Silicon Dioxide) 
4 mg
 
**
Boron (as Sodium Borate) 
2 mg
 
**
Celery Juice Concentrate (Apium graveolens) 
1.9 mg
 
**
Hyaluronic Acid (as Sodium Hyaluronate) 
1 mg
 
**
Vanadium (as Sodium Metavanadate) 
10 mcg
 
**
Super Antioxidant Blend  
0
 
**
alpha-Lipoic Acid 
25 mg
 
**
Lutemax® 2020 Lutein 
2 mg
 
**
Lycopene 
1 mg
 
**
Turmeric Root Extract (CurcuWIN™)(Curcuma longa)(Standardized to Curcuminoids) 
500 mcg
 
**
Zeaxanthin (as Zeaxanthin Isomers) 
400 mcg
 
**
Astaxanthin (from Haematococcus pluvialis) 
50 mcg
 
**
beta-Cryptoxanthin 
10 mcg
 
**
Branched Chain Amino Acid Blend (L-Leucine, L-Isoleucine, L-Valine)  
150 mg
 
**

---

** Daily Value (DV) not established.
DIRECTIONS OF USE
Directions: As a dietary supplement, take two caplets daily food.
REVIEWS
There is no review
Atsiliepimas Atsiliepimas