VITAMINS AND MINERALS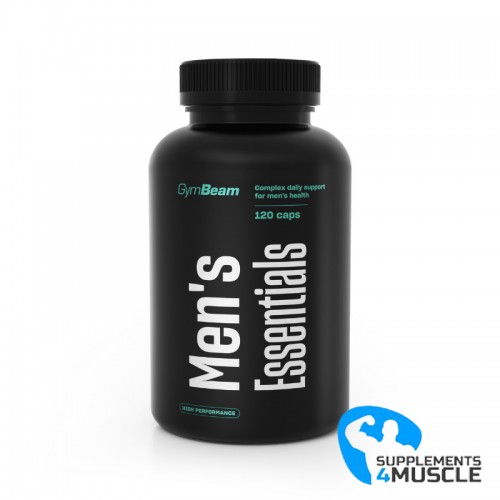 
DESCRIPTION
COMPOSITION
DIRECTIONS OF USE
REVIEWS
DESCRIPTION
GymBeam Men's Essential Multivitamin 120 caps
A revolutionary product designed specifically for males that enhances wellbeing, vigor, and the proper functioning of the body every day. Men's Essentials Multivitamin is the perfect solution.
Men's Essentials Multivitamin offers all men the support they need to lead an active, energetic lifestyle. It is made up of 27 specialized ingredients to nurture the proper function and overall wellbeing of the body. By taking this complex product, men can boost their vitality and health.
Having twelve vitamins on a daily basis will provide the body with what it needs to properly work. After a day of physical activity, men can benefit from having vitamins D, B6, and B12 because these help the immune system stay strong. Additionally, vitamin C assists the production of collagen and helps keep skin looking healthy and youthful.
A draining lifestyle can be wearing, causing tiredness. Men's Essentials Multivitamin helps out by providing vitamins B3, B6 and magnesium which assists with keeping exhaustion away - a necessity especially when life is full of pressure. Additionally, vitamin C, iodine, magnesium and iron are necessary for the metabolism to work correctly, which is key for energy creation, and the coenzyme Q10 is also beneficial in this.
It is essential to note the significance of mental health and vitamins B5, B9, and magnesium play a role in this. Furthermore, magnesium is present in over three hundred biochemical processes in the body, including the management of muscles, bones, and teeth, as well as vitamin D. A lack of magnesium could lead to difficult muscle contractions, both during exercising and when not heavily active. Therefore, it is advantageous to consume magnesium in its most absorbable form, which is magnesium bisglycinate.
Vitamin A is beneficial for good eyesight, while vitamin K helps with clotting of the blood. This is not just important to athletes, those that are physically active, or those solely seeking a performance advantage. Vitamin B5 helps with the creation and breakdown of hormones, vitamin D, and neurotransmitters. Vitamin B6 helps a person's hormone levels, as well as the metabolism of proteins and glycogen. Furthermore, zinc, in the form of bisglycinate which is easily digested, has an effect on fertility, reproductive health, and protein synthesis. Additionally, zinc is good for healthy hair, nails, and skin.
Iodine is necessary for good mental abilities and the thyroid gland works properly because of it, since the thyroid is responsible for managing the metabolism through releasing hormones. Additionally, chromium is important for normal metabolism of major nutrients and for keeping blood sugar levels at optimal levels.
This Men's Essential Multivitamin contains a selection of ingredients designed to maximize digestive health. Choline bitartrate, a nootropic touted to boost memory, learning and attention, forms part of the mix. Lycopene, a potent antioxidant, is also included to help fight oxidative stress, which can cause premature aging of cells. Open to both young and old men alike, it contains Serenoa repens to take care of the prostate, while Korean red ginseng extract is present as an adaptogen to improve coping with stress. It is further enhanced by the inclusion of ginkgo biloba, hesperidin, grape seed extract and alpha lipoic acid, which is involved in energy metabolism.
The advantages of using a Men's Essentials Multivitamin are plentiful.
A sophisticated multivitamin especially manufactured for male users has 27 precisely selected components, including multifaceted agents, nootropics, regulators, anti-oxidants, and other effective additives which help sustain everyday health and vitality. It also provides energy by lending support to an action-packed life, assists in propelling the immune system and in producing and metabolizing steroid hormones. It helps to alleviate fatigue and decrease diminished strength, and assists in maintaining muscle, bone, and tooth health. This product aids in upholding normal testosterone levels in the blood, in catalyzing fertility and reproductive roles, in manufacturing thyroids hormones and keeping the thyroid healthy as well as in stabilizing blood sugar. For vegan users, this multivitamin is ideal.
COMPOSITION
Container size: 120 caps
Serving size: 2 caps
Servings per container: 60
| | |
| --- | --- |
| | Amount per serving (2 caps) |
| Vitamin C | 240mg |
| Vitamin E | 20mg |
| Vitamin A | 500mcg |
| Vitamin D3 | 5mcg |
| Vitamin K2 | 75mcg |
| Vitamin B1 | 4,4mg |
| Vitamin B2 | 5,6mg |
| Vitamin B3 | 48mg |
| Vitamin B6 | 5,6mg |
| Vitamin B7 | 150mcg |
| Vitamin B9 | 400mcg |
| Vitamin B12 | 10mcg |
| Magnesium | 84mg |
| Zinc | 20mg |
| Iron | 14,5mg |
| Chromium | 200mcg |
| Iodine | 150mcg |
| Alpha lipoic acid | 100mg |
| Choline bitartrate | 80mg |
| Hesperidin | 50mg |
| DigeZyme | 20mg |
| Coenzyme Q10 | 10mg |
| Lycopene | 1mg |
| Korean red ginseng extract (Panax ginseng) | 100mg |
| Serenoa repens extract (Serenoa repens) | 80mg |
| Grape seed extract (Vitis vinifera) | 40mg |
| Ginkgo biloba extract (Ginkgo biloba) | 40mg |
Ingredients: Bulking agent (microcrystalline cellulose), magnesium bisglycinate, vitamin C (L-ascorbic acid), Korean red ginseng root extract (Panax ginseng) (10% ginsenosides), alpha lipoic acid, zinc bisglycinate, 65% extract of Serenoa repens (Serenoa repens), Choline bitartrate, hesperidin, vitamin B3 (niacinamide), ferrous fumarate, vitamin E (DL-alpha tocopherol), grape seed extract (Vitis vinifera) (95% polyphenols), ginkgo biloba extract 50:1, vitamin B5 (pantothenic acid), anti-caking agent (magnesium stearate), DigeZyme® (alpha-amylase, protease, lactase, lipase, cellulase), vitamin K2 (menaquinone-7), coenzyme Q10, vitamin B7 (D-biotin), vitamin B2 (riboflavin), vitamin B6 (pyridoxine hydrochloride), vitamin B1 (thiamine hydrochloride), vitamin D3 (Cholecalciferol), chromium picolinate, lycopersicon esculentum extract (5% lycopene), vitamin B12 (cyanocobalamin), vitamin A (retinol), vitamin B9 (pteroylmonoglutamic acid), potassium iodide.   
Warning: Do not exceed the recommended amount of daily servings. The product is not a substitute for a varied and balanced diet. The product is not suitable for children, pregnant and nursing women. Keep out of reach of children. Store in a dry place at a temperature of up to 25 °C. Protect from freezing temperatures and direct sunlight.  
DIRECTIONS OF USE
Recommended use: Take 2 tablets per day.
REVIEWS
There is no review
Atsiliepimas Atsiliepimas