VITAMINS AND MINERALS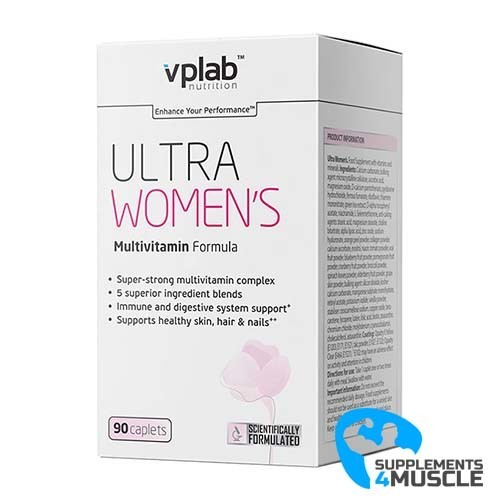 
VPLab Ultra Womens 90caps
Super-strong female vitality complex
5 superior women's health blends
Immune & digestive system support
Supports skin, hair & nails health
DESCRIPTION
COMPOSITION
DIRECTIONS OF USE
REVIEWS
DESCRIPTION
VPLab Ultra Womens
VPLab Ultra Women's offers the pinnacle of wellbeing with its Ultra Women's Caplets!
We women need to be aware of numerous health considerations, such as having enough energy to handle our jobs and responsibilities, having a resilient immune system so that we don't get ill, as well as keeping our skin, hair, and nails looking young and vibrant. Utilize Ultra Women's caplets to sustain your natural ability to remain healthy. This outstanding female vigor concoction is stocked full of helpful materials - more than 50 active ingredients work together to keep you healthy, energized, support your nervous system, improve digestion, and bolster your immune system.
Consisting of five special mixtures, these ingredients can provide different types of aid. The Ultra blend consists of vitamins and minerals for maintaining overall health. The Free Radical blend helps protect from damaging elements. The Beauty blend enables healthier hair, skin, and nails. The Memory blend aids in remembering things with a hectic schedule. The Joint Health blend is designed to ward off wear and tear of the body. For optimal health, it is suggested to take two Ultra Women's caplets daily.
COMPOSITION
Serving Size  2 Caplet(s)
Servings Per Container  45


Nutrition Information
 
per 2 caplets
% NRV*
Ultrablend
Vitamin A
2.25 mg RE (5000 IU)
281%
Vitamin C
200 mg
250%
Vitamin D3
40 µg (1600 IU)
800%
Vitamin E
20 mg TE (30 IU)
167%
Vitamin К1
80 µg
107%
Vitamin B1
50 mg
4545%
Vitamin B2
50 mg
3571%
Vitamin B3
50 mg
313%
Vitamin B6
50 mg
3571%
Folic Acid
400 µg
200%
Vitamin B12
50 µg
2000%
Biotin
300 µg
600%
Pantothenic Acid
50 mg
833%
Calcium
500 mg
63%
Iron
18 mg
129%
Iodine
150 µg
100%
Magnesium
100 mg
27%
Zinc
15 mg
150%
Selenium
200 µg
364%
Copper
2 mg
200%
Manganese
2 mg
100%
Chromium
120 µg
300%
Molybdenum
75 µg
150%
Fruit & Vegetable Powerblend
Orange peel powder, acai fruit powder, cranberry fruit powder, blueberry fruit powder, pomegranate fruit powder, broccoli powder, spinach leaves, elderberry fruit powder, tomato fruit powder
95 mg
**
Beauty-blend
Green Tea Extract, Alpha-Lipoic Acid, grape skin extract
81 mg
**
Memoblend
Choline (as Choline Bitartrate), Inositol, Silicon (as Silicon Dioxide)
24 mg
**
Flexiblend
Hyaluronic Acid (as Sodium Hyaluronate), Collagen Powder
27 mg
**
Lutein
950 µg
**
Lycopene
950 µg
**
Zeaxanthin
190 µg
**
Astaxanthin
50 µg
**
* % NRV - Nutrient Reference Value (Percentage of Daily Reference Intakes for Adults)
** - NRV not established
Ingredients
Calcium carbonate, bulking agent (microcrystalline cellulose), L-ascorbic acid, magnesium oxide, D-calcium pantothenate, pyridoxine hydrochloride, ferrous fumarate, riboflavin, thiamine mononitrate, green tea extract, D-alpha tocopheryl acetate, nicotinamide, L-selenmethionine, anti-caking agent (stearic acid, magnesium stearate), choline bitartrate, alpha lipoic acid, zinc oxide, sodium hyaluronate, orange peel powder, collagen powder, calcium-L-ascorbate, inositol, nicotinic acid, tomato fruit powder, acai berry powder, blueberry fruit powder, pomegranate seed powder, cranberry fruit powder, broccoli powder, spinach leaves powder, elderberry fruit powder, grape skin powder, bulking agent (silicon dioxide), kosher calcium carbonate, manganese sulphate monohydrate, retinyl acetate, potassium iodide, vanilla powder, stabiliser (croscarmellose sodium), copper oxide, beta carotene, lycopene, lutein, folic acid, biotin, zeaxanthin, chromium chloride, molybdenum, cyanocobalamin, cholecalciferol, astaxanthin.
DIRECTIONS OF USE
Directions: 1 caplet one or two times daily with liquid to a meal.
REVIEWS
There is no review
Atsiliepimas Atsiliepimas