TESTOSTERONE BOOSTERS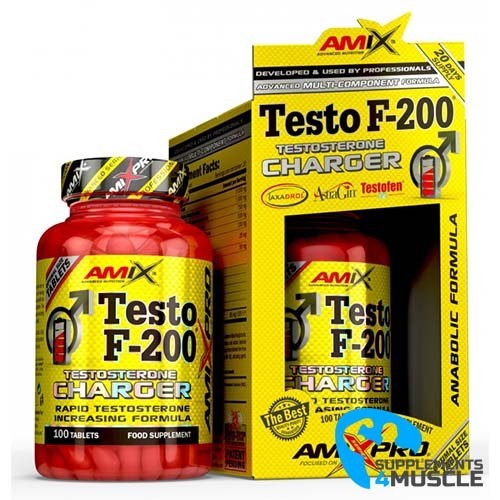 
Amix Testo F-200
natural and safe

fast recovery, fast growth

more energy

anabolic support complex
DESCRIPTION
COMPOSITION
DIRECTIONS OF USE
REVIEWS
DESCRIPTION
Amix Testo F-200
Amix Testo F-200 is a groundbreaking product meant to naturally raise your testosterone levels, which are paramount for gaining muscle mass. The ingredients in Amix Testo F-200 turn up the necessary amounts of nutrients needed for your body to produce more testosterone, making sure you get all you require for the quickest development potential.
COMPOSITION
Size : 100 tablets, 250 tablets, 200 capsules (Serving size 5 tablets)
Nutritional Information
Active ingredients

Amount per Serving

D-aspartic acid

3000 mg

L-arginine Alpha Ketoglutarate

1000 mg

Tribulus Terrestris (90% steroidal saponins content)

750 mg

Maca Root Extract 10:1 (Lepidium meyenii)

500 mg

Testofen® Fenugreek (standardized for 50% Fenuside)

100 mg

AstraGin™ Patent-Pending Extract derived from Panax Notoginseg-Astragalus Membranaceous

25 mg

Taxadrol® (Pinus Silvestris):
Flavanoids-Flavonols
Steroids-Phytosterols
Lignans
Carotenoids
Phenols
Benzenoid

50 mg

Vitamin B3 - Niacin (as Nicotinamide)

16 mg (100% *)

* VNR: daily reference nutritional value (adults)
Ingredients: d-aspartic acid, anticaking agent: microcrystalline cellulose; l-arginine alpha ketoglutarate, tribulus terrestris extract (whole plant), anticaking agent: croscarmellose sodium; maca root extract (lepidium meyenii), Testofen® - Fenugreek (Trigonella Foenum - Graecum), AstraGin™ (Patent-Pending Extract derived from Panax Notoginseng – Astragalus Membranaceous), Taxadrol® (Pinus Sylvestris), Nicotinamide (Vit. B3), anticaking agents: magnesium stearate, silicon dioxide.
DIRECTIONS OF USE
Directions For Use:Take 5 tablets daily between meals. Wash down with plenty of water. Use this product max. over a period of 8 weeks, followed by 4 weeks off cycle.
REVIEWS
There is no review
Atsiliepimas Atsiliepimas