PREWORKOUTS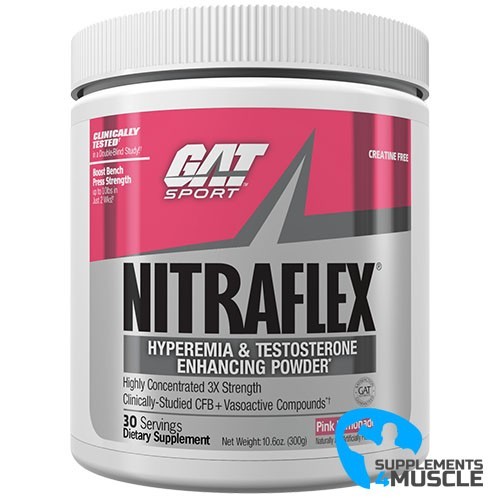 
DESCRIPTION
COMPOSITION
DIRECTIONS OF USE
REVIEWS
DESCRIPTION
GAT Nitraflex
GAT Nitraflex is a pre-workout condition tested in clinical settings, with the participation of the best athletes, which immediately reduces the feeling of fatigue, provides a long-lasting pump and increases testosterone levels. Dedicated to all those who do not meet the expectations of standard pre-workout formulas. The preparation contains three unique formulas: increasing the muscular pump - Vasoactive Arginase -Regulating No Precursor Complex, promoting endurance and increasing energy - Acute Energy, Focus, Intensity, Neuromodulating, Endurance Complex and Clinically-Studied Testosterone-enhancing Complex that increases testosterone levels.

Citrulline Malate - participates in the synthesis of nitric oxide (NO), phosphocreatine and oxygen metabolism of glucose, thus increasing the uptake of oxygen, glucose, amino acids, and creatine. In addition, it reduces the concentration of lactic acid and ammonia in the muscles, allowing the body to recover faster by increasing creatine phosphate and ATP resynthesis. citrulline is a much more effective form than high doses of arginine, because it is its precursor, hence - the same dose of citrulline is more effective than arginine alone.

L-Arginine Malate - increases the blood supply to the muscle tissue, thus improving the inflow of energy and building materials to intensive skeletal muscle training. Supplementation with this amino acid makes the workout become more effective, and the muscles are better supplied with blood, oxygenated and nourished. The use of L-arginine facilitates the development of lean muscle mass, improves efficiency and endurance training. In addition, L-arginine may reduce the accumulation of adverse metabolites such as lactic acid and urea arising during muscle work and leading to premature fatigue.

Pterostilbene is an organic chemical compound derived from resveratol. It is a methylated stilbene molecule with structural similarity to resveratrol, the only difference being the two methoxy groups on the pterostilbene molecule, which replace the hydroxyl groups in the resveratrol molecule. While most of these effects are comparable, pterostilbene appears to be much better absorbed after oral administration and may be a stronger antioxidant and anti-cancer molecule. The compound protects against oxidative stress, has neuroprotective and cardio-protective effects, has a positive effect on memory and concentration, as well as has anticancer properties. Pterostilben has very many valuable properties and it is probably one of the most underrated compounds in medicine.

Beta Alanine - is necessary for the production of carnosine and building blocks that help to prevent the aging of the body. The compound supports the proper functioning and development of muscles. Amino acid is known for reducing muscle fatigue, which can help your muscles work better during training. This in turn promotes muscle growth. Beta-Alanine is particularly helpful in intensive short-term training such as weight lifting. Some people taking beta-alanine may notice a slight tingling sensation known as paraesthesia. The tingling arises because beta-alanine dilates the blood vessels, allowing more oxygen and blood to be delivered to the muscles.

DMAE Bitartrate - an intermediate product in endogenous choline synthesis structurally similar to it. It is present in the brain in small amounts. It is a more effective precursor to acetylcholine than choline alone, because it externally more efficiently crosses the blood-brain barrier. It is classified as a nootropic substance and drugs stimulating the central nervous system (CNS), but its stimulating properties are quite mild. Increases acetylcholine synthesis, improving neuronal transmission in the cholinergic system.

N-Acetyl-L-tyrosine is the acetylated derivative of the L-tyrosine amino acid. Ordinary L-tyrosine is less stable and also less soluble in water, which can lead to reduced bioavailability. Acetylation increases the solubility and stability of some amino acids. N-acetyl-L-tyrosine supports brain function by supporting the synthesis of catecholamine norepinephrine and dopamine (neurotransmitters).

Theanine - is a non-protein amino acid found naturally in the leaves of green tea - camellia. It has psychoactive properties because it easily overcomes the blood-brain barrier. It stabilizes the mood, calms, relieves symptoms of stress and anxiety. Also used as a nootropic agent - improving cognitive functions, work efficiency and learning effectiveness. Researchers demonstrated the efficacy of Teanina in increasing attention, vigilance and productivity, and the effects are already visible within the first hour after administration. Researchers are of the opinion that the relaxing effect of green tea is responsible for the theeanine, which affects the intensity of alpha brain waves probably by affecting the activity of some neurotransmitters, including dopamine and serotonin. It is extraordinary that this amino acid can increase vigilance and clarity of mind, while introducing a state of relaxation and deep relaxation so strongly that it eliminates the stimulating influence of caffeine. Thanks to this, it is applicable to people who react badly to stimulants or who suffer from neurotic-anxiety disorders, and at the same time need to maintain high productivity and alertness of mind.

CFB- is a form of boron, which our body can use to meet its needs. It is a chemical compound found naturally in plants, including some fruits and vegetables. Calcium fructopyranosate is also known as calcium fructoborate, CFB or organic boron. When it comes to using it as a supplement, it is relatively new and is usually performed before the training, in order primarily to increase the level of testosterone.
COMPOSITION
Serving Size: 1 Scoop (10 grams)
Servings Per Container: 30
| | | |
| --- | --- | --- |
| | Amount Per Serving | %DV |
| Niacin (as nicotinic acid) | 25 mg | 125% |
| NITRAFLEX PROPRIECEUTICAL BLEND | 7240 mg | |
| Vasoactive Arginase-Regulating NO Precursor Complex: | | |
| Citrulline, Citrulline Malate, L-Arginine Malate, L-Arginine Alpha-ketoglutarate, Resveratrol, Pterostilbene | | |
| Acute Energy, Focus, Intensity, Neuromodulating, Endurance Complex: | | |
| Beta Alanine (as CarnoSyn®), Caffeine, DMAE Bitartrate, N-Acetyl-L-tyrosine, Theanine, Raulwolfia Canescenes (Extract) | | |
| Clinically-Studied Testosterone-Enhancing Complex: | | |
| Calcium fructopyranose borate (CFB) US Patent #5,962,049 | | |
DIRECTIONS OF USE
RECOMMENDED DOSAGE
Training days: Day 1: Begin by assessing your tolerance with half a serving of NITRAFLEX® mixed with 6oz of cold water. Days 2 and beyond: Depending on tolerance, mix 1 serving (1 scoop) of NITRAFLEX® with 10oz of cold water and consume within 30 minutes before working out.
Non-training days: Take 1 serving (1 scoop) upon arising in the morning or before any physical activity. Do not take more than 1 serving in a single 24-hour period. Do not take within five hours of bedtime.
REVIEWS
There is no review
Atsiliepimas Atsiliepimas