PREWORKOUTS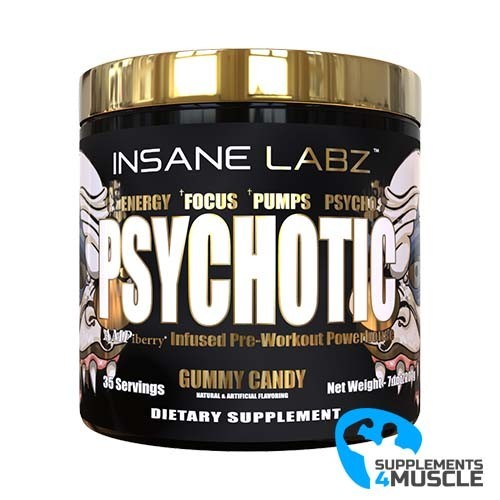 
Insane Labz Psychotic Gold
Elite Energy & Focus
Limitless Endurance
Insane Pumps
Crash Free
DESCRIPTION
COMPOSITION
DIRECTIONS OF USE
REVIEWS
DESCRIPTION
Insane Labz Psychotic Gold
Insane Labz Psychotic Gold is revolutionizing the pre-workout industry with its remarkable product and urging companies to raise their level of quality. We, however, want more-- we want to set the highest possible standard. This product boosts your mental focus, enhances your muscle performance and focus, provides limitless endurance, and increases your blood flow. Furthermore, it has a special formula that will not cause any crashes.
Beta-Alanine
We differ in our views about Beta-Alanine; it can aid in muscular endurance but can also lead to the issue of parethesia, an itchy and tingly sensation in the skin. We don't approve of this kind of side effect as it becomes problematic when it comes to muscle gain. Therefore, this is simply our opinion and not everyone is affected in the same way. Even though we have our own judgement, Beta-Alanine can be advantageous as well. In the end, it comes down to a subjective call on whether Beta-Alanine is a valid addition to Psychotic Gold.
Citrulline Malate
Citrulline Malate is one of the primary active ingredients in many pre-workout encourages. Research has found that it can effectively increase the level of nitric oxide in the body, resulting in more powerful muscle pumps during workouts. However, an optimal dosage is generally 6,000mg, which is not present in the 'Psychotic Gold Proprietary Blend'. This highlights the importance for supplement producers to correctly include the necessary ingredients and provide the consumer with the appropriate dosage for the best value and performance.
Agmatine Sulfate
It appears to be understood that Agmatine Sulfate is derived from L-Arginine and purported to enhance nitric oxide levels. Regrettably, the body does not absorb L-Arginine effectively which implies that the effects of Agmatine Sulfate might be limited. Consequently, we would have preferred for a more beneficial pre-workout component such as Creatine Monohydrate to be featured in Psychotic Gold, yet due to the lack of research on Agmatine Sulfate, it is unclear whether this would be advantageous.
Caffeine Anhydrous
Caffeine Anhydrous is an optimal stimulant typically included in pre-workout supplements. It's in powder form due to its dehydrated status, reported as a safe and reliable stimulant also found in tea and coffee. Although beneficial, Caffeine is prone to cause jitteriness when taken in substantial doses.
The issue with Psychotic Gold is that the exac amount of Caffeine Anhydrous is not noted. This can lead to jitters and energy crashes, particularly for those who are sensitive to stimulants and have a low tolerance. We advise you to select a pre-workout supplement that doesn't have stimulants in a proprietary blend to reduce the risk. Additionally, in order to prevent any adverse effects, we suggest limiting Caffeine Anhydrous consumption to under 200mg per serving. With this, most people should be safe from reactions to the stimulant no matter their tolerance.
DMAE Bitartrate
DMAE may enhance cognitive process, but taking Caffeine Anhydrous can also help you focus in the gym. Therefore, it is not necessary to include it in pre-workout supplements such as Psychotic Gold. Also, studies suggest that DMAE could be hazardous to unborn babies, so it's important to avoid it.
Caffeine Citrate
This substance combines Caffeine and Citric Acid. Although it's another type of Caffeine, it makes manifesting negative side effects much more likely. We suggest that pre-workouts should only include single stimulant ingredients in order to minimize potential risks. Adding Caffeine Citrate as a component of a proprietary blend makes the issue even worse.
Juniper Berry
You might have seen an ingredient referred to as "Gin & tonic" used in drinks and cooking alike, though you probably weren't aware of what it was. Unfortunately, we have some disappointing news to share; although Gin & tonic offers plenty of antioxidant properties, it's going to do little to help support your gym session goals. We're sure you'll agree that Creatine Monohydrate would have been a much better choice of a key pre-workout nutrient in Psychotic Gold.
Rauwolfia Vomitoria Extract
A substance with the name of Rauwolfia Vomitoria Extract does not suggest it would be something that is enjoyable to consume. Additionally, it has been documented to have numerous consequences as well. Therefore, it is not sensible to ingest something that could potentially have adverse effects when there are options that are secure and competent.
COMPOSITION
Serving Size: 1 Heaping Scoop (5.7g)
Servings Per Container: 35
 

Amount Per Serving

% DV

Psychotic Gold Blend
Beta alanine, L-citrulline malate, Agmatine sulfate, Caffeine anhydrous, DMAE Bitartrate, Caffeine Citrate, AMPiberry (Juniperus Communis) (berry), Oxygold(Fulvic Acid), Rauwolfia Vomitoria Extract(std. min. 90% alpha yohimbine)(rootbark)

4234mg

*
Other Ingredients: Natural and artificial flavoring, citric acid, tartaric acid, silica, sucralose, calcium silicate, acesulfame potassium, FD&C Yellow #5, FD&C Red # 40.
DIRECTIONS OF USE
Directions for use: As a dietary supplement for adults, take 1 serving in 8-10 oz. water once daily, 30 minutes before activity. Never consume more than 1 serving in a 24 hour period. Do not take within 4 hours of bedtime. Read warnings and only use as directed.
REVIEWS
There is no review
Atsiliepimas Atsiliepimas