PREWORKOUTS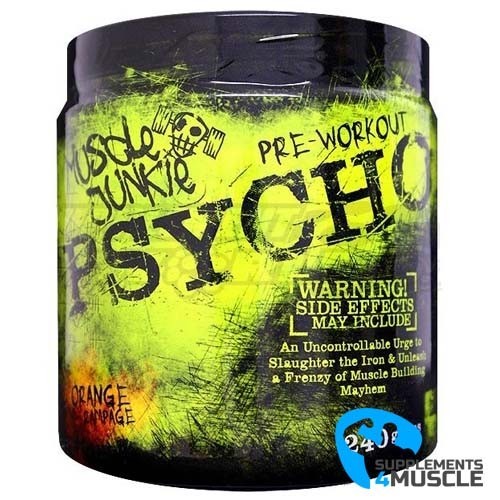 
Muscle Junkie Psycho
240g in box Muscle Junkie Psycho with DMAA / Psycho Booster US EDITION!
Brings energy surplus with super-strong formula, increases vigilance and endurance.
From a unique matrix for a massive workout & an indescribable pump during training.
DESCRIPTION
COMPOSITION
DIRECTIONS OF USE
REVIEWS
DESCRIPTION
Muscle Junkie Psycho
We searched the entire globe, going through the toughest underground gyms, looking for the strongest, meanest muscular freaks around to find out what they consume to become such huge, iron-destroying behemoths.
Following the ordeal of being exposed to the most destructive muscle-building compounds known to us, we chose only the most extreme elements for incorporation. We took these components to our basement laboratory, where our scientists combined them to bring forth an extraordinarily powerful pre-workout concoction - today known as Psycho.
Psycho is an outrageously outlandish pre-workout drink that will shock your senses and send your exercise routine to an extreme level only serious weightlifters can reach.
COMPOSITION
Serving Size 1 Scoop (6g)
Servings Per Container 40
| | |
| --- | --- |
| Amount Per Serving | %Daily Value |
| Hardcore Strenght Amplifying, Energy Boosting, Muscle Engorging Matrix: | 3193mg |
| L-Arginine Alpha-Ketoglutarate | * |
| Beta-Alanine | * |
| Tri-Creatine Malate | * |
| Caffeine Anhydrous | * |
| L-Tyrosine | * |
| Beta-phenethylamine | * |
| 1,3 dimethylamylamine (Geranium oil extract)1 | * |
| Nicotinic acid (Niacin) | * |
| Bioperine2 | * |
* Daily Value not established
Other Ingredients: Waxy Maize Starch, Dextrose, Malic Acid, Silica, Citric Acid, Flavours, Sucralose, Colour (E124).
1 1,3 dimethylamylamine (aka Methylhexanamine) is banned by various sporting bodies and federations and may thus lead to a positive doping result if consumed by sportsmen or women participating in such federations. Competitive athletes should thus first consult with their relevant federation before using this product.
2 Bioperine® is a registered trademark of Sabinsa Corporation
DIRECTIONS OF USE
Recommendations for use: As a dietary supplement on training days is recommended to take 1 scoop (6 grams) mixed with 300 ml of cold water and consume 30 minutes before training. Do not exceed the dose of 1 scoop in one portion and 2 servings (12 grams) in a 24 hour period. If sensitive to stimulants, do not take within 5 hours before bedtime. Assume in cycles 8 weeks "on", followed by a pause of 2-3 weeks. For best results combine Psycho With an intense program of weight training and a high protein content. Drink a minimum of 2-3 liters of fluid a day. Read the entire label before use and follow the instructions.
REVIEWS
There is no review
Atsiliepimas Atsiliepimas