Brain boosters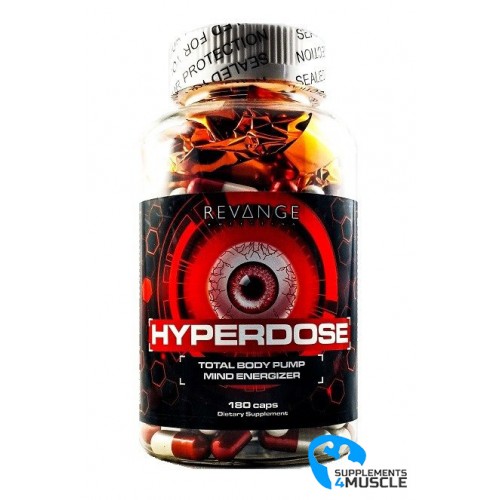 
DESCRIPTION
COMPOSITION
DIRECTIONS OF USE
REVIEWS
DESCRIPTION
Revange Nutrition Hyperdose 180caps
Hyperdose is a new supplement made up of powerful pre-workout ingredients combined with a nootropic that helps with cognitive function. The blend of four distinct formulas create a extremely effective aid for any athlete.
Hyperdose is a top-notch pre-exercise combination packed in capsules which fortifies muscle mass, alertness and inspiration. Usage of the product brings heightened training ability and tolerance. Also, this helps with eliminating unneeded flabby fat, improving attitude remarkably and mostly, not resulting in a drop after exercise.
COMPOSITION
Container size: 180 caps
Serving size:6 caps
Servings per container: 30
| | |
| --- | --- |
| | Amount per serving (6 caps) |
| Mega PUMP Boost System | 2300mg |
| L-Citrulline, Agmatine Sulfate, Citrulline DL Malate, Arginine AKG, Arginine Ethyl Ester HCL | |
| Amp'd Stim Energy System | 626,5mg |
| Caffeine Anhydrous, 2-aminoisoheptane, Higenamine HCL, Methyl-Hordenine HCL, Synephrine HCL, Citrus Aurantium 30% Herbal, Niacin USP, Vitamin B6, Yohimbine 8%, N-Methyl Tyramine, Yohimbine HCL | |
| Cognitive POWER System | 1280mg |
| DMEA Bitartrate, Phenyl-Piracetam HCL, Acetyl L-carnitine, Alpha GPC, N-acetyl L-tyrosine, Citcoline, Theacrine, L-theanine, Noopept, Huperzine A | |
| Bio-Availability Amplifier System  | 100mg |
| NA-R-ALA, Grape Seed Extract, Naringenin, Piperine 95% | |
Other ingredients: Magnesium Stearate, Silicon Dioxide
Warning: Not suitable for children, pregnant and nursing women. Do not exceed the recommended daily dose. It is not a substitute for a varied diet. Keep out of the reach of small children. Store in a dry place at temperatures not exceeding 25 ° C, protect from direct sunlight and from frost. The manufacturer is not liable for any damage caused by improper use or storage. Food for particular nutritional uses.
DIRECTIONS OF USE
Directions of use: 6 capsules 15-20 minutes before the workout or 6 capsules 15-20 minutes before the mental effort.
REVIEWS
There is no review
Atsiliepimas Atsiliepimas