PREWORKOUTS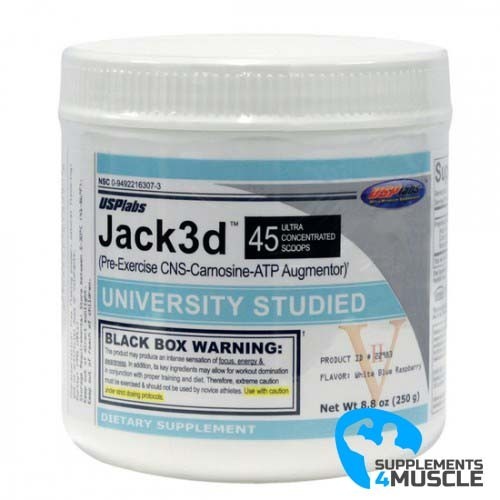 
USP LABS Jack3d Pre Workout
If you're looking for a supplement that is going to boost your energy levels, increase endurance and intensify your pumps, Jack3d is the supplement for you.
DESCRIPTION
COMPOSITION
DIRECTIONS OF USE
REVIEWS
DESCRIPTION
Jack3d vers. Geranium is produced as a pre-workout supplement designed to keep you engaged in your workouts.
If you're looking for a supplement that is going to boost your energy levels, increase endurance and intensify your pumps, Jack3d is the supplement for you.
We all go to the gym so we can see progress, but this supplement is the real answer to anyone seeking results. Jack3d will have you lifting heavier weights, pushing out more repetitions and leaving the gym feeling amazing.
We all know the feeling of really productive days at the gym: sharp focus, intense pump, ferocity, smooth focused energy. USP Labs Jack3d can help you blast through a hardcore set with a full stack—earning you hard-won pump and visible results.
Jack3d Ingredients
People wonder what makes up the Jack3d pre-workout supplement and why it is so much more effective than other products. The uniquely blended ingredients in Jack3d are specific to this supplement and this supplement only. These make way for the most powerfully healthy product on the market.
Geranium (1,3-Dimenthylamylamin or Methylhexamine)
Where most products use Ephedrine, Jack3d uses Geranium. This ingredient is a plant that stimulates the Central Nervous System (CNS) and allows the body to improve strength, muscle, focus and energy level.
Schizandrol A
This distinctive ingredient comes from Schisandra Chinesis, a plant that was originally used in ancient Chinese medicine. The plant extract has proven to stimulate the body and the mind when performing physical activity. Not only does it provide a stimulating effect, but it's been shown to improve respiratory and cardiovascular functions while keeping hormones such as cortisol at very low levels. With cortisol's reputation for halting muscle growth, Schizandrol A is a key ingredient that can help keep your muscle growth on-track.
Creatine Monohydrate
This ingredient has been proven safe and effective in the long and short run. Creatine Monohydrate helps prevent muscle fatigue and gives your body the necessary energy for even the toughest workouts.
Methylxanthines (Caffeine & Theophyline)
These two compounds are the ingredients that stimulate the central nervous system and give us that energy jolt that we so steadily need. Caffeine not only fights fatigue, but manages to enhance the flow of thoughts in our brain to help think more clearly and increase our focus.
Beta-alanine
Another very safe ingredient in Jack3d is this amino acid which helps reduce fatigue and increase muscle concentration through even the toughest pumps. Beta-alanine directly fuels the muscles in our body to fight fatigue and increase endurance throughout long workouts.
COMPOSITION
Serving Size 1 Scoop (5.55 g)
Servings Per Container: 45
| | | |
| --- | --- | --- |
| | Amount per serving | % Daily Value |
| Proprietary Blend | 4145.00mg | * |
| (Arginine Alpha-Ketoglutarate, Creatine Monohydrate, Beta Alanine (CarnoSyn®), Caffeine, 1,3-Dimethylamylamine HCL, Schisandra Chinensis (Berry) Extract (Standardized for Schizandrol A)) | | |
*Daily value not established
DIRECTIONS OF USE
Directions for Use: As a dietary supplement, mix 1 Ultra-Concentrated scoop (5.5 grams) with 4-8 ounces of cold water and consume 30-45 minutes before beginning workout. This is to be done the first three (3) times using the product. Under no circumstances should the initial dose be exceeded or the warnings on this bottle be ignored. Beginning with the 4th time using the product, dose may be increased by, but not more than 1/2 of a scoop (2.75 grams). The ideal individual dose for workout domination may vary between 1-3 scoops.