PREWORKOUTS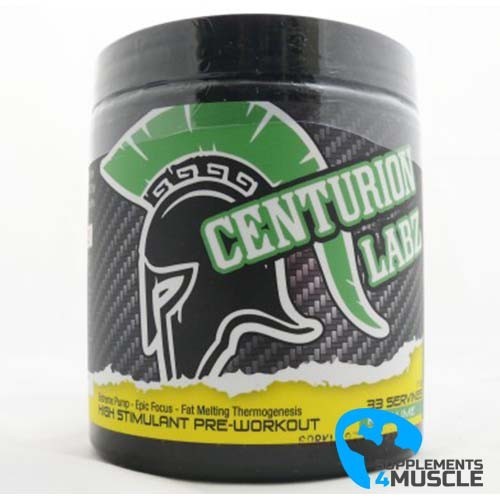 
Centurion Labz Rage DMAA
60mg 1,3-Dimethylamylamine
3g L-Arginine
1g Agmatine Sulfate
300mg Caffeine Anhydrous
DESCRIPTION
COMPOSITION
DIRECTIONS OF USE
REVIEWS
DESCRIPTION
Centurion Labz Rage
Centurion Labz Rage is a DMAA pre-workout supplement designed with a high-quality and robust combination of components that provide significant advantages for powerful outcomes. The product works as a pre-workout supplement, but the benefits of the combination may be felt even after your exercise is over.
Those that purchase Centurion Labz God of Rage do so not just because the product works, but also because the company is recognized for producing dependable and high-quality goods. The precursor of this expansion, God of War Black, was very popular. With the release of God of Rage, the brand has gone a step farther while while maintaining its long-standing reputation.
According to New Science
God of Rage goes above and beyond the average supplement mix. While it does include l-arginine, it also contains some surprise components that you won't find anywhere else. The component list and the muscle-enhancing properties of each ingredient will be addressed more in another section, but for now, you should know that the new mix contains no chemicals that you should be concerned about taking into your body.
For example, there are no additions, fillers, chemicals, low-quality components, or synthetic materials in the product. Instead, this supplement is filled with ingredients that you may put into your body without fear of negative side effects.
God of Rage Contains Stimulants
While the supplement does not contain any chemicals or substances that you should feel uncertain about, you should realize that it does contain a number of different stimulants. In general, stimulants are not bad for your body, as long as they are used in moderation. In addition, formulas that contain stimulants do a better job at revving your metabolism so that you can build lean muscle mass and burn the excess fat throughout your body. Centurion Labz God of Rage features stimulants that are great at burning fat and increasing your metabolism. 
L-Arginine - The most well-known property of arginine is the synthesis of nitric oxide - a substance that dilates blood vessels. Thus, arginine contributes to a more efficient and faster transport of nutrients and oxygen to working cells, as well as the discharge of toxic metabolic compounds, inhibiting metabolic processes.
Anhydrous caffeine - the most-known stimulant compound in the world. It has a stimulating effect, lowers the level of Adenosine, inhibits the breakdown of cAMP.
Beta-Alanine - The main function of this amino acid is not to increase the volume of muscle cells, but to increase the level of carnosine in the muscles. Effect? Both in aerobic and anaerobic efforts, the process of acidifying skeletal muscles is significantly slowed down. In practice, this translates into heavier, more intense and more effective workouts. Both endurance as well as muscular strength are growing.
Agmatine - It shows neuroprotective, anticonvulsive, antidepressant, anxiolytic and analgesic abilities. Increases the production of nitric oxide increasing the muscle pump.
Hordenine - an amine formed from L-Tyrosine, shows an ephedra-like effect, contributes to the intensification of thermogenic processes, and can also increase the production of dopamine. Thanks to the synergistic combination with caffeine or synephrine, it significantly prolongs the stimulant action without the unwanted effect of a sudden "congress" and a decrease in the energy level. At the same time, it prolongs the time of increased metabolic activity.
Geranium - A very strong stimulant. It stimulates the process of reducing body fat, as well as helping to increase the intensity of training.
D-glucurono-3,6, lactone (Glucuronolactone) - helps in the removal of harmful products formed during metabolism associated with physical exercise, is a ribose precursor (helps in the conversion of glucose into energy), helps in the transport of carboxylic acids to muscle cells to use them as a source of energy.
Higenamine - Accelerates lipolysis (fatty acid oxidation process).
COMPOSITION
Serving Size: 1 Heaping Scoop (11.7g)
Servings Per Container: 33
| | | |
| --- | --- | --- |
| | Amount Per Serving | %DV |
| Vitamin D | 2000IU | 333% |
| Vitamin C | 300mg | 400% |
| Calcium | 1mg | 1% |
| Folate | 200mcg | 40% |
| Vitamin B12 | 30mcg | 125% |
| Creatine Monohydrate | 3.000mg | ** |
| L-Arginine | 3.000mg | ** |
| Beta Alanine | 2.500mg | ** |
| Agmagtine Sulfate | 1.000mg | ** |
| Caffeine Anhydrous | 300mg | ** |
| Cocoa Bean Extract | 200mg | ** |
| Theobromine | 200mg | ** |
| Kaempferol | 100mg | ** |
| Synephrine | 65mg | ** |
| 1,3-Dimethylamylamine | 60mg | ** |
| Hordenine | 60mg | ** |
| Naringin | 50mg | ** |
| Mucuna Pruriens | 50mg | ** |
| D-Glucurono-3,6,lactone | 50mg | ** |
| Higenamine | 20mg | ** |
| Yohimbine HCL | 2mg | ** |
**No Daily Value Established
Other ingredients: Citric Acid, Maltodextrin, Calcium Silicate, Natural & Artificial Flavours, Sucralose, Acesulfame-K.
DIRECTIONS OF USE
Directions: For beginners, mix 1 heaping scoop with 200-300ml of water and consume 30 minutes before training. For the truly hardcore, go into RAGE-MODE by mixing 2 scoops with 500ml and consume 30 minutes before training. Then....PREPARE TO RAGE.