PCT AND LIVER SUPPORT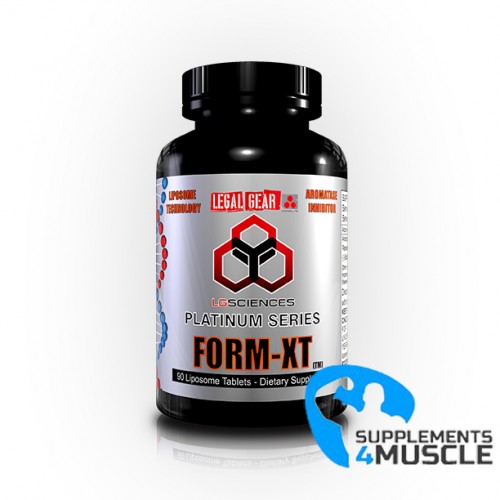 
LG Sciences FORM-XT 90tabs
Natural Testosterone Production 
Increase Mass and Strength 
Reduces Myostatin 
Post Cycle Therapy 
DESCRIPTION
COMPOSITION
DIRECTIONS OF USE
REVIEWS
DESCRIPTION
Attention! Product expiration 2022-07-31
LG Sciences FORM-XT 90tabs
LG Sciences Form-XT is an effective and safe aromatase inhibitor that helps prevent the transformation of testosterone into estrogen and blocks the action of estrogen at the receptor. The exclusive 3,5-Diene-7,17-dione blocks the conversion of testosterone to estrogen and prevents estrogen from taking effect at the receptor. Additionally, research has revealed that Resveratrol, a natural compound found in certain plants, can both reduce estrogen and increase testosterone levels. Epicatechin, a component of cocoa, has also been demonstrated to lower myostatin levels in preliminary research.
This set of three ingredients will help you increase your testosterone levels and build muscle mass. LG Sciences Form-XT can also be employed as Post Cycle Therapy, which will help to stimulate your body's natural production of testosterone while giving you additional muscle strength and bulk.
The advantages and highlights of LG Sciences Form-XT include the ability to decrease myostatin levels, improve general well-being, aid in the growth of muscle mass and strength, help restore natural testosterone production, limit the conversion of testosterone to estrogen, raise testosterone levels, reduce body fat, and raise libido, with all the added benefit of being non-toxic to the liver.
COMPOSITION
Serving Size: 1 tablet
Servings Per Container: 90
1 capsule
Androst-3,5-diene-7,17-dione
20mg
Resveratrol (tranas) 95%
25mg
(-)-Epicatechin 90%
50mg
Other Ingredients: Microcrystaline Cellulose, Phosphatidylcholine 75%, Hydroxypropyl, beta cyclodextrin, Phytostrols, Magnesium Stearate, Silica, FD&C Blue 2, FD&C Red 40.
DIRECTIONS OF USE
Directions: Take 3 tablets per day in divided doses with or without food. Do not exceed 6 tablets per day.
MEN OVER 18 ONLY!
REVIEWS
There is no review
Atsiliepimas Atsiliepimas