All products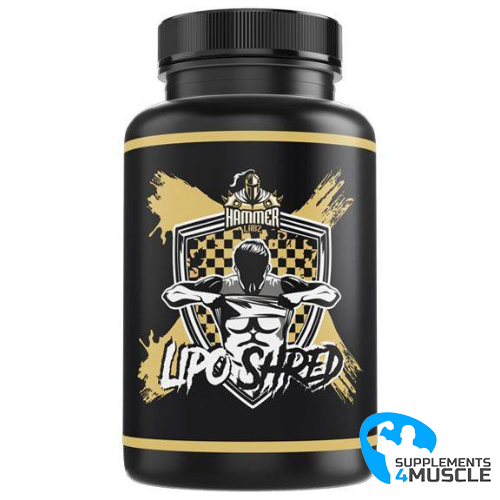 
Hammer Labz Lipo Shred DMHA 60 caps
Key Features of Hammer Labz Lipo Shred DMHA:
Generous DMHA content per serving,
Enriched with alpha yohimbine,
Noopept included,
Significantly amplifies energy levels,
Subdues food cravings.
DESCRIPTION
DIRECTIONS OF USE
REVIEWS
DESCRIPTION
Hammer Labz Lipo Shred DMHA 60-caps: Your Thermogenic Powerhouse
Loaded with alpha yohimbine, Hammer Labz Lipo Shred DMHA is a potent thermogenic fat burner that kick-starts your adrenaline. This potent weight loss aid is packed with various active components that are known for their stimulant and thermogenic properties. Its DMHA content delivers a strong energy boost and heightened stimulation. The addition of Yohimbine, a superstar in fat-burning, ensures the eradication of even the most tenacious fat deposits. If you're aiming to achieve exceptional shape and single-digit body fat levels, this fat burner is your ideal ally.
Hammer Labz Lipo Shred DMHA is a no-compromise, effective fat burner!
Designed for those aiming for top-notch results, this high-strength fat burner's energy-boosting blend keeps you going even on a reduced calorie intake. Hammer Labz Lipo Shred not only aids in fat burning while maintaining muscle tone but also uplifts your mood and sharpens focus. With its powerful impact, this fat burner is primed to meet the expectations of anyone aiming for stellar outcomes.
Components of Hammer Labz Lipo Shred DMHA fat burner include:
Recommended dosage: One serving of two pills.
Vitamin B12 - 300 mcg: Cobalamin plays a pivotal role in numerous metabolic functions, primarily related to energy production. During physical activities, its impact helps you utilize energy efficiently, thus enhancing your performance. Also, B12 significantly contributes to nervous system functionality.
L-tyrosine is an amino acid crucial in aiding the thyroid to produce hormones vital for weight loss. In addition, it provides cognitive benefits, enabling the nervous system to function optimally and promoting sharper focus. A dosage of 375 mg is recommended for optimal benefits.
Caffeine, a stimulant, helps maintain alertness and energy levels. Other stimulants like geramine and DMAA, derived from caffeine, also provide a thermogenic effect, aiding in fat reduction. The typical caffeine content in these supplements is around 300 mg.
DMHA is an energizer created to substitute the dwindling availability of DMAA in the health supplement market. Comparable to geramine, it offers an energy surge, uplifts mood and motivation, and delivers a strong stimulant response. To know more about DMHA, refer to https://reviewsuppz.com/dmha-godny-nastepca-dmaa/.
White Willow Extract, akin to aspirin in its effects, has proven thermogenic properties and is usually included in the renowned ECA recipe for sports and supplementation enthusiasts. Each dose contains 100 mg of the extract.
Paradoxine (100 mg) is a key ingredient in facilitating weight loss. Its active ingredients, 6-Gingerol and 6-Paradol, promote efficient utilization of glucose and fat in the body, increase insulin sensitivity and enhance energy expenditure. The extract also boosts metabolism and has anti-inflammatory properties. Consequently, the body is encouraged to utilize stored fat for energy.
Noopept (60 mg), a potent nootropic, is scientifically proven to support cognitive functions and improve intellectual performance. Consumption prior to exercise can lead to heightened focus on your fitness routine, enabling you to tackle each set with purpose and determination. It's widely used in nutritional supplements to enhance learning, concentration, and memory capacity.
Matcha Green Tea Powder (50 mg) provides a natural source of caffeine and L-theanine to support metabolism, promote proper nervous system function, and act as an antioxidant.
Synephrine HCL (50 mg) is known to significantly decrease body fat levels, acting as an alternative to ephedrine due to its influence on bronchi functioning and enhancement of oxygen exchange. It also has a potent thermogenic effect and can improve workout performance.
Higenamine Hydrochloride (50 mg) carries stimulant properties that increase heart rate and blood pressure, leading to enhanced physical performance and thermogenesis. Additionally, it boosts the production of neurotransmitters, aiding in maintaining low body fat levels.
Hordenine HCL (50 mg) activates the central nervous system and enhances circulation. It suppresses appetite and promotes energy levels and thermogenic metabolism.
Cayenne Pepper (25 mg) aids in the optimal utilization of the components in the burner, provides anti-inflammatory benefits, and triggers thermogenic effects.
Grapefruit Extract (20 mg) contains Naringenin, a compound that improves the absorption of other components in the supplement, providing effects similar to those of cayenne pepper.
Huperzia Serrata (300 mcg) is a natural compound that has a potent effect on brain functionality. It improves memory and concentration abilities, increases athletic capacity, and enhances the ease of training. Its scientifically confirmed brain benefits help users to learn, remember, and maintain focus for prolonged periods of time.
The recommended dose is one serving of two pills. This powerful fat burner is formulated to meet the needs of those seeking incredible results, and is primed to deliver.
Bioperine (5 mg) is a patented active ingredient derived from black pepper. It influences the functions of liver enzymes and enhances the absorption of nutrients contained in a supplement, thereby maximizing its effectiveness.
Alpha Yohimbine (2 mg) is a widely used form of yohimbine commonly found in many fat burners and pre-workout supplements. As a Rauwolscine alkaloid extracted from Rauvolfia and Corynanthe plants, it has a potent thermogenic effect and stimulates energetic lipolytic processes. This leads to increased energy, metabolism, and fat burn, consequently enhancing the efficiency of your exercise regimen.
DIRECTIONS OF USE
Dosage instructions for Hammer Labz Lipo Shred DMHA:
For optimal results, take two capsules thirty minutes before your workout. This will ensure that the thermogenic and stimulant effects of the supplement are at their peak during your exercise, helping you burn more fat and have higher energy levels.
Please remember that it is always important to consult with a healthcare provider before starting any new supplement regimen, especially if you have any underlying health conditions or if you're taking other medications.
REVIEWS
There is no review
Atsiliepimas Atsiliepimas