All products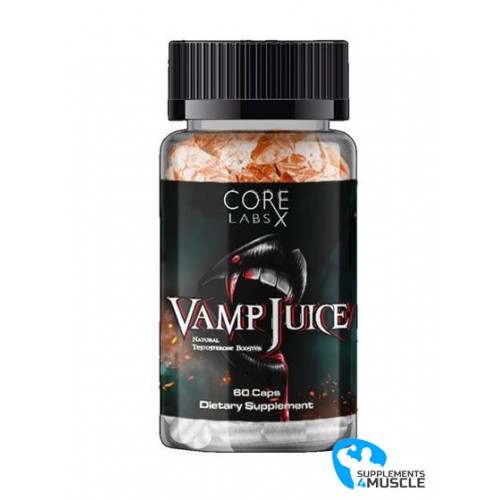 
Core Labs Vamp Juice 60 caps
Core Labs Vamp Juice 60 caps is a supplement for working out that boosts testosterone, blocks aromatase, and increases libido and arousal. It enhances sexual performance and helps build muscle mass.
DESCRIPTION
COMPOSITION
DIRECTIONS OF USE
REVIEWS
DESCRIPTION
Core Labs Vamp Juice is a sixty-capsule supplement designed to increase testosterone production.
Core Labs Vamp Juice 60 caps is a natural plant-based testosterone booster. It is designed to stimulate your body to create a bigger amount of testosterone. By doing so, it also lowers estrogen levels, so that your free testosterone can be more usable. The product is recommended for individuals suffering from deficiencies in testosterone, who feel weak, can't recover quickly and don't have a strong libido. The supplement will bring you a variety of advantages such as an increase in sex drive, better morale, and increased confidence, in addition to helping you appear more fit.
One serving of Core Labs Vamp Juice 60 caps includes 80 mg of Horny Goat Weed extract with a 70% concentration of Icariins.
This Chinese medicinal plant is traditionally taken as an aphrodisiac and to aid with issues around erectile dysfunction. By expanding blood flow to the reproductive organs, it may improve sexual performance, and could also heighten libido. Additionally, some research points to Horny Goat Weed supporting the creation of nitric oxide, which might improve circulation and make sex more enjoyable.
Tongkat Ali Extract 200:1 - 80 mg is a plant that has been used traditionally as a remedy for problems associated with sexual health, male impotence and low testosterone levels. Tongkat Ali can act in the body to raise the production of free testosterone, which is the biological form of the hormone. It is also believed to alter the hormones pathways, raising the production of androgens, including testosterone, with an increase in the release of LH (luteinizing hormone) and FSH (folliculotropin) hormones.
Fenugreek Seed Extract (50% Saponins) - 80 mg - has a long-standing use of being taken as a dietary supplement to increase libido and testosterone. Laboratory experiments have implied that fenugreek can obstruct the activity of the 5-alpha reductase enzyme, whichconverts testosterone to dihydrotestosterone (DHT). DHT is a derivative of testosterone and is significant for prostate growth, and androgenetic alopecia. By restraining the activity of the 5-alpha reductase enzyme, it could lead to lower DHT levels, which in turn can enhance prostate health.
A supplement commonly used in diets, Stinging Nettle Extract (3,4-Divanillyltetrahydrofuran 95%) - 80 mg, has traditionally been employed for the enhancement of prostate health and heightening of testosterone levels. It works in the body by blocking the action of sex hormone binding protein (SHBG), thus permitting the body to make better use of testosterone.
This particular type of green tea contains a high concentration of naturally-occurring polyphenols, including catechins, which act as antioxidants and have anti-inflammatory properties. In addition, they may have an effect on fat and sugar metabolism. The catechins present in green tea may influence levels of sex hormone-related proteins like SHBG, which regulates testosterone in the body.
Studies have shown that Mucuna Pruriens (containing L-dopa, 98%) at a dosage of 40 mg influences testosterone production through a process involving luteinizing hormone (LH). In vitro experiments (done outside of living organisms) demonstrated a stimulating effect on Leydig cells, which are in charge of producing testosterone in males.
Sabal palm, at a dosage of 40 mg of a concentrated extract that is 50% pure, has been found to have a positive effect on symptoms linked to enlarged prostate. This is attributed to plant compounds called phytosterols, which inhibits the enzyme 5-alpha-reductase, diminishing the conversion of testosterone into dihydrotestosterone (DHT). Clinical trials have supported these positive results.
30 mg of zinc mix is a significant component in a lot of metabolic activities happening in our body. It helps with protein synthesis, aids in defense mechanisms, helps with mending wounds, and keeps the skin healthy. Zinc also plays a part in the manufacturing of sexual hormones like testosterone.
Vitamin D3, or cholecalciferol, is an essential nutrient produced naturally when exposed to sunlight. It helps keep bones healthy by managing the amount of calcium and phosphorus taken from the intestines and released from the bones into the blood. 20 mg of Vitamin D3 is recommended.
Arimistane (Andro-3,5-Dien-7,17-Dione) is a chemical compound in the aromatase inhibitor group with 20mg. The purpose of the aromatase is to convert testosterone to estrogen, and because Arimistane prevents this conversion, it enhances testosterone levels. People often consume Arimistane as a dietary supplement to increase their testosterone output and bulk up their muscles.
Vitamin B6 is an integral nutrient that takes part in lots of functions in the body's metabolism. This vitamin's effects include assisting in the metabolic rate of proteins and amino acids, controlling glucose levels in the blood, augmenting the efficiency of both the nervous and immune systems, and modifying the production of certain hormones. 10 mg is the suggested daily dose.
Grape Seed Extract 95% - 8 mg is made up of natural plant elements like flavonoids, phenolic acids, and resveratrol that are capable of reducing inflammation and scavenging free radicals. These compounds are known to guard the body's cells from harm and avert disease.
Five milligrams of magnesium carbonate is a kind of magnesium, which is vital for the body. Magnesium is necessary for various bodily processes, for example blood pressure control, nervous system performance, protein construction and energy transformation.
Magnesium Gluconate consists of magnesium and glucose,making it easier for the body to absorb this essential element. Magnesium is a fundamental part of over 300 bodily functions, having an invigorating effect on the nervous system and enables nerve signals to travel to the muscles. 5 mg is the recommended dosage.
Vitamin E TPGS (Nutrient Delivery System) - 5mg - serves as a transporter of the components located in the Vamp Juice supplement. This particular form of vitamin E supports the nutrient transportation process.
The supplement Jalapeno, containing 5 mg of chili bell pepper, is intended to facilitate the body's ability to absorb the active components of a testosterone booster.
Piperine 95% at a dosage of 5 mg is similar to using chili peppers, as it functions to enhance the effects of the nutrients in the dietary supplement.
Vitamin B3, also referred to as niacin USP - 5 mg, is a critical factor in the body's metabolic energy system. Niacin facilitates lipid metabolic control, lowering cholesterol levels and lowering the amount of LDL lipoprotein.
Naringenin, a flavonoid which is occurring in nature and present in grapefruits and oranges, has been investigated for its possible positive health effects; like antioxidants, anti-inflammatory, and anticancer. Additionally, its benefits may include enhanced absorption of ingredients when used in a 5 mg dose.
Vitamin C at 5 mg is associated with the formation of collagen, aiding the immune system and offering powerful antioxidant benefits. It aids in resisting illnesses, patching up blood vessels, and accelerating healing.
Calcium has many essential roles in the body, such as aiding in the formation of healthy bones and teeth, controlling muscle movements, transmitting electrical signals between the nerves and helping blood to clot. The recommended amount for calcium intake is 5 milligrams per day.
The primary purpose of the 8% yohimbine in Vamp Juice is to assist in sexual functioning. It improves circulation of blood to the penis, aiding erectile strength for better sexual performance.
COMPOSITION
Serving size:  1 capsule
Servings per container: 60
Amount per serving
% Daily Value**
Horny Goat Weed (70% icariin)
80 mg

 Tongkat Ali 200:1

80 mg
Fenugreek 50%
80 mg
 Stinging Nettle Extract  
80 mg
Green Tea 98% 
40 mg
 Mucuna Pruriens (L-dopa 98%)
40 mg
Saw Palmetto 50%
40 mg
Zinc mix
30 mg
Vitamin D3
20 mg
Arimistane
20 mg
B6 (Pirodixine HCL)
10 mg
Grape Sead Extract
8 mg
Magnesium Carbonate
5 mg
Magnesium Gluconate
5 mg
Vitamin E TPGS (Drug Delivery System)
5 mg
Jalapino
5 mg
Piperine 95%
5 mg
Niacin USP (With flush)
5 mg
Naringenin
5 mg
Vitamin C Ester (Ascorbyl Palmitate)
5 mg
D-Calcium Penthothenate
5 mg
Yohimbine 8%
0.5 mg
Other ingredients: Magnesium Stearate, Silicon dioxide.
**Daily Values not established.
DIRECTIONS OF USE
Dosage: Take one capsule of Core Labs Vamp Juice 60 caps twice daily.
REVIEWS
There is no review
Atsiliepimas Atsiliepimas