All products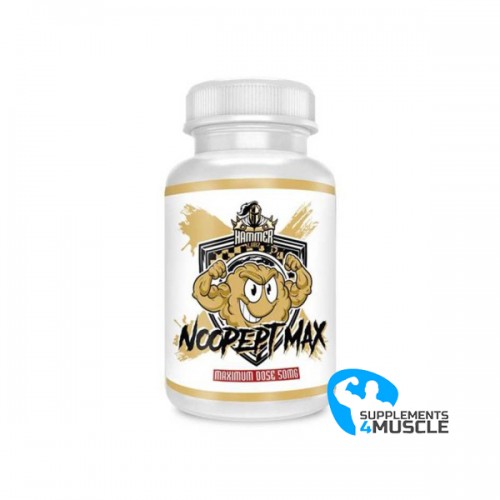 
Hammer Labz Noopept Max 100 caps
Hammer Noopept MAX is a potent nootropic supplement designed to enhance cognitive capabilities.
    

Greater retention of information,

     

Faster connecting of details,

     

Advanced contentment,

     

Heightened attention and focus.
DESCRIPTION
COMPOSITION
DIRECTIONS OF USE
REVIEWS
DESCRIPTION
Hold Noopept MAX, an aid for boosting memory and focusing, in your hand like a hammer.
Hammer Noopept MAX is a powerful nootropic supplement that is renowned for its ability to potentially strengthen memory and attentiveness. Each dosage holds 50 mg of the remarkable Noopept, which is one of the greatest solutions to support the functioning of the nervous, cognitive, and brain system. This can thus contribute to heightened performance for people who are learning or completing mentally-demanding tasks.
What is the mechanism of action of noopept?
At first, noopept increases the amount of messenger RNA and also the NGF and BDNF levels in the hippocampus. Results may be seen upon the first dose, although not everyone notices its effects instantly. Generally, it takes about a week to observe its effects. The action of this substance is beneficial to neurons and the way they work together, which improves memory. The effects of noopept become stronger over time, unlike stimulants which can lead to increased tolerance. In addition, noopept reduces inflammation, thus having protective effects on the brain tissue.
What can I take with noopept?
Noopept pairs well with choline and tyrosine, which is why Noopept Max comprises these active ingredients. Taking Noopept sensitizes the brain to acetylcholine so having an added supply can be beneficial. All of this combined with other beneficial adaptogens such as ashwagandha, ginkgo biloba, rhodiola rosea and the potent combination of light stimulants like caffeine, theobromine, theacrine and huperzine A will bolster the effects of Noopept. Be sure to browse the other nootropic options available in our store.
The components of Hammer Noopept MAX are:
One portion, one capsule
Choline bitartrate is a combination of choline and tartaric acid, which is meant to boost the effectiveness of supplementing with choline. It is known to have various functions; it helps improve cognitive ability, memory, attention, and even has positive impacts on the liver's functioning, regulating cholesterol in the process.
L-Tyrosine - 150 mg - plays a role in the production of various neurotransmitters, like dopamine and noradrenaline, which are essential to the proper functioning of the nervous system. Additionally, dopamine can help you regulate your emotions, enabling you to have a positive attitude and the determination to succeed. Additionally, tyrosine can help improve memory and the speed of learning.
Noopept, a classic nootropic supplement, was developed by Soviet researchers, and primarily acts upon the Central Nervous System. It boosts the sensitivity of receptors that pick up neurotransmitters such as acetylcholine, ultimately enhancing memory, focus and concentration. Results are visible in just 5 to 7 days and even better results are typically seen with prolonged use. It is completely safe and does not have any adverse side effects.
COMPOSITION
Serving size: 1 capsule
Servings per container: 100
| | |
| --- | --- |
| Amount Per Serving | %DV |
| Choline Bitartrate | 350 mg |
| L-Tyrosine | 150 mg |
| Noopept | 50 mg |
DIRECTIONS OF USE
Dosage: Consume one capsule daily, not exceeding two per day.
REVIEWS
There is no review
Atsiliepimas Atsiliepimas