Brain boosters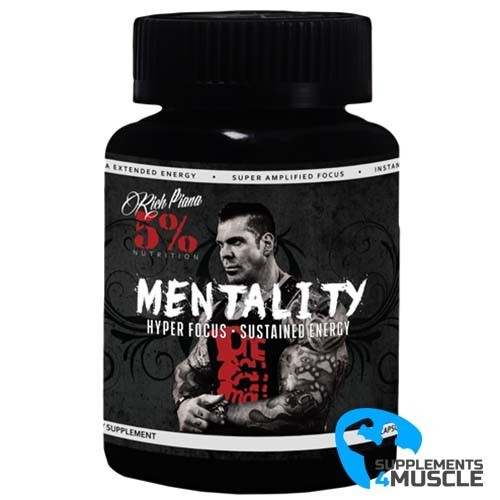 
Rich Piana 5% Mentality
 Mind Over Matter Mental Power Blend
 Lucid Focus Neurotransmission Blend
 Immediate and Long Term Energy
 Plus B Vitamins and Caffeine
DESCRIPTION
COMPOSITION
DIRECTIONS OF USE
REVIEWS
DESCRIPTION
Rich Piana 5% Mentality
Rich Piana 5% Mentality encourages you to take any steps necessary to reach your objectives. 5% Nutrition is devoted to creating the top merchandise in order to make sure you accomplish the highest level of success along your journey.
This mix combines powerful elements for your brain that promote improved memory and attention, as well as long-lasting mental energy and endurance. MENTALITY contains several kinds of caffeine to give you a quick and diverse boost in vigor that addresses your brain and body's needs right away and also in the long-term.
It isn't a good idea to be reliant on short-burning energy as it only causes exhaustion afterward. To complete this mix, Mentality also contains a hefty quantity of B-12 to bring you natural energy. These brain boosters keep your mind on high alert, improving your ability to concentrate and stay focused.
Mentality is a revolutionary product designed to help those in search of a reliable and powerful mental boost. It combines nootropic ingredients with brain supplement, concentration aides and brain enhancers, all with the focus of providing you with LONG-TERM STAMINA since the course of your day is not a race, but rather a long-distance run.
COMPOSITION
Serving Size: 3 Capsules
Serving Per Container: 60
Amount Per Serving
%Daily Value
Vitamin B6 (as pyridoxine hydrochloride)
12mg
600%
Vitamin B12 (as methylcobalamin)
600mcg
10000%
Mind Over Mattel Mental Power Blend:
N-Acetyl L-Tyrosine, Panax Ginseng Extract (Root), Rhodiola Extract (Root), L-Phenylalanine, White Willow Extract (Bark), Alpha Lipoic Acid (ALA), Acetyl L-Carnitine Hydrochloride L-Carnitine L-Tartrate, Gotu Kolu Extract (Herb), Ginko Bilboa extract (Leaf), Glycine Proprietary L-Carnitine Hydrochloride (GlycoCarn), Pterostilbene, Sulbutianmine, L-Theanine, Huperzine A 1%,
1.000mg
**
Psychostim Adder-All-In Energy Burst:
Green Tea (50% Caffeine) (Leaf), Dicaffeine Malate, Caffeine Anhydrous, Guarana Extract (Seed), Yerba Mabe Extract (Leaf), Theobromine
500mg
**
Lucid Focus Neurotransmission Blend:
Aplha-Glycerylphosphorylcholine (Alpha-GPC), Choline Bitartrate DMAE DL-Bitartrate, Citicoline Sodium
300mg
**
Cerebral Shock Cognitive Igniter Blend:
N-Methyl Tyramine Hydrochloride, Higenamine Hydrochloride, Vinpocetine
45mg
**
**Daily Value not established
Other Ingredients: Gelatin, Plant Cellulose, Magnesium Stearate, Silicon Dioxide & Red 40.
Caffeine content: 250mg
DIRECTIONS OF USE
Directions: Take one 3 capsule serving in the morning with a meal, or without a meal for greater impact. You may take another 3 capsules serving later in the day. After accessing your tolerance, you may take up to 6 capsules per dose up to two times daily. 
REVIEWS
There is no review
Atsiliepimas Atsiliepimas