All products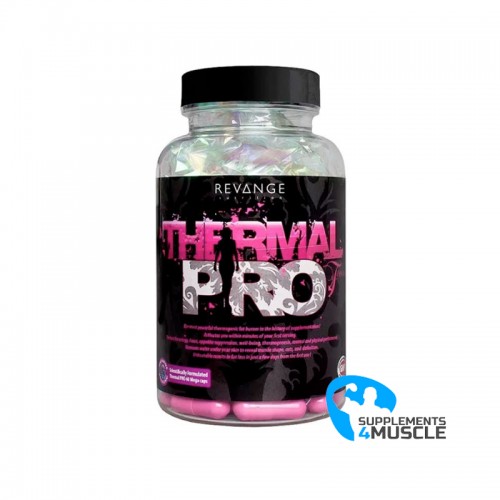 
DESCRIPTION
COMPOSITION
DIRECTIONS OF USE
REVIEWS
DESCRIPTION
Revange Thermal Pro Femme is an extraordinary fat burner from Revange that has earned a remarkable reputation. It contains the most potent, effective components assisting in weight reduction and even works well with hard to shift fat tissue. This fat burner was designed particularly for women, helping to get rid of fat in the usual problem areas like the stomach, legs and butt. It is recommended for more experienced athletes that can take effective stimulants.
You can potentially lose up to 12 kg of weight when using one package.
This product, which contains components such as bitter orange, DMAA, PEA, white willow bark, and Amla Fruit extract, works to curb your appetite, rev up your metabolism, and balance blood sugar levels. It also has a beneficial influence on general well-being. The powerful DMAA element will increase your drive for exercise and maintain your concentration during your workout. You may conveniently use it both when exercising and when having a day off from physical activity.
Caffeine Anhydrous is a kind of organic dry caffeine which prevents adenosine in the brain from functioning properly, leading to reduced levels of willpower and energy during exercise. It also works thermogenically to burn fat and aid metabolism.
The extract of Citrus Aurantium—or bitter orange—has a much higher concentration of vitamin C (up to 42%) than other types of oranges. Also, the extract has a greater abundance of anti-oxidants and bioflavonoids, such as hesperidin, than other varieties. The Citrus aurantium is well-known for the presence of synephrine, which is similar to ephedrine, but is derived from unripe citrus fruits like Citrus uranium L. and Citrus aurantium L. making it an organic option to ephedrine.
Synephrine is gaining more and more attention as an ingredient in supplements used by athletes and those wanting to lose weight. This substance has the power to quicken your metabolism, curb hunger pangs, and make you more alert as well as active. In addition, synephrine can increase your blood pressure and effect your heart rate. It can also help open up your airways so that you can breathe more easily, unclog your sinuses, and even make you feel more positive.
Beta Phenylethylamine is an organic compound found in natural sources like chocolate as well as produced by the human body through the amino acid I-phenylalanine. It acts as a neurotransmitter and neuromodulator, impacting the nervous system, raising dopamine and noradrenaline levels. The only setback is that it is quickly broken down by the MAO-B enzyme and needs to be augmented with ingredients that may slow down this process. In the same way, it is used in sports supplementation as a way to increase energy, induce thermogenesis, and boost mood prior to workouts as well as in fat burners.
White Willow Bark contains salicinic acid, which was the basis for the creation of aspirin and has numerous medicinal benefits. It helps to reduce inflammation, stiffness and discomfort in joints caused by arthritis and rheumatism, and may even help to prevent heart attacks.
Cayenne pepper has been shown to be a powerful weight loss aid. It's capability of suppressing appetite and boosting your metabolism by up to 25% is attributed to the active ingredient capsaicin. But its benefits go beyond that, it can also be beneficial to your overall health. These benefits include increased blood flow, improved sexual drive, alleviating ulcers, improved digestion, and normalizing blood pressure.
1,3 Dimethylamylamine has great effects as both a stimulant and fat burner, especially when combined with other substances that promote nerve system stimulation and thermogenesis. It offers a significant increase in energy levels, stimulation, and focus. Caffeine works to intensify these effects. Geranium helps to boost dopamine levels which, in turn, improves focus and elevates mood to create the perfect working environment when hitting the gym.
Powdered Amla Fruit Extract comes from the Indian gooseberry plant, and can be beneficial for the body in numerous ways. It helps to improve digestion, flush out toxins, and strengthen the heart. Additionally, it can regulate blood sugar levels, preventing sudden cravings, and can contribute to improved metabolism which helps to burn fat faster.
Bergamotton-bergamotine is a naturally occurring furanocoumarin, which can be found in grapefruit, bergamot oil, and other oils that come from citrus fruits. It has the ability to impede the action of cytochrome P-450, which is responsible for the metabolization of many substances.
The active component in black pepper, piperine, has a thermogenic effect. It can boost the bloodstream supply to digestive tissue, resulting in improved ingestion of the nutrients from food. It significantly increases the uptake of multiple active components found within dietary supplements.
COMPOSITION
Serving Size: 1 Capsule
Servings Per Container: 60 Servings
Amount Per Serving
% Daily Value

Thermo-Reactor System:

Coffeine Anhydrous
 250 mg
Citrus Aurantium
200 mg
Beta Phenylethylamine
100 mg
White Willow Bark 
75 mg
Cayenne 40000 SCU
40 mg
1,3 Dimethylamylamine
35 mg

Self-emulsifying nutrient delivery system:

Amla Fruit Extract
20 mg
Bergamotton
20 mg
Piperine
5 mg
Other ingredients: Magnesium Stearate, Silica, Gelatin (capsule)
DIRECTIONS OF USE
Dosage: Take one capsule thirty minutes prior to exercise.
REVIEWS
There is no review
Atsiliepimas Atsiliepimas