All products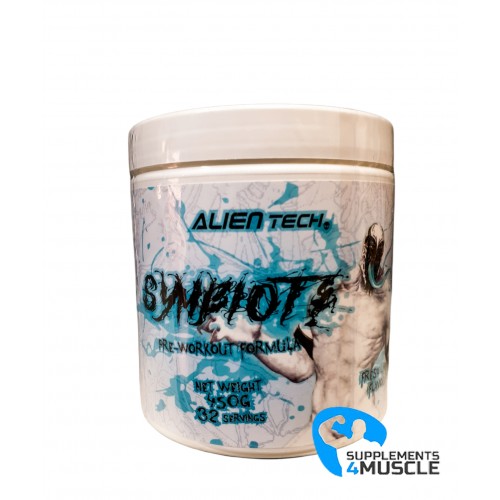 
AlienTech Symbiote 450g DMAA
The Symbiote from AlienTech is a hardcore booster which, as the name suggests, enters into a symbiosis with your body. Due to its ingenious composition, it is at the forefront in terms of effect.
DESCRIPTION
COMPOSITION
DIRECTIONS OF USE
REVIEWS
DESCRIPTION
Attention! Product expiration 2022-08
AlientTech Symbiote 450g
You can anticipate extraordinary power, focus and endurance from an AlienTech Symbiote pre-workout. This incredibly potent mixture of stimulating agents and nitric oxide boosters is unmatched, using specifically formulated components that are clinically proven to boost your energy, heighten muscle gusto and size, enhance strength, concentrate, and fuel your workout.
The new AlienTech Symbiote contains powerful energizing ingredients such as DMAA, yohimbine, agmatine, and L-citrulline to make sure you reach the peak of performance during your workouts. It has been formulated to give your routine a more rigorous, intense and intensified approach, underlined by laser-focussed concentration. This cutting-edge concoction is the USA's latest must-have supplement and is easily soluble, with a delicious flavour!
COMPOSITION
Serving Size: 14g (one scoop)
Servings per container: 32
| | |
| --- | --- |
| | Amount per serving |
| L-Citrulline | 5000mg |
| Arginine AKG | 3500mg |
| Beta-Alanine | 2000mg |
| Taurine | 1500mg |
| Agmatine Sulfate | 500mg |
| Acetylcarnitine HCL | 300mg |
| Anhydrous Caffeine | 200mg |
| 1.3 DMAA | 30mg |
| Yohimbine HCL | 5mg |
| Vitamin C | 500mg |
| Vitamin B6 | 49mg |
| Niacin | 30mg |
Other Ingredients: Malic Acid, Citric Acid, Sucralose, Natural & Artificial Flavours
DIRECTIONS OF USE
Mix 1 serving (1 scoop) with 200ml of water and drink 15-30 minutes before training. Dietary supplements can not be used as a substitute of a varied diet. Do not exceed recommended portion for consumption during the day!
REVIEWS
There is no review
Atsiliepimas Atsiliepimas