AMINO ACIDS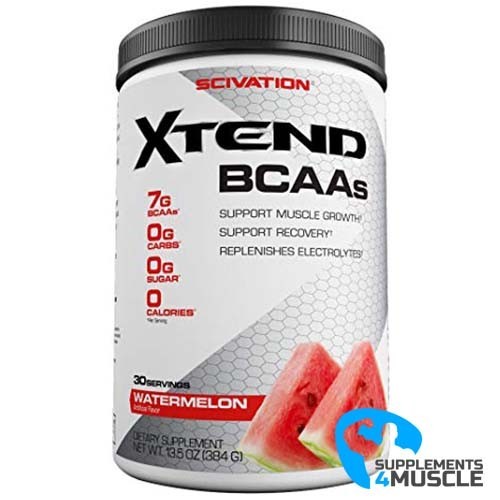 
Scivation Xtend BCAAs (30 servings)
7g of BCAAs - 2:1:1
No Sugar
3.5g of Leucine
2.5g of L-Glutamine & 1g of Citrulline Malate
Zero Calories
DESCRIPTION
COMPOSITION
DIRECTIONS OF USE
REVIEWS
DESCRIPTION
Scivation Xtend BCAAs (30 servings)
Xtend BCAAs is a highly popular and cutting-edge powdered BCAA drink mix with a 2:1:1 ratio of essential amino acids, plus added glutamine and citrulline malate, plus electrolytes to add hydration. It contains no sugars or carbohydrates, and can help athletes of all types work out more intensely and for longer. It is used by the highest level of athletes, fighters, bodybuilders and weightlifters.
Seven grams of Branched Chain Amino Acids (BCAA) with a 2:1:1 ratio, no sugar, three and a half grams of Leucine, two and a half grams of L-Glutamine and one gram of Citrulline Malate with no calories.
XTEND BCAA powder is crafted for in-workout consumption and has demonstrated success in two university studies*. Examining optimal protein synthesis and regulating intracellular energy equilibrium, XTEND quickly shortens recovery time. Not only will you experience a feeling of being refreshed - you will actually be recovered!
There is no other BCAA supplement like XTEND with its delicious flavors, scientifically verified ingredients, and precise mixes. Enhance your strength, reduce body fat, and experience less fatigue and quicker recovery times after workouts by using XTEND!
COMPOSITION
Size: 1152g (90 servings)
Calories

0

      

Total Fat

0 g

0%

Cholesterol

0 mg

0%

Sodium

220 mg

9%

Potassium

170 mg

5%

Total Carbohydrates

0 g

0%

Sugars

0 g

**

VItamin B6 (as Pyridoxine Hydrochloride)

640 mcg

32%

L-Leucine

3,500mg

**

L-Glutamine

2,500mg

**

L-Isoleucine

1,750mg

**

L-Valine

1,750mg

**

Electrolyte Blend:

1,170mg

**

Trisodium Citrate Dihydrate, Potassium Chloride, Sodium Chloride

Citrulline Malate (1:1)

1,000mg

**

* Percent Daily Values are based on a 2,000 calorie diet. Your values may be higher or lower depending on your calorie needs. **Daily Value not established.
Allergens: Produced on equipment that also processes dairy, wheat, peanuts, eggs, fish, shellfish, almonds or other tree nuts, sulfites or corn. Contains Soy
DIRECTIONS OF USE
Directions For Use:As a dietary supplement, mix one scoop per 8-16 oz. of water (adjust for taste preferences). Shake well and consume up to two scoops during exercise on training days or between meals on non-training days. For best results, use two scoops per day.