BCAA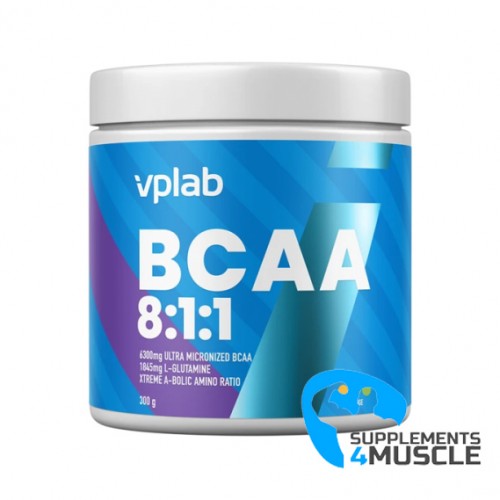 
DESCRIPTION
COMPOSITION
DIRECTIONS OF USE
REVIEWS
DESCRIPTION
VPLab BCAA 8:1:1
This BCAA formula is specially formulated for the newest generation and contains L-Glutamine. It is a noteworthy mix of Leucine, Isoleucine and Valine, with a ratio of 8:1:1.
You'll be able to bounce back from your exercise quicker,
Shield your muscles from harm,
Guarantee a product of reliable quality.
Wholesomeness with L-Glutamine.
Research has explored whether the amount of leucine in a branched-chain amino acid (BCAA) formulation can affect muscle protein synthesis after physical activity. The group that took supplements with a bigger concentration of leucine saw a 33% higher rate of muscle protein synthesis than those that took the standard BCAA. Another study discovered that people who ingested a BCAA mixture with 3.5 grams of leucine beforehand and after workout felt much less muscle soreness than those in the placebo control group. Moreover, leucine can impede the deterioration of muscle mass with age.
L-Glutamine bolsters the potency of BCAA, thereby enhancing muscle building and hastening the recovery process.
COMPOSITION
Net content: 300 g (33 servings).
Serving Size: 1 scoop (9 g).
| | |
| --- | --- |
| Nutritional value: | 9g |
| BCAA 8:1:1 | |
| L-Leucine | 5040mg |
| L-Glutamine | 1850mg |
| L-Isoleucine | 630mg |
| L-Valine | 630mg |
Ingredients: Whey Protein Concentrate, Whey Protein Isolate, Flavor, Defatted Cocoa Powder, Thickener (Carboxymethyl Cellulose), Sweetener (Sucralose), DigeZyme™ (α-Amylase, Protease, Lactase, Lipase, Cellulase), Emulsifier (Soy Lecithin).
Warnings: Keep well closed, in a dry place, out of the reach of children, away from direct sunlight. Do not use if you have a medical condition or are taking any other medications. It is forbidden to use in children and pregnant women, before pregnancy or when you are breastfeeding.
Best before (expiration date): Best before the expiry date stated on the side or bottom of the package.
Manufacturer: VP LABORATORY LTD. 53 ST PETER STREET, TIVERTON, DEVON EX16 6 NW, UK
DIRECTIONS OF USE
Usage: mix 10 g (1 scoop) in 200 ml of water. Consume immediately after preparation.
REVIEWS
There is no review
Atsiliepimas Atsiliepimas