AMINO ACIDS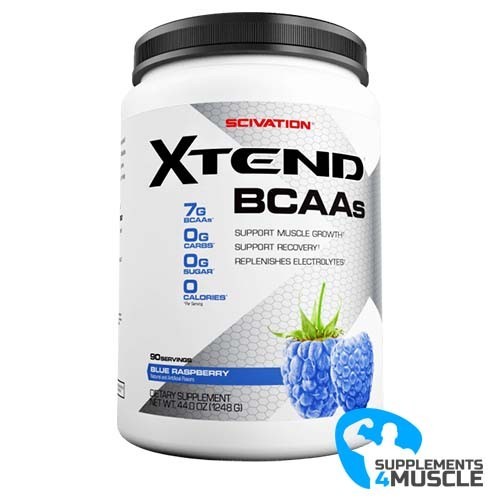 
Scivation Xtend BCAAs (90 servings)
7g of BCAAs - 2:1:1
No Sugar
3.5g of Leucine
2.5g of L-Glutamine & 1g of Citrulline Malate
Zero Calories
DESCRIPTION
COMPOSITION
DIRECTIONS OF USE
REVIEWS
DESCRIPTION
Scivation Xtend BCAAs (90 servings)
Scivation Xtend BCAAs (90 servings) is the market leading BCAA drink mix, containing 7g of BCAAs in the widely accepted 2:1:1 ratio, plus glutamine and citrulline malate. This sugar-free and carb-free blend is further improved with electrolytes that help keep the body hydrated throughout heavy workouts. Professional athletes, martial arts competitors, bodybuilders and all types of weightlifting lovers swear by XTEND to extend the duration and intensity of their training sessions.
XTEND BCAA powder has been specially crafted to be used during workouts and has been demonstrated to be effective in two scientific studies*. It is the most advanced of its type and helps with both burning fat and creating muscle. It helps by making it easier for your body to create the right amount of protein, as well as controlling the energy balance within your cells which minimizes the time it takes to recover. By taking XTEND, it isn't merely a feeling of being recovered; you actually are recovered.
XTEND BCAA powder is the choice for you if you're looking to build muscle, burn fat, and have a longer lasting and restorative workout, with unbeatable flavor and the optimal number of ingredients. Put it to the test and prove why XTEND is the champion among the competition.
COMPOSITION
Size: 1152g (90 servings)
Calories

0

      

Total Fat

0 g

0%

Cholesterol

0 mg

0%

Sodium

220 mg

9%

Potassium

170 mg

5%

Total Carbohydrates

0 g

0%

Sugars

0 g

**

VItamin B6 (as Pyridoxine Hydrochloride)

640 mcg

32%

L-Leucine

3,500mg

**

L-Glutamine

2,500mg

**

L-Isoleucine

1,750mg

**

L-Valine

1,750mg

**

Electrolyte Blend:

1,170mg

**

Trisodium Citrate Dihydrate, Potassium Chloride, Sodium Chloride

Citrulline Malate (1:1)

1,000mg

**

* Percent Daily Values are based on a 2,000 calorie diet. Your values may be higher or lower depending on your calorie needs. **Daily Value not established.
Allergens: Produced on equipment that also processes dairy, wheat, peanuts, eggs, fish, shellfish, almonds or other tree nuts, sulfites or corn. Contains Soy
DIRECTIONS OF USE
Directions For Use:As a dietary supplement, mix one scoop per 8-16 oz. of water (adjust for taste preferences). Shake well and consume up to two scoops during exercise on training days or between meals on non-training days. For best results, use two scoops per day.