SARMS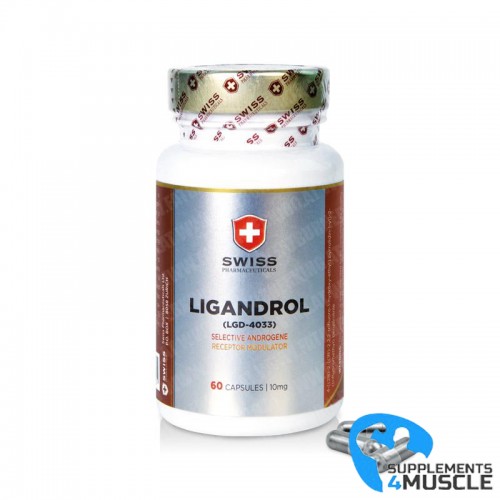 
Swiss Pharmaceuticals LGD-4033 60caps
Muscle growth
Improving of muscular hardness
Body fat loss
Healing properties
It does not cause undesirable side effects
DESCRIPTION
COMPOSITION
DIRECTIONS OF USE
REVIEWS
DESCRIPTION
Swiss Pharmaceuticals Ligandrol (LGD-4033) 60caps
Ligandrol or LGD-4033 is a selective androgen receptor modulator (SARM). LGD was develiped for the treatment of muscle wasting conditions, such as aging, osteoporosis, muscular dystrophy and cancer.
Its very popular with a wide range of athletes and professionals who are conscious to their muscle size and body composition, including weight lifters, bodybuilders, models, crossfitters, athletes and strongmen.
Recently, there has been a lot of hype around LGD. Although it is not a steroid, Ligandrol has been making headlines lately for getting athletes in trouble for taking illegal performance enhancing supplements. Many bodybuilders are looking for SARMs to help the move forward.
LGD-4033 is a very powerful SARM that will help you to fill your potential. It is a nonsteroidal, oral SARM that binds to AR and produces similar results as anabolic steroids. Is the most powerful in terms of size that can be obtained.
Thanks to its selectivity, this product is suitable for the treatment of acute and chronic diseases related to the loss of muscle mass due to age or cancer. It is much safer than testosterone.
LGD-4033 shows anabolic activity in bones and muscle without a negative effect on the prostate, sebaceous glands as it is with steroids.
Benefits:
Muscle growth
Improving of muscular hardness
Body fat loss
Healing properties
It does not cause undesirable side effects
COMPOSITION
Serving Size: 1 Capsule
Servings Per Container: 60
Amount Per Serving

Ligandrol LGD-4033:

4 - [(2R) -2 - [(1R) -2,2,2-trifluoro-1-hydroxy-ethyl] pyrrolidine-1-yl] -2- (trifluoromethyl) benzonitriles

10mg
Other ingredients: gelatine, magnesium stereate
DIRECTIONS OF USE
RECOMMENDED DOSAGE: Take 1 capsule with 250ml water daily. Take a maximum of 2 capsules a day. Higher dosage for advanced users should be consulted with your doctor or specialist. Swiss Pharmaceuticals is not responsible for health problems caused by incorrect dosing.