PROHORMONES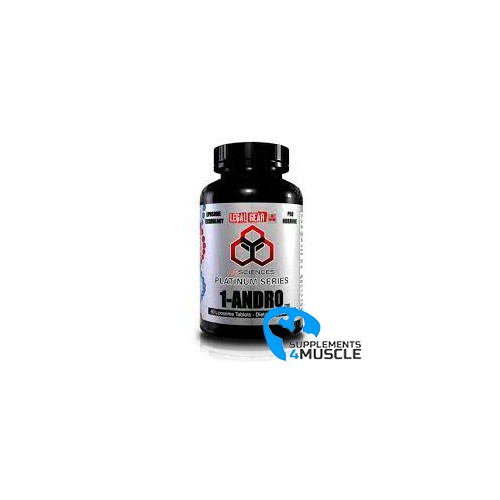 
LG Sciences 1-ANDRO 60tabs
Good for Cutting
Increases Vascularity
Cyclosome Technology
Improves Muscle Mass and Strength
DESCRIPTION
COMPOSITION
DIRECTIONS OF USE
REVIEWS
DESCRIPTION
LG Sciences 1-ANDRO 60tabs
LG Sciences 1-Androstenolone (1-DHEA) brings to the market one of the most potent, patented, legal bodybuilding prohormone and testosterone boosting supplements available today. 
1-Androstenolone like other prohormones, converts only about 1.5-3.0% of the hormone when orally ingested. Thanks to LG Sciences Cyclosome Technology, active prohormones like 1-Androstenolone are almost completely bioavailable, creating an extremely anabolic environment in the body and avoiding enzymes that destroy these hormones. 
How Does It Work?
1-Androstenolone or 1-ANDRO for short is an androgenic sex hormone that is a naturally occurring DHEA Isomer that will not and cannot convert to estrogen or DHT, but rather converts to a non-estrogenic compound called 1-Testosterone. 
Since 1-Androstenolone (1-DHEA) does not convert to estrogen, it actually has anti-estrogenic effects by changing the ratio of androgens to estrogens, making it the perfect compound to use if you are doing a cutting cycle as it will aid in fat loss. 
With 1-Androsterone, you get a prohormone that supports an improved androgen to estrogen ratio, without adding unwanted ingredients or side effects. 
What Can I Expect?
Rapid Lean Muscle Growth 
Increased Power and Strength 
Enhanced Libido (Sex Drive) 
Improved Mood 
Increased Natural Energy 
Anabolic Activity 
Enhanced Recovery 
Limited Water Retention 
Anti-Estrogenic Effects 
COMPOSITION
Serving Size: 1 tablet
Servings Per Container: 60
1 capsule
3b-Hydroxy-androst-1-ene-17-one
50mg
Other Ingredients: Microcrystaline Cellulose, Phosphatidylcholine 75%, Hydroxypropyl, beta cyclodextrin, Phytostrols, Magnesium Stearate, Silica, FD&C Blue 2, FD&C Red 40.
DIRECTIONS OF USE
Directions: Take 2-4 tablets per day in divided doses with or without food. Do not exceed 4 tablets per day
FOR MEN OVER 21 ONLY!