Joint support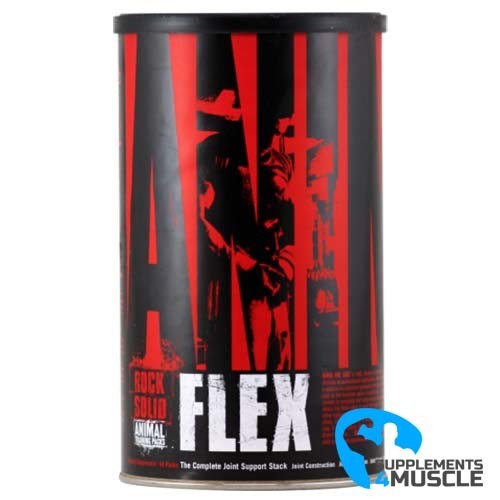 
Animal Flex
A potent joint construction complex to facilitate repair of connective tissue
A lubrication complex to assist in cushioning the joints from lifting
A support complex to aid in promoting rehabilitation and to diminish* soreness
A key vitamin/mineral support fusion to emphasize optimal joint health
DESCRIPTION
COMPOSITION
DIRECTIONS OF USE
REVIEWS
DESCRIPTION
Animal Flex
Animal Flex is a joint health supplement that is specifically formulated for extreme athletes. It's multi-pill packets are designed to provide joint lubrication and cushioning for weight lifters, long distance runners, and other individuals that are particularly hard on their connective tissues. Their website says that Animal Flex is not just an anti-inflammatory pain reliever, as many joint supplements are, but rather it provides the nutritional support necessary to build stronger and healthier connective tissues.
A potent joint construction complex to facilitate repair of connective tissue
A lubrication complex to assist in cushioning the joints from lifting
A support complex to aid in promoting rehabilitation and to diminish* soreness
A key vitamin/mineral support fusion to emphasize optimal joint health
COMPOSITION
Serving Size : 1 packet (44 servings per container)

Amount Per Serving

%Daily Value

Calories

9

 

Calories From Fat

9

 

Total Fat

1 g

<2%*

Vitamin C (as ascorbic acid)

100 mg

167%

Vitamin E (as d-alpha tocopherol succinate)

100 IU

333%

Zinc (as zinc oxide)

15 mg

100%

Selenium (as sodium selenite)

70 mcg

100%

Manganese (as manganese sulfate)

1 mg

50%

Joint Construction Complex:
Glucosamine (as HCI, sulfate 2KCI)
Methylsulfonylmethane (MSM)
Chondroitin Sulfate A (CSA)
Chondroitin Sulfate C (CSC)

3000 mg

**

Joint Lubrication Complex:
Flaxseed Oil (50% alpha linolenic acid)
Hydrolyzed Collagen
Hyaluronic Acid

1000 mg

**

Joint Support Complex:
Ginger Root (gingerols, shogaols)
Turmeric Root (cucurmin)
Boswellia (resin) (boswellic acid)
Quercetin
Bromelain

1000 mg

**

*Percent Daily Values are based on a 2,000 calorie diet.
**Daily Value (DV) not established.
Ingredients: Dicalcium phosphate, maltodextrin, gelatin, stearic acid, magnesium stearate, purified water, microcrystalline cellulose, glycerine, silicon dioxide, caramel coloring, pharmaceutical glaze. Contains shellfish (crab/shrimp shell), soy. Made in a GMP facility on equipment that processes milk, soy, egg, peanuts, tree nuts, fish, shellfish, and wheat.
DIRECTIONS OF USE
Directions For Use:Unlike regular joint supplements, you can only have to take a single daily dose of Animal Flex. Easy. Potent. Effective. Just take a pack of Animal Flex with any meal during the day and you're set - doesn't matter which meal it is. That's it. As a "core" or foundational supplement, use Animal Flex daily - on both training and non-training days. No need to "cycle" it.