Joint support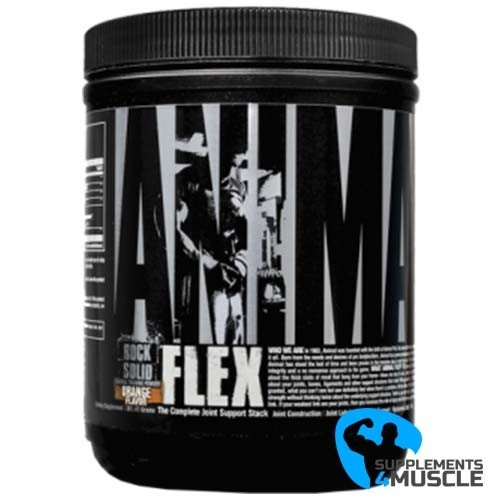 
Animal Flex Powder
The Complete Joint Support Stack
Joint Construction
Joint Lubrication
Joint Support
Hyaluronic Acid
DESCRIPTION
COMPOSITION
DIRECTIONS OF USE
REVIEWS
DESCRIPTION
Animal Flex Powder
Animal Flex Powder
Serious trainers must endure a lot of physical strain and hard work in the gym. Its a tough process and oftentimes can be extremely painful. You have to recover, deal with the discomfort, and maintain a level of discipline in order to become a strong competitor in the bodybuilding world or succeed on the platform.
Aim for long-term goals, remember to treat your fitness endeavors like a job and never neglect your health. Injuries can derail your progress and weak joints pose additional challenges but there are steps you can take to protect yourself. Joint reinforcement nutrition is just one such step for fortifying weaknesses and guarding against the usual wear and tear from intense training.
Animal Flex has been awarded the 'Joint Supplement of the Year' prize eight straight times, in large part because of its efficacy. It has made a huge impact on people who are devoted to bodybuilding and has allowed them to remain active and pursue their goals day after day.
When constructing a property, you must be sure that its fundamentals are solid, due to the large amount of pressure that is exerted on the base. The same holds true when it comes to being an athlete; you must pay just as much attention to the foundation as you do the superstructure that rests atop of it. The main base of your body consists of your joints, ligaments, tendons, and all the connective tissue. This forms the existing framework that helps expand your muscles. The more intensely you train, the more strain that is put upon the structure. Each workout will not only cause tension on your muscles, but also on your tendons, which can weaken this significant linking tissue with time. And always bear in mind that when a groundwork crumbles, the building ultimately comes crashing down, and the greater the building, the larger the potential destruction.
Animal Flex helps to fortify the joints and ligaments; protecting them from the damage caused by intense physical activity. The components in Animal Flex work to maintain healthy joint capability, suppleness, and mobility. Many of the active components of Animal Flex provide the base materials needed to sustain and guard the human body.
Animal Flex, like the other Animal supplements, is absolute and thorough. Each dose of Animal Flex contains a few essential protective complexes: (1) an upgraded joint building blend to assist in mending linking tissue; (2) a greasing fusion to help provide easing for the joints during workouts; (3) a support formula to help recover and mitigate pain; and (4) an important combination of vitamins/minerals to maintain ideal joint health.
Animal Flex is a joint 'builder' that has been fortified with reliable rehabilitation nutrients. It includes ingredients, such as glucosamine (in two types), MSM, and chondroitin, that are known to protect and repair joint health and reinforce the supporting cartilage and connective tissue. These substances can rapidly and effectively be employed to help reconstruct cartilage once absorbed.
Hyaluronic acid, cetyl myristoleate, and flax seed oil serve as lubricants to help protect joints from being overworked and becoming stiff. These ingredients naturally restore the oils contained in synovial fluid, enabling joints to move smoothly and without pain. Animal Flex includes several natural herbs and extracts, such as turmeric, boswellia and ginger root, that can reduce the inflammation that leads to joint pain and damage. These components help to inhibit pro-inflammatory molecules, providing a long-term anti-inflammatory effect. This can help keep joints healthy and reduce issues caused by years of intense exercise.
Animal Flex offers true support for joint health, not just temporary relief like many pain medications. To additionally promote joint health, a special vitamin and mineral mix was added. This combination of essential micro-nutrients such as Vitamins C, E, zinc, selenium and manganese provide a strong foundation for joints to flourish.
Here's the exciting news. You don't have to consume Animal Flex three times a day like other joint formulas. Its strength and thoroughness mean that you only need to take a single dose or packet daily. It doesn't get much simpler than that! Plus, like other products from Animal, such as Animal Pak, Animal Cuts and Animal Test, Animal Flex comes with an unbeatable product guarantee. So there's nothing stopping you from giving Animal Flex a try.
We formulated Animal Flex to specifically help address the joint wear and tear problems that lifters like us deal with on a regular basis. The progress we make on our fitness journeys come from hard work we put in at the gym every day. We made Animal Flex for those who understand this idea of consistently pushing harder in the gym, and who don't want to be put on hold by joint issues.
COMPOSITION
Serving Size: 1 Scoop (12.72 g)
Servings Per Container 30
Amount Per Serving
% Daily Value
Calories
16 
 
Protein
4 g
8%**
Vitamin C (as Ascorbic Acid)
100 mg
167%
Vitamin E (as d-Alpha Tocopherol Succinate)
100 iu
333%
Zinc (as Zinc Oxide)
15 mg
100%
Selenium (as Sodium Selenite)
70 mcg
100%
Manganese (as Manganese Sulfate)
1 mg
50%
Joint Construction Complex:
Glucosamine (as HCl, Sulfate 2KCl)
Methylsulfonylmethane (MSM)
Chondroitin Sulfate A (CSA)
Chondroitin Sulfate C (CSC)
3000 mg
*
Joint Lubrication and Support Complex:
Collagen Hydrolysate
Ginger Root (gingerols, shogaols)
Turmeric Root (curcumin)
Boswellia Serrata Extract (gum) (boswellic acid)
Quercetin
Bromelain
Cetyl Myristoleate Proprietary Blend (Cetyl Myristoleate*, Cetyl Myristate*, Cetyl Palmitate*, Cetyl Laurate*, Cetyl Palmitoleate*, Cetyl Oleate*)
Hyaluronic Acid
6000 mg
*
Other Ingredients: Natural and Artificial Orange Flavors, Citric Acid, Malic Acid, Silicon Dioxide, Sucralose, Acesulfame Potassium, FD&C Yellow #5, FD&C Yellow #6. Contains soy and shellfish (crab/shrimp shell).
DIRECTIONS OF USE
DOSAGE: Unlike regular joint supplements, you only have to take a single daily dose of Animal Flex. Easy. Potent. Effective. Just take a serving of Animal Flex along with 10 oz. of your beverage of choice, with any meal during the day and you`re set - doesn`t matter which meal it is. That`s it. As a ''core'' or foundational supplement, use Animal Flex daily - on both training and non-training days. No need to ''cycle'' it.
REVIEWS
There is no review
Atsiliepimas Atsiliepimas