TESTOSTERONE BOOSTERS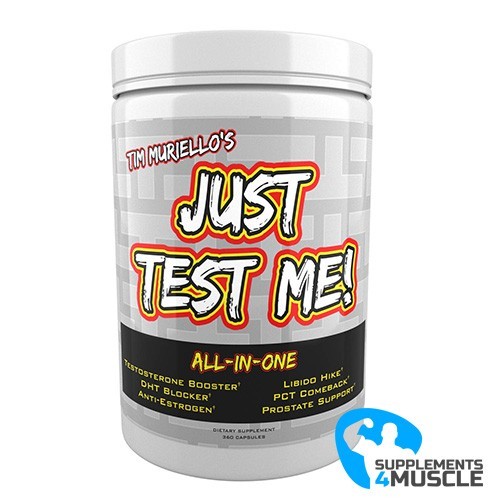 
Tim Muriello`s Just Test Me!
ALL-IN-ONE
Testosterone Booster
DHT Blocker
Anti-Estrogen
Libido Hike
PCT Comeback
Prostate Support
DESCRIPTION
COMPOSITION
DIRECTIONS OF USE
REVIEWS
DESCRIPTION
Tim Muriello`s Just Test Me!
Don't mess around! Just Test Me! is a top-of-the-line supplement full of the most effective components, dosed high to give amazing results that you won't miss. However, keep the dose as-recommended due to the great power of this product, as it could create an aggressive, grouchy attitude and facial hair (in female users). No tricks, no frills - Just Test Me! says it all!
1. EXPERT FORMULATION
Developed with a keen eye for detail by Tim Muriello - the founder and CEO of Spazmatic Supplements, as well as a renowned hard-core bodybuilder who is globally recognized as a leader in the fitness and supplement industry.
2. VERY HIGH DOSAGES
Dosages are set to function optimally, tailored both to meet the requirements of everyday men and hardcore bodybuilders. There is no need to buy individual bottles of each ingredient, as they are all combined in one product.
3. 13 TOTAL STRONG INGREDIENTS
Only utilizing ingredients that have been proven reliable, popular, and effective - no obscure, implausible formulas, proprietary blends, and made-up components. Just pure, scientific evidence.
4. ALL-IN-ONE FORMULA
You will have every potential issue addressed to significantly augment your testosterone count, restrain estrogen and DHT, and promote prostate well-being- all in one container.
5. TESTOSTERONE BOOSTER
Gaining muscle can be a breeze, you will become strong rapidly, burning fat quickly, recovery times will be significantly shortened, your sex drive is sure to increase, and you will experience an impressive alpha mentality.
6. ANTI-ESTROGENS & AROMATASE INHIBITORS
Give your body a chance to increase testosterone levels without turning it into estrogen, and reduce any negative effects of a large amount of testosterone with strong anti-estrogens.
7. DHT BLOCKERS
Experience the advantages of a first-rate testosterone enhancer while limiting DHT.
8. PROSTATE SUPPORT
A complete amount of Saw Palmetto is contained; universally seen as the best natural element to back up prostate wellbeing.
9. NATURAL INGREDIENTS
No synthetic hormones or unnatural chemicals.
10. ALSO PERFECT FOR POST CYCLE THERAPY
Reestablish your hormonal balance, restore your sexual desire, and diminish the effects of estrogen.
COMPOSITION
Serving Size: 12 Capsules
Servings Per Container: 30
| | | |
| --- | --- | --- |
| | Amount Per Serving | |
| Magnesium (as Magnesium Aspartate) | 500 mgs | 125% |
| Zinc (as Zinc Citrate) | 300 mgs | 200% |
| Vitamin D3 | 5,000 IUs | 1250% |
| Vitamin B6 | 100 mgs | 5000% |
| D-Aspartic Acid | 3,750 mgs | |
| Shilajit Extract | 400 mgs | |
| Boron Citrate 5% | 200 mgs | |
| Tribulus 45% Saponinis | 1,000 mgs | |
| LongJack 10:1 | 500 mgs | |
| Diindolylmethane (DIM) | 300 mgs | |
| Indole 3 Carbinol | 300 mgs | |
| Saw Palmetto | 350 mgs | |
| Black Pepper Extract | 10 mgs | |
Other Ingredients: Gelatin (capsules), Magnesium Stearate, Silicon Dioxide, FD&C Blue #1, FD&C Red #40.
DIRECTIONS OF USE
Consume one half serving (6 capsules) in the morning with food and another one half serving in the evening with food or as directed by a healthcare professional.
REVIEWS
There is no review
Atsiliepimas Atsiliepimas