PROTEIN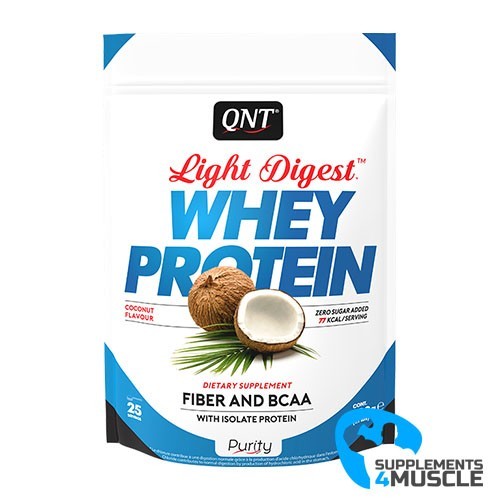 
QNT Light Digest Whey Protein 500g
Helps reduce body fat - less than 80 kcal per serving
Low sugar & high in fibers
DESCRIPTION
COMPOSITION
DIRECTIONS OF USE
REVIEWS
DESCRIPTION
QNT Light Digest Whey Protein 500g
QNT Light Digest Whey Protein is designed to meet the needs of any type of athlete, whether novice or experienced, as well as for those involved in strenuous physical activities.
This product can greatly improve your skills and abilities in sports of all types. The LIGHT DIGEST WHEY PROTEIN is beneficial in maintaining muscle strength and size. Additionally, it aids in faster recovery after workouts and can be used to facilitate weight loss.
A formula containing high-fibre and low levels of sugar.
This whey protein has been specially formulated with a hefty dose of inulin fibre and no added sweeteners, and is loaded with essential BCAA's like L-Leucine, L-Valine and L-Isoleucine which are key for athletic recovery and muscle growth. The product also does not include gluten or soy, making it great for those who are sensitive to these ingredients.
Extremely user friendly
This protein powder blends seamlessly with either water or milk depending upon your preference. Just add 20g of the powder to a blender, followed by 200ml of water or milk, then shake it up and you'll have your post- or pre-workout shake ready to go.
If you want to get imaginative, don't be reluctant to use LIGHT DIGEST WHEY PROTEIN to make your own recipes! This whey protein can be incorporated perfectly into sweet dishes to give them a high-protein extra.
COMPOSITION
Serving Size: 20 g
Servings per container: 25
| | | |
| --- | --- | --- |
| Typical Nutritional Values: | 20g | 100g |
| Energy | 321kJ/77kcal | 1603 kJ 384kcal |
| Fat | 1g | 4.7g |
| -Saturates | 0.7g | 3.3g |
| Carbohydrates | 1.7g | 8.7g |
| -Sugars | 1.5g | 7.5g |
| Protein | 15.5g | 75g |
| Salt | 0.11g | 0.54g |
| Inuline | 620mg | 3100mg |
| Chloride | (10,4%) 83mg | 415mg |
| L-Leucine(BCAA) | 1694mg | 8470mg |
| L-Valine(BCAA) | 1004mg | 5020mg |
| L-Isoleucine(BCAA) | 1034mg | 5170mg |
INGREDIENTS: milk proteins [whey protein concentrate (contains milk), whey protein isolate (contains milk)], inulin, flavour, thickening agents: e412/e415, potassium chloride, sweetener: e955, natural lemon powder (citrus limon).
DIRECTIONS OF USE
USE: Mix daily 2 servings with 200 ml water or skimmed milk