Whey Isolate (WPI)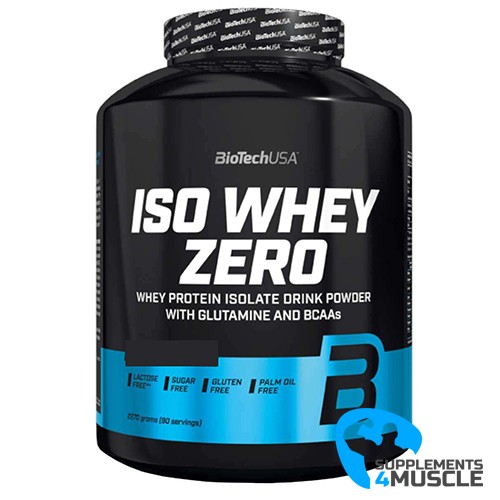 
BiotechUSA Iso Whey Zero 2.27kg
Native Whey Isolate basic ingredient
Outstanding protein content
With added amino acids: L-glutamine and BCAA
Fast and easy absorption
Free of sugar*, lactose* and gluten
No preservatives
Aspartame-free
DESCRIPTION
COMPOSITION
DIRECTIONS OF USE
REVIEWS
DESCRIPTION
BiotechUSA Iso Whey Zero 2.27kg
BiotechUSA Iso Whey Zero employs a special method which produces Native Whey Isolate directly from fresh milk. This process consists of pasteurisation, micro and ultra filtration at low temperatures, then pulverisation in a special drying chamber. The end result is an isolate with an unaltered protein structure and an abundance of immunoglobulin and lactoferrin - both of which contribute to the immune system. Furthermore, the raw material is absolutely pure, with no chemicals or contaminants.
ZERO COMPROMISE
This food item is ideal for both athletes looking to gain lean muscle and for dieters trying to lose weight - its high protein content makes it an excellent choice for both.
Lactose, referred to as "milk sugar", is a type of intricate carbohydrate commonly found in milk at a concentration between 2-8 percent of the dry matter content. When we are young, our bodies naturally produce the lactase enzyme which helps us digest lactose; however, this production decreases or comes to a halt as we age, resulting in a phenomenon known as lactose intolerance. At present, approximately 75% of the global population is lactose intolerant.
COMPOSITION
Serving size: 25 g
Servings per container: 90
| | | |
| --- | --- | --- |
| | 100g | 25 g |
| Energy | 372kcal/1579kJ | 93kcal/395kJ |
| Protein | 84g | 21g |
| Carbohydrates | 5.2g | 1.3g |
| - of which sugars | 0.8g | <0.5g |
| Fat | 1.6g | <0.5g |
| - of which saturates | 1g | 0.3g |
| Salt | 0.71g | 0.18g |
INGREDIENTS: white chocolate: whey protein isolate 87%, L-Glutamine, flavourings, creamer [coconut fat, maltodextrin, vegetable protein, anti-caking agent (silicon dioxide)], thickener (cellulose gum), emulsifier: lecithins (soy), salt, L-Leucine, L-Isoleucine, L-Valine, sweetener (sucralose).
DIRECTIONS OF USE
Directions: Mix 1 serving (25 g = 1 measuring spoon = 2 heaped tablespoons) with 200 ml water in a shaker. On training days, drink one serving in the morning and one serving directly after workout. On non-training days, take one serving in the morning and one in the evening.
REVIEWS
There is no review
Atsiliepimas Atsiliepimas