PREWORKOUTS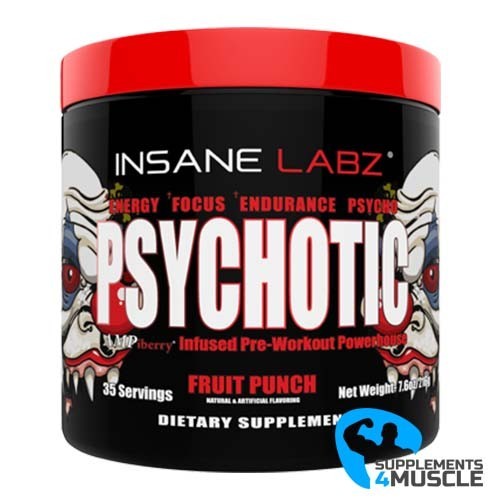 
DESCRIPTION
COMPOSITION
DIRECTIONS OF USE
REVIEWS
DESCRIPTION
Insane Labz Psychotic
Insane Labz Psychotic is a powerful stimulant comprised of a range of potent elements to enhance energy, stamina and concentration. The nootropic supplement works to improve cognitive functions and performance. It includes Beta-Alanine, Creatine Monohydrate, Caffeine Anhydrous, Dimethylethanolamine, AMPiberry (berry from Juniperus Communis), Hordenine HCl, Rauwolfia Vomitoria Extract (with 90% alpha yohimbine) (rootbark), and Huperzine Serrata Leaf Standardized Extract. Taking Insane Labz Psychotic guarantees a sharp surge in alertness and reaction speed.
Insane Labz Psychotic is helpful for overall performance in exercise sessions and it can improve your vitality and raise the limit of anaerobic exercise. Creatine monohydrate gives the muscles the power and energy they require to produce the most significant results from health, fitness and exercise endeavors.
This highly potent wellness supplement helps to increase blood flow and create a more pronounced, muscular appearance. It also dramatically boosts endurance and reduces recovery time after workouts. Additionally, it encourages muscle growth and development to reach the desired objectives of bodybuilding and fitness programs.
Unlock your potential and discover the workout beast inside of you! Look through our selection of premier sports, conditioning and bodybuilding supplements. Get the most dietary supplements, prohormones, SARMs, and PCT items now! Shop for Insane Labz Psychotic at Supplements4muscle.com now.
COMPOSITION
Serving size: 1 scoop (6.3g)
Servings per container: 35
Amount Per Serving

%DV

PSYCHOTIC™ BLEND:
Beta Alanine, Creatine Monohydrate, Caffeine Anhydrous, AMPiberry (Juniperus Communis)(berry), Hordenine HCl, Dimethylethanolamine, Rauwolfia Vomitoria Extract (std. min. 90% alpha yohimbine)(rootbark), Huperzine Serrata Leaf Standardized Extract
4459mg

*
Other Ingredients: Citric Acid, Natural and Artificial Flavoring, Silica, Sucralose, Calcium Silicate, Acesulfame Potassium, FD&C Blue #1, FD&C Red #40
DIRECTIONS OF USE
Directions for use: As a dietary supplement for adults, take 1 serving in 8-10 oz. of water once daily, 30 minutes before activity. Never consume more than 1 serving in a 24 hour period. Do not take within 4 hours of bedtime.
REVIEWS
There is no review
Atsiliepimas Atsiliepimas