Brain boosters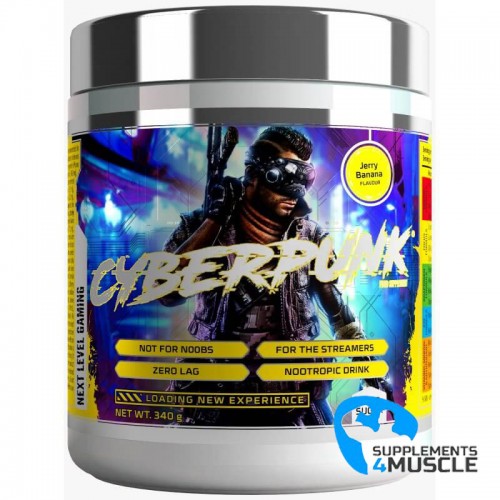 
DESCRIPTION
COMPOSITION
DIRECTIONS OF USE
REVIEWS
DESCRIPTION
CYBERPUNK Pre-Workout Booster
It's time to get the party started! CYBERPUNK is an amazing pre-workout boost guaranteed to give you unparalleled focus, energy and power. Plus, because it serves as a nootropic too, you can expect superb mental performance. This supplement is beloved by strength athletes, bodybuilders, gamers and many others who need extra vigor and attention. CYBERPUNK even improves hand-eye coordination and reaction speeds, while lessening stress levels.
Cyberpunk does not contain any extra sugar, however it does feature biologically active plant sources, vitamins, minerals, fruit and vegetable extracts, and antioxidant compounds which can not only supply energy, concentration and pump, but also help to protect the cells and reduce pressure. This ensures that your body has all that is required to ensure intense, lengthy exercise or an intense and sustained gaming session; total mental energy, stamina, alertness, and composure.
CYBERPUNK Pre-Workout Booster is a concoction of pre-workout, nootropic, and brain booster that can give you the ideal performance for sports and gaming. Its properties help improve concentration, provide endurance and increase coordination. Additionally, it promotes a calmness and clarity even when faced with stressful situations, which increases mental and physical performance with faster reactions.
COMPOSITION
Serving Size: 8,5g (one scoop)
Servings per container: 40
Amount per serving
Energy Formula:
Citruline malate (of which citruline)
500mg (342mg)
Taurine
500mg
Glucuronolactone
150mg
Caffeine
150mg
Focus Formula:
L-tyrosine
500mg
L-carnitine tartrate (of which L-carnitine)
367mg (250mg)
GABA
200mg
Choline bitartrate
250mg (103mg)
Adaptogen Formula:
Bacopa monnieri leaf extract (50% bacosides)
120mg (60mg)
Ashwagandha root extract (1.5% withanolide glycosides)
100mg (1.5mg)
Rhodiola rosea root extract (1% salidroside)
50mg (0.5mg)
Ginkgo biloba leaf extract (24% flavonoid glycosides)
80mg (19.2mg)
Eye Formula:
Marigold flower extract (20% lutein, 4% zeaxanthin)
100mg (20mg, 4mg)
Blueberry fruit extract
25mg
Vitamins, Minerals & Antioxidant:
Red antioxidant blend
1100mg
Green antioxidant blend
1100mg
Magnesium
157mg (42% NRV)
Vitamin A
800mcg RE (100% NRV)
Vitamin B6
1,4mg (100% NRV)
DIRECTIONS OF USE
Recommended Use: Mix 8.5g of powder (1scoop) with 500ml of water. Take 1 portion a day
REVIEWS
There is no review
Atsiliepimas Atsiliepimas