Omega3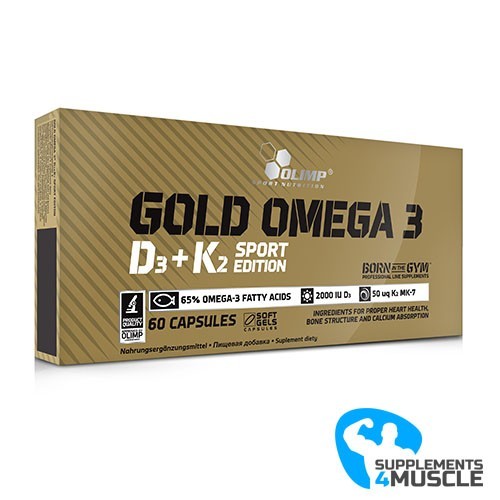 
DESCRIPTION
COMPOSITION
DIRECTIONS OF USE
REVIEWS
DESCRIPTION
Olimp Gold Omega 3 D3 + K2 Sport Edition
This dietary supplement with a high amount of omega-3 also includes vitamins D3 and K2. Gold Omega 3® D3+K2 is made with a 65% concentrated, fine cold-water fish oil to enhance the intake of essential omega-3 fatty acids. The product also provides natural vitamin K derived from natto, in an easily-digestible, activated form in the form of menaquinone-7. Furthermore, it has been supplemented with 2000 IU of vitamin D3.
The daily intake of 250 milligrams of EPA and DHA can provide the heart with beneficial effects, as these omega-3 fatty acids (eicosapentaenoic acid and docosahexaenoic acid) are essential for proper functioning.
Vitamins D and K work together to ensure that the cardiovascular system works properly - vitamin K aids in blood clotting, and vitamin D looks after the levels of calcium in the blood.
Vitamin D plays an important role in sustaining healthy bones and teeth, fostering the correct absorption of calcium and phosphorus, and assuring the correct operation of the immune system.
Vitamin K plays a role in keeping bones strong and healthy.
COMPOSITION
Nutritional information 
1 capsule
NRV*
Fish oil (65% omega-3 fatty acids)
1000 mg
-
of which:
33% of eicosapentaenoic acid (EPA)
330 mg
-
22% of docosahexaenoic acid (DHA)
220 mg
-
10% of other omega-3 acids
100 mg
-
Vitamin D (D3)
50 µg (2000 j.m.)
1000%
Vitamin K (K2)
50 µg
67%
Vitamin E (mg α-TE)
12 mg
100%
*NRV - nutrient reference value
Components: Fish oil (source of omega-3 fatty acids), vitamin K (menaquinone-7 - vitamin K2 produced from soya by fermentation), vitamin E - D-alpha-tocopherol, vitamin D (cholecalciferol - vitamin D3); shell components - gelatine, water, humectant - glycerol, food colouring - E 150d.
DIRECTIONS OF USE
Recommended daily intake: 1 capsule daily after a meal with plenty of water.
REVIEWS
There is no review
Atsiliepimas Atsiliepimas