All products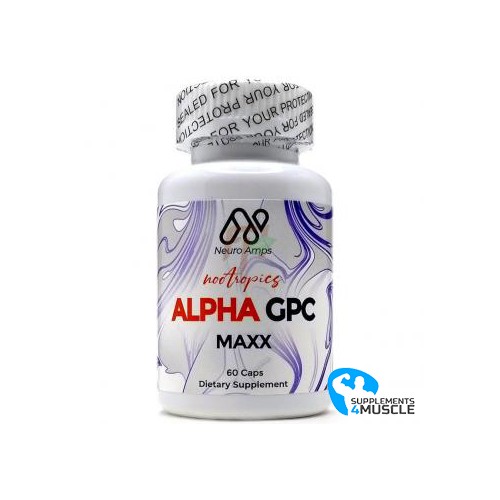 
DESCRIPTION
COMPOSITION
DIRECTIONS OF USE
REVIEWS
DESCRIPTION
Alpha GPC - which is also known as choline alphoscerate, is a natural promoter for the generation of acetylcholine. Acetylcholine is a chemical used for furthering intelligent thinking and invigorating memory. Alpha GPC is an absorptive form of choline that can infiltrate the neural cell walls of the brain and other mental parts.
NeuroAmps Alpha GPC 60 capsules offer the most readily digestible form of choline, which is vital for the brain's nutrition. It has been demonstrated to help in memory recall and to fortify focus and concentration. In addition, this key ingredient is essential for the correct operation of cells.
Can Alpha GPC improve cognitive function?
Research suggests that its water-soluble choline derivative can be converted into the neurotransmitter acetycholine in the body. What's more, studies have indicated that consuming it increases the levels of acetycholine in the brain, resulting in improved memory and focus, even in younger individuals. Furthermore, various clinical investigations have discovered that taking L-alpha-glycerylpforsorylcholine aids brain performance in those suffering from Alzheimer's and dementia, in addition to moderating aging.
Alpha-GPC activates the calming parasympathetic system and amplifies GABA and GH levels, reducing sympathetic nervous system activity. Its calming, anti-stress and relaxing properties make it ideal for use as a bedtime or rest aid, as it can help to rebuild and protect the nervous system. As a dietary supplement and choline source, it supports the prevention of neurodegenerative diseases, improving cognitive performance, memory and learning.
COMPOSITION
Serving Size: 1 Capsule
Servings per Container: 60
| | |
| --- | --- |
| Amount Per Serving | |
| Alpha GPC | 500 mg |
Other Ingredients: Magnesium Stearate, Silicon Dioxide.
DIRECTIONS OF USE
Dosage: Take one to two capsules each day.
REVIEWS
There is no review
Atsiliepimas Atsiliepimas