Brain boosters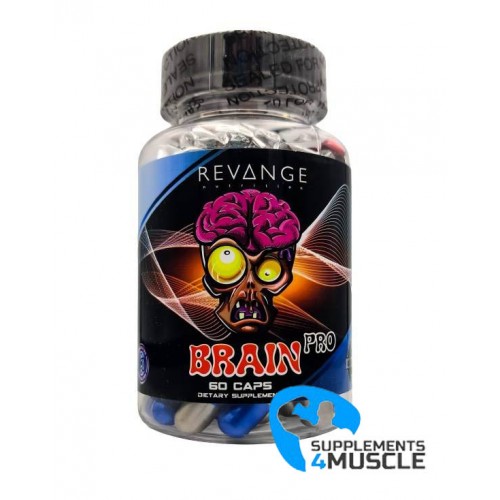 
Revange Nutrition Brain Pro 60 caps
Improves mood and well-being

Improves memory and concentration

Increases the energy level

Increases willingness to learn

Reduces everyday stress
DESCRIPTION
COMPOSITION
DIRECTIONS OF USE
REVIEWS
DESCRIPTION
Revange Nutrition Brain Pro 60caps
Want to make an impact at your college or office? Come up with new ideas, stand out from the crowd, and solve complex problems within seconds. Order Revange Nutrition Brain Pro now and redefine your cognitive thinking. Become the sharpest person among your friends, relatives, family, and colleagues. Improve your intellectual capacity and IQ level while dealing with situations more effectively.
Get Revange Nutrition Brain Pro now and easily tackle the day-to-day concerns of life that can otherwise impact you negatively. Revange Nutrition Brain Pro are made from safe, natural, and potent ingredients such as Theacrine, Bacopa Monnieri Extract, Ashwagandha Extract, Ginkgo Biloba, Hordenine HCL, Rhodiola Rosea, Alpha GPC, 2-Aminoisoheptane, and N-Acetyl L-Tyrosine.
Why Buy Revange Nutrition Brain Pro 60caps?
Improves your overall mental health

Helps you better control your emotions and stay calm

Get sound sleep and live a stress-free life

Helps support memory, reduces fatigue, and improves energy levels & metabolism

Supports healthy hemoglobin levels

Helps balance neurotransmitters in brain

Promotes relaxation

Helps boost energy levels & keeps you active and energetic throughout the day

Strong antioxidant effects to support brain health

Helps support nervous system health

Helps with emotional calming and protects against stress
Buy Revange Nutrition Brain Pro 60caps NOW!
COMPOSITION
Serving Size: 1 Capsule
Servings Per Container: 60
Amount Per Serving
Theacrine
75mg
Green Tea Extract
50mg
Bacopa Monnieri Extract
50mg
Rhodiola Rosea
50mg
2-Aminoisoheptane
50mg
N-Acetyl L-Tyrosine
50mg
Phenylpiracetam
50mg
Ashwagandha Extract
40mg
Ginkgo Biloba
40mg
Alpha GPC
40mg
L-Theanine
40mg
5-HTP
40mg
Mucuna Puriens
35mg
Hordenine HCL
25mg
Phosphatidylserine
20mg
Noopept
18mg
Pterostilbene
15mg
Cinnamon Extract
10mg
Grape Seed Extract
10mg
Naringin
8mg
Vitamin E TPGS
6mg
Piperine 95%
5mg
Vinpocetine
5mg
Huperzine A
100mcg
Other Ingredients: Magnesium Stearate, Silicon Dioxide
DIRECTIONS OF USE
Take 1-2 capsules on an empty stomach with a glass of water, after 10min please follow with consumption of complex-carbohydrate meal for stable release of energy. Do not exceed 2 capsules during 24 hour period.
REVIEWS
There is no review
Atsiliepimas Atsiliepimas