All products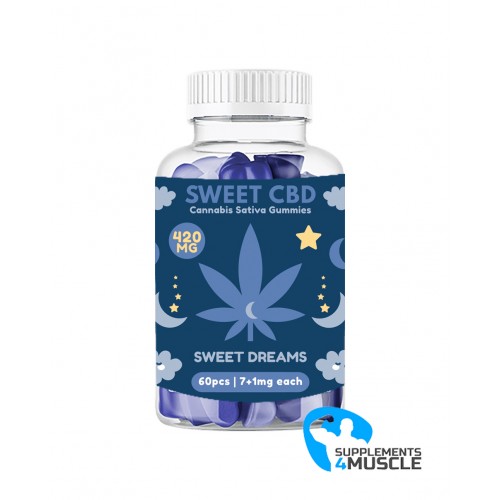 
Sweet CBD SWEET DREAMS 420 mg + Melatonin gummies 60pcs
SWEET DREAMS is a unique blend of Hemp extract and Melatonin in the form of delicious gummies!
Each jelly contains:
DESCRIPTION
COMPOSITION
DIRECTIONS OF USE
REVIEWS
DESCRIPTION
SWEET CBD gummies contain CBD and melatonin. The supplement has a blueberry flavor.
Gummies are THC -free and may contain some allergens such as gluten.
Hemp gummies - SWEET DREAMS - action
Melatonin reduces difficulty falling asleep. Thanks to the influence on the circadian rhythm, it also reduces the subjective feelings associated with changing the time zone. This is extremely helpful in the fight against the so-called - jet lag. This composition of ingredients guarantees calmness before bedtime and will improve the quality of sleep.
The taste of CBD gummies with melatonin
Blueberry flavored CBD gummies will become an extra pleasure before falling asleep. Their sweetness allows you to associate a deep, quality sleep with the taste of blueberry, which brings back memories of peaceful summer nights. The fruity taste will be perfect for people who prefer to avoid the bitter taste of cannabis.
COMPOSITION
Serving size: 1 jelly
Servings per container: 60 pcs
| | |
| --- | --- |
| Ingredients | Amount Per Serving |
| CDB | 7 mg |
| Melatonin | 1 mg |
| | |
| Nutritional values | per 100 g |
| Energy value | 1353 kJ/318 kcal  |
| Fats | 0.2 g |
| - including saturated fats  | 0.1 g |
|  Carbohydrates | 72.3 g |
| - including sugars  | 53.9 g |
| Protein | 6.9 g |
| Salt | 0.01 g |
| Fiber | 0.1 g |
Other ingredients: Sugar, glucose syrup, thickener - pork gelatin, acidity regulator - citric acid, aromas, dyes, hemp extract, melatonin, preservative - potassium sorbate, rapeseed oil. The product contains cereal flour containing gluten (rye).
DIRECTIONS OF USE
Dosage:
The recommended daily dose is one jelly containing 7mg of CBD and 1mg of melatonin.
Do not exceed the daily dose recommended by the manufacturer.
If you have doubts as to whether you can include Sweet Dreams gummies in your diet, consult your doctor.
REVIEWS
There is no review
Atsiliepimas Atsiliepimas