Better sleep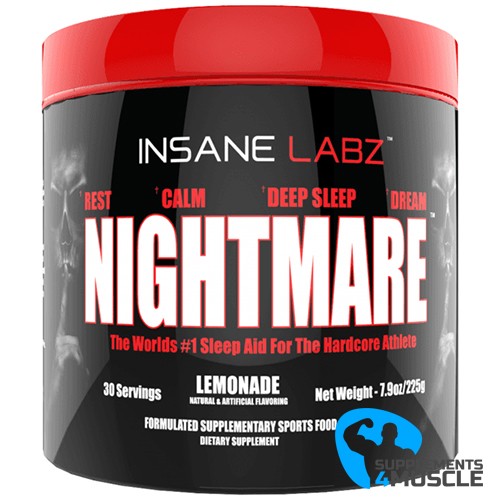 
DESCRIPTION
COMPOSITION
DIRECTIONS OF USE
REVIEWS
DESCRIPTION
Insane Labz Nightmare 229g
The revolutionary new Insane Labz Nightmare 229g formula provides a deep and restorative sleep while also stimulating muscle growth. It enhances regeneration throughout the night, increases fat loss and has a beneficial effect on mental health. It contains only safe, rigorously tested ingredients including Velvet bean extract, Valerian extract, Melissa extract, Passiflora, Lavender extract and Chamomile extract. These substances ensure an optimal REM sleep with no interruptions throughout the night.
The supplement has a calming effect on the nervous system, lowers cortisol and stress levels, and increases the production of melatonin and serotonin. It also aids cognitive functioning after waking from nightmares, with natural ingredients helping to positively regulate the nervous system, relax brain activity and advance cognitive operations.
Nightmare can be helpful in handling sleeplessness, abuse of energizers, during times when one suffers from sleep deprivation, and in tackling stress-induced difficulty in dozing off. It has been known to work effectively in calming the nerves and appeasing anxiety, alleviating the symptoms of physical tiredness too.
L-Tyrosine is the base ingredient which is vital in the construction of catecholamines, including noradrenaline, adrenaline and dopamine, which potentially could increase concentration levels, energy and promote motivation. It is also employed in the development of thyroid hormones, so it may be valuable for those who are trying to enhance their levels.
An essential amino acid, L-Tryptophan must be consumed from the outside as it is not capable of being made naturally in the human body. This particular amino acid is necessary for the production of the hormone for sleep, serotonin, and melatonin, in addition to being a key component in the formation of proteins in muscles.
The Velvet Bean Extract is a medicinal plant with extraordinary benefits; its seeds contain levodopa, a chemical which directly produces dopamine which is a powerful medicine used to treat Parkinson's disease. Taking this extract can improve one's feelings, behaviour and energy levels, enabling them to engage in more physical activities and enhancing their sexual activity. Furthermore, this substance aids in the creation of dopamine, an essential neurotransmitter involved in the transmission of signals within the nervous system.
AMPisleep utilizes a special patented valerian formulation to deal with stress and tension. Valerian root enables a person to relax and reduce anxious feelings. It additionally facilitates better sleep quality throughout the night. Valerian contains compounds like valeranone, walerenal, isovaleric acid esters and flavonoids, which helps activate GABA receptors in the brain. This downplays stress and unnecessary stimuli for a speedy calming effect.
Lemon Balm Extract contains high amounts of hydroxycinnamic and rosemary acids. The components of this extract can help to improve your mental state, by influencing particular kinds of nicotinic and muscarinic receptors located in your brain. In addition to lessening day-to-day stress and offering a restful slumber, this herbal extract may also help smokers battling to quit nicotine, raise feelings of well-being, and minimize emotional eating caused by dieting.
Passionflower Extract is an everlastingly climbing vine that is known for managing symptoms of insomnia, tension, swel effort, blazes, and Attention Deficit Hyperactivity Disorder (ADHD). There have even been reports of this extract being able to address more severe concerns such as seizures and hypertension. Research has demonstrated that the effectiveness of passion flowers as an antidote for nervousness is comparable to that of synthesized medicinal drugs.
Chamomile Extract can offer an effective anti-anxiety and calming effect. Not only does it help with snoring, and therefore enhance sleeping comfort, but it can assist in the prevention of sleep apnea which is a more serious concern. Additionally, it boasts a high concentration of bioactive components which have anti-inflammatory properties. This supplement can further boost the immune system and aid with common colds, as well as improve the function of the circulatory system.
The active ingredient extracted from lavender has been used medicinally since the days of antiquity to address stress, anxiety, sleep disturbances and depression. Studies have demonstrated that the oil taken from lavender can hinder the production of cortisol and other hormones related to stress and unease, with its effects being perceptible after a single application.
OxyGold, which is the registered name of fulvic acid, has the ability to augment energy levels and help foster the performance of cells. This acid has further been demonstrated to have antioxidant properties and can serve as a potent remedy to address pain and improve mental acuity.
COMPOSITION
Serving Size: 1 scoop (7.6 grams)
Servings Per Container: 30
Quantity Per Servings
Quantity Per 100g
Energy
0g
0g
Protein
0g
0g
Fat
0g
0g
Carbohydrate
0g
0g
Sodium
0g
0g
Nightmare Blend:
L-Tyrosine, L-Tryptophan, Velvet Bean Extract (mucuna pruriens)(seed), AMPisleep™(Valerian Root Extract 4:1 (valeriana officinalis), Lemon Balm Extract (melissa officinalis)(aerial), Passionflower Extract (flavones 5%)(passiflora coerulea)(flower), Chamomile Extract (apigenin 1.2%)(matricaria chamomilla)(flower), Lavender Extract 4:1 (lavandula officinalis)(aerial)), OxyGold® (Fulvic Acid)
2.9g
37g
DIRECTIONS OF USE
As a dietary supplement for adults, take 1 serving in 8 -10 oz (200 - 300ml) of water once daily 30 minutes before sleep. Never consume more than 1 serving in a 24 hour period.
REVIEWS
There is no review
Atsiliepimas Atsiliepimas